Your New Favorite Skewer Recipes
How can someone miss a mouth-watering barbecue? BBQ skewers are a complete meal containing lots of veggies, meats, and cheese. This food dish is done over direct heat from charcoal or gas. The main ingredient of barbecue is its smokey flavor. Most of us love to do a backyard barbecue and it's very easy to cook.
So, What Is Skewer?
A skewer is a thin metal or wood stick that holds pieces of meat, prawns, shrimps, and veggies together. The skewer is used while grilling or roasting meat. Be sure to check out more premium grilling supplies at Grillheads.
Characteristics of Skewer
Easy to use while grilling
A metal skewer is environment friendly
It's durable and long-lasting
For BBQ, it's an essential kitchen tool that should not be ignored
There are many types of skewer available such as metal, wooden, and hooked skewer
They are very easy to hold and easy to carry with the food
So, to cook delicious grilled BBQ skewers, read on.
1. Rainbow Salmon Skewer
Whatever you cook, skewers are great. You can make a tempting rainbow salmon skewer with veggies and that is perfect to make your evening memorable.
You will need one wood skewer stick, wedges of onions, red-green-yellow bell peppers, and salmon fish, you are done!
2. Chicken Pineapple Skewer
It's a contemporary version of chicken skewer with a touch of pineapple. You need to add some pineapple with chicken and marinate in teriyaki sauce.
After grilling, just add a pinch of sesame seeds for an oriental touch.
3. Vegetarian Sesame Kebabs
If you don't want to eat meat, you can go for vegetarian sesame kebabs. These kebabs are a combination of Greek yogurt and chickpea flour. It is a perfect appetizer.
4. Turkish Chicken Skewer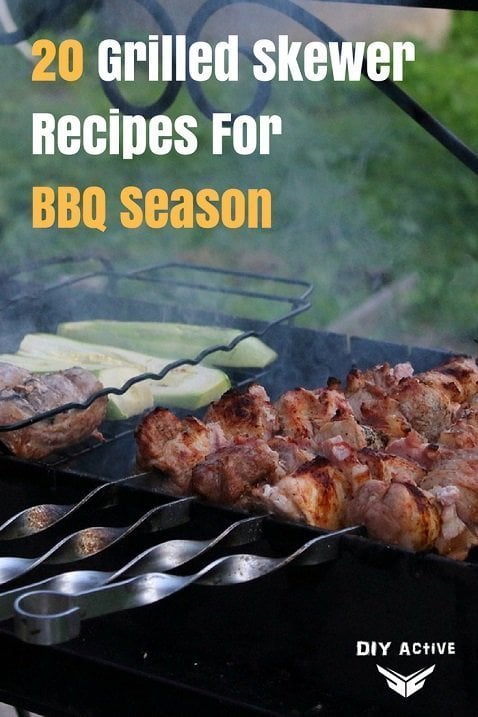 A perfect blend of lemon, garlic, tomato, and yogurt with yummy marinated chicken cubes.
This is the best skewer for the summer barbecue season. If you are really a foodie, explore this dish!
5. Lime Pork Belly Skewer
This skewer variety is very new. Most of you have not tried this yet. So, this is the right season to try pork belly skewer with lime and cilantro. This is a very light dish.
6. Asian Steak Kebabs
If you are a fan of the traditional steak kebabs, then this is perfect for you. It has a deep, smokey flavor that is very mouth-watering. Its pepper flavor makes you adore this dish.
7. Grilled Strawberry Skewer
If you are a dessert lover, this dish is for you. You can have grilled cake with strawberry and blueberry touch. It's going well with chilled vanilla ice cream.
So, why are you waiting? Don't forget to make this skewer variety at the end as dessert.
8. Moroccan Herb Chicken Skewer
To make this skewer, you just need perfectly clean chicken, lemon, cilantro, fresh ginger, and pieces of asparagus, and a grilling appliance.
This is the perfect option for those that love to make different types of chicken.
9. Harissa Grilled Shrimp Skewer
If you don't like to eat spicy food, this skewer dish is best for you.
To make this skewer, you will require coconut milk and shrimp. You just need to dip shrimp into coconut milk, garnish it with herbs, and grill it.
Wrap-Up
So, whenever you plan for a backyard BBQ, don't forget to consider these 9 delicious skewer recipes. Make your summer evening memorable with a small get-together and a BBQ.
It's a right time to up your cooking style with finger-licking barbecue dishes.
What are you waiting for? Just invite your dear and near ones, you have a great reason to invite them with these skewer recipes!
Disclosure: In the spirit of full disclosure, DIYactive.com may be compensated in exchange for featured placement of certain reviews or your clicking on links posted on this website.