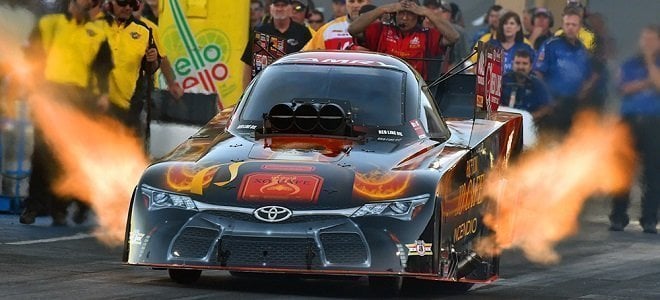 Alexis DeJoria Interview: Too busy to exercise?
We've been honored to have Alexis DeJoria on the site before. Not only is she a premiere racecar driver,  but she is also one of the fittest! We were lucky that she took the time to answer a few questions to let us know about her exercise and nutrition system during her crazy-busy lifestyle! On-the-go tips from someone literally always on the go. Check out this quick Alexis DeJoria interview!
Quick Insight From a Top Pro
We know you're a badass driver, but how did you get started?
I got started from my love of all things motorsports. I went to a drag race when I was 16 years old and fell in love with nitro Funny Cars. I had hoped that one day I'd be in the position I'm in now.
After I worked for the family business for a few years right out of high school, I still had that urge to drive, so I made it happen. I went to driving school, worked my way up and here I am.
As part of your job, how important is being fit?
It's extremely important to be in good shape. Drag racing is not only a physically demanding sport, but it's also important to be mentally strong.
I believe that how physically in shape you are is also connected to how healthy & strong you are mental.
Have you always been focused on your fitness as part of your overall approach?
Yes, especially since becoming a pro four years ago. It was then when I really kicked it into high gear.
How many times a week do you exercise?
Our schedule is pretty intense. We're on the road 24 weekends out of every year, but when I am home, I work out every day. When I'm on the road, I've developed different fitness routines that I can do in a hotel gym or on my motorcoach.
What's the best part about having a fluid workout program that you can do anywhere?
I think it just keeps you on your game. If you can develop something as I have, no matter where you are, you can still stay fit. I obviously can't do everything on the road that I would at home, but I do as much as possible.
Not to mention, when I'm on the road, I'm still racing and that's a big part of it as well. What I can't do out on the road, driving the racecar itself makes up for it.
On the flip side, what's the worst part?
The downside of having a consistent routine away from home is you know you can do it, so there's no excuse to take a day off. It's not like I can say 'oh I don't have my treadmill or my stationary bike out here so I guess I won't be working out today.'
There are other things you can do to replace that, so there's really no excuse to slack and miss a workout.
Being on the road a majority of the year, does your nutrition approach differ when you are at home? How?
Either way, I try to stick to the game plan of eating really healthy. I try to stay away from bad carbs. I always drink fresh-pressed veggie juices and try to stay away from super fatty foods, but it is good once in a while to have pasta or something like that.
For the most part, I generally stick to the same eating plan.
What's new going on in your career?
Something new that we're doing this year is adding another location to our 'Free Mammograms for the Fans' program during October, which is Breast Cancer Awareness month. During the past two years, we have partnered with Nevada Health Centers and brought their mammon out to the racetrack when we raced in Vegas and offered free mammograms to any female ticketholder over the age of 40.
This year, we're expanding our program to now include the NHRA Texas Fall Nationals in Dallas when we race there in mid-October.
Do you have any advice for those striving to reach their dreams or even their health goals?
I think it's just common sense – what you put into your body is a direct reflection as to how you're going to feel.
If you constantly eat heavy fattening foods, you're going to feel lethargic. You have to have the discipline to eat the right foods and work out regularly.
What's your favorite Patrón concoction? 😉
My favorite Patrón drink would be the Perfect Patrón Margarita. I just learned how to it make a few races ago when I did a guest bartending appearance in Chicago.
It's my father's favorite drink. It's one shot of Roca Patrón Añejo, lime juice, and simple syrup on ice with a salt rim and a lime garnish – it's so refreshing.
Alexis DeJoria Interview: Wrap-Up
To keep up with Alexis DeJoria and the Patrón XO Cafe Incendio Toyota Camry Funny Car team, please visit www.alexisdejoria.com, follow her on Twitter @ADRnhra, and Like her on Facebook, Alexis DeJoria
Wow-what a great Alexis DeJoria interview! With that, we want to thank Alexis for taking the time to bust out a few answers for us!
Keep up the great work and best of luck the rest of the season!
Image Credit: Gary Nastase Photography
Latest posts by Josh Anderson
(see all)