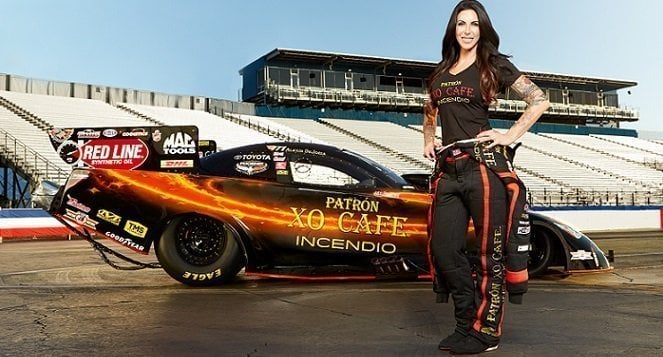 Alexis DeJoria: Life in the active, fast lane
I'm always so interested to see how athletes and celebrities who are constantly on the go stay active and healthy. There is a difference between "skinny fat" and actually staying active and exercising in order to remain healthy while constantly traveling. That's why I was pumped to hear how Alexis DeJoria stays fit and eats healthy while traveling from the race track to race track… oh yeah… while driving a 10,000 horsepower behemoth! Find out more below!


Being fit is part of the job
Most racecar drivers balk at the notion that they're not well-conditioned athletes. Alexis DeJoria is no exception. As one of just a handful of women competing in the NHRA Mello Yello Drag Racing series, Alexis must be in peak physical condition to safely and successfully control her 10,000-horsepower, 2,600-pound nitro Funny Car.
A top ten ranked driver with three wins, three No. 1 qualifiers, and two-track records, Alexis regularly exceeds speeds of 300-mph and covers 1,000-feet in just four seconds or less behind the wheel of her Patrón XO Cafe Incendio Toyota Camry.
"In my line of work, it's very important to stay healthy and maintain a strong body and mind. It's critical to be in control of the car as it fights to go in every direction but straight, down the track," says Alexis, an Austin, Texas resident who was recently named one of Austin's 'Top Fitness Ambassadors.'
"Nitro Funny Car drivers absorb a lot of pressure on their bodies. Everything from the g-forces (Funny Car drivers experience three to four g-forces on acceleration, and negative four to five g's when they pull their parachutes at the end of a run) to the seven-point harness restraint system that is holding us in the driver seat- it's all hard on our bodies. In every aspect, we're really taking a beating.
Not to mention, being able to control these cars takes a lot of upper body and core strength, while also requiring agility and very quick reflexes."
Her Fitness Routine
Alexis' fitness routine consists of an all-encompassing regimen with an emphasis on strength training. "I work out six days of the week when I'm home in between races," she says, referring to the grueling nine-month, 24-race NHRA season which travels the U.S.
"I do a Pilates class three times per week, cycle classes twice a week, and on weekends, I'm in my home gym circuit training [Editor's Note: DIY Style!]. I try and keep it balanced between weights and cardio. Pilates is needed to build core strength, lengthen muscles, and open your shoulders and chest while strengthening your spine. Many people overlook stretching, but it's so important to stretch after your workout when your body is warm to keep your muscles from getting tight. "
During the races, Alexis stays in a motorcoach which parks at each racetrack.  The confined space means she is forced to compensate for not having access to a gym or a fully-stocked kitchen.
"Maintaining a fitness regimen and eating healthy is pretty easy to do while I'm at home in Texas. The tricky part comes when we're on the road, which is more often than not. It's very rare that I'll have access to a gym."
"I'll do sit-ups, push-ups, and various workouts I can do by myself without machines, and without needing a lot of space to move around. If I can find a gym nearby, I'll go in the morning before racing gets underway and get a good 45-minute session in."
Alexis' Travel Routine:
40 Jumping Jack Squats
3 sets of 12 Double crunches combined with V Ups
3 sets of 12 side planks on each side
3 sets of 12 push-ups
Wrap up with stretching
On stretching, Alexis says, "I try and hold each stretch for at least a minute, which is really hard to do. The longer you can stay in a stretch the better."
Eating Healthy On-The-Go
Although she considers herself a foodie and loves to occasionally indulge, Alexis is very careful about what she eats, fueling her body with a nutrient-loaded high protein, low carb, healthy fat diet.
"I try and eat as healthy as possible, I pretty much stick to wild-caught fish, lean meats and veggies, and fruits and green juices. I eat organic food much as possible."
"My family and I have hens on our property so we have the benefit of gathering fresh eggs every day. I'm also in the process of building a new raised bed organic garden, similar to the one that I have at my home in Topanga, California.
That being said, one of my specialties is baking and my two pre-teen girls are always asking me to bake and make fun treats. I love food and I love all different kinds of food."
"I don't believe in starving or depriving myself, but rather having a balance of eating healthy and staying active, so I can enjoy myself and share treats with my kids once in a while. Moderation is the key to keeping that healthy balance while still enjoying life."
"On Friday and Saturday mornings (qualifying days) at the track, I try and keep it light but also have a good solid breakfast that will last me through to mid-afternoon.
A bowl of steel-cut oatmeal, or a poached egg with whole-grain toast, or yogurt with fruit are my go-to breakfast options. It all depends on how I feel in the mornings with the weather playing a big part.
On Sundays (race days), I almost always opt for the bowl of oatmeal though because it keeps me from getting hungry the longest." 
"This is important when we're advancing rounds on race day and there may not be any time to eat, other than a quick bite; in which case, I'll have an apple or half of a banana.
Other than the oatmeal, I keep it very light on Sundays. With the possibility of racing four rounds, it's important to keep your energy up. The bigger the meal, the more lethargic I feel when I need to be at my quickest."
"For lunch on Fridays and Saturdays, I have a salad of mixed organic greens or spinach with wild-caught fresh fish, prepared by a chef that travels with us. I pick at that throughout the day, rather than eat it all at once. 
Grazing on my lunch is beneficial for many reasons; it keeps me from getting hungry throughout the day, keeps my energy levels up, and doesn't ever make me feel too full.
I've found that if I sit down and eat the entire meal at once, I tend to get tired and my energy wanes as the day goes on."
"I drink a ton of water, and routinely drink vegetable juice, green juice, or coconut water. At any given moment, I always have some sort of liquid in my hand to keep me hydrated, but I steer clear of sodas and sugary fruit juices."
"During those summer months when we're racing, it is especially important to be hydrated.
The temperature outside will be in the upper 90s in some instances, and I'm wearing a thick fire suit and strapped inside a race-car, so it is absolutely essential to be hydrated."
Alexis DeJoria's Go-To Green Juice Recipe:
3 Kale Leaves
5 Handfuls of Spinach
Juice of ½ a Lemon
½ Cucumber
3 Celery Stalks
1-2 apple slices (for taste)
---
To keep up with Alexis DeJoria and the Patrón XO Cafe Incendio Toyota Camry Funny Car team, please visit www.alexisdejoria.com, Follow Us on Twitter @ADRnhra, and Like Us on Facebook, Alexis DeJoria.
Latest posts by Josh Anderson
(see all)