How to Avoid Holiday Weight Gain
As the holidays roll around, we hope you all are able to make the most of this holiday season! This sure has been a year of testing our patience and honing our adaptability and flexibility skills.
Avoiding Holiday Weight Gain
Since we are currently in the holiday season, I wanted to give some nutrition advice on how to stay fit during the holidays as well as how to still moderately indulge and enjoy yourselves.
After all, life is all about the balance between indulging and refraining.
My mentor once said "Be moderate. But sometimes you have to moderate your moderation." They were absolutely right!
Fitness, to me anyway, is a lifelong goal and journey. It does not mean we need to stop living or never eat a piece of cake again or always exercise for two hours every day.
Long-term health consists of mindfully planning our workouts, nutrition plans, rest periods, and when we can moderately let loose and celebrate! And the latter is what the holidays are all about-especially during a global pandemic!
Again, notice I used the words MODERATELY let loose and celebrate. I am in no way saying throw caution to the wind every day or even most days.
But, on holidays, yes, feel free to indulge or not. However, if you want to moderately indulge (yes, my friends, there is always a gray area. We don't need to eat everything and anything. You can always indulge a little if you prefer), then check out these helpful holiday nutrition tips below to avoid holiday weight gain.
Eat Mid-Day
Since most of us are least active at night, it's a good idea on holidays (and every day for that matter) to eat your biggest meal(s) in the morning/mid-afternoon.
When this is done, you have a better chance of burning more calories consumed, since you will most likely be more active at the start-middle of the day.
Food tends to sit in us and store to fat the later we consume it.
With this being said, if you are planning a family dinner, I would try to have a family lunch instead.
Furthermore, I am NOT saying that one should not eat dinner. You should totally eat dinner! It should just be your smallest meal of the day.
Water Down Your Drinks
Alcohol usually contains a lot of empty calories. To still have that holiday cocktail, but imbibe mindfully, I would make half a drink and fill the rest with water. This way you can have "two drinks" with the calories of one.
Something else I have found helpful is drinking beer from a shot glass. This might sound silly, but it really does help one to nurse their beer. Plus, it's fun!
White Meat Over Dark Meat
Many families get-to-together have some sort of turkey or chicken or some other type of meat during the holidays.
My advice would be to have the white meat over the dark meat.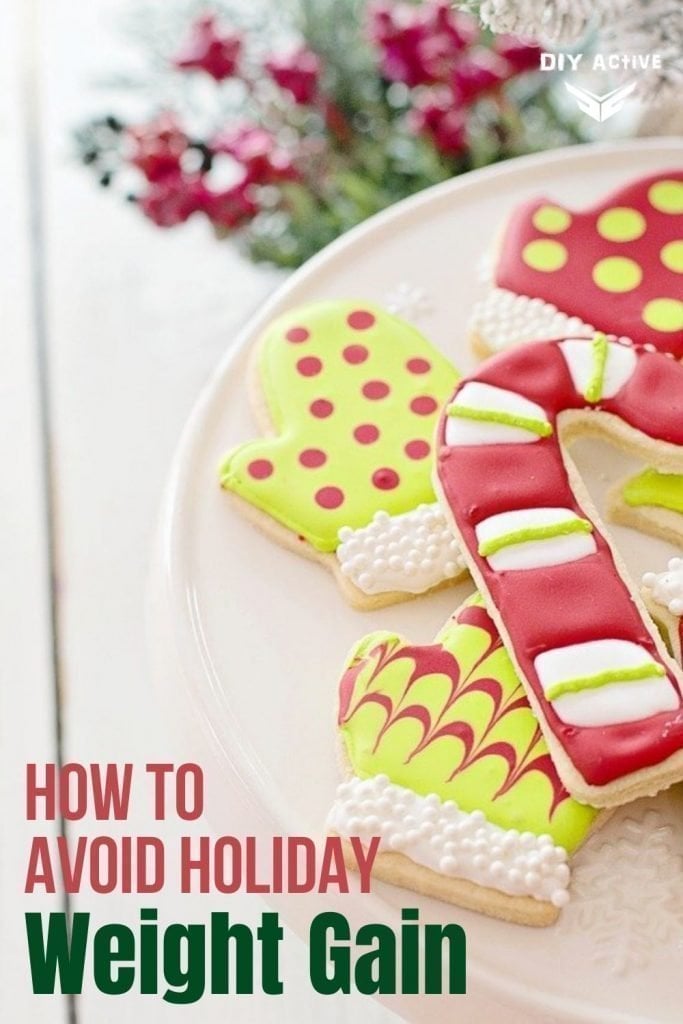 There is less fat in white meat, which makes it leaner.
If you are concerned about weight gain during the holidays, I would nix butter, gravies, jams, and other sauces as well since they are usually loaded with cream, cheese, extra calories, etc.
If this is not possible, I would drizzle just a bit on your plate.
Furthermore, I would try to avoid bread as much as possible. Bread contains a decent amount of empty calories and it's easy to fall upon.
Portion Control
There's also nothing wrong with eating whatever you want in small quantities during the holidays.
Chances are you won't gain weight by indulging a little, since a pound of fat contains 3500 calories.
With this being said, to gain a pound of fat you would need to eat 3500 calories more than you burn.
If you're being mindful of your portion sizes, it's highly unlikely that this would occur.
Healthier Options
Types of food and preparation styles can be considered as well to create some healthier options.
For example, sweet potatoes are healthier than regular potatoes.
Brown rice is healthier than white rice.
Wheat bread is healthier than white bread.
Baked is healthier than fried.
Cooking with olive oil is healthier than lard or butter.
Have Some Healthy Options Ready
If you're going to be mindful of portion size, you might still be hungry during your holiday meal. To aid with this, I would have some healthy options prepared before the holiday festivities such as celery sticks, carrots, sliced apples, almonds to avoid feeling hangry, fatigued, grumpy, tired, etc.
So much of fitness and long-term health is about planning ahead, and you can absolutely apply these principles to the holidays
Drink Lots Of Water
This goes for every day of the year, but please remember amidst all the yummy food and beverages to remember to drink lots of water.
This will help flush the unhealthy food out of your body quicker, which will slightly help with weight gain. Also, water is just good for the body, skin, and mood in general.
I like to make a deal with myself that for every cocktail I have, I will drink two glasses of water. This helps to space my drinks far out from one another and ensures I get enough water during a holiday celebration.
Making pacts with yourself is a great way to ensure success.
Have a Plan
Lastly, if you want to just enjoy the holidays and not worry about foods or calories, that is totally valid.
However, if this is the route you're going to go, I would most certainly have a nutrition and fitness plan ready to go for after the holidays.
The holidays are a time where people can lose momentum and fall off the fitness wagon come the new year, and I don't want anyone to experience that.
Wrap-Up
I hope this article has given everyone some helpful tips on how to brave the holidays! If you have any questions or comments please do not hesitate to reach out here.
Have a wonderful holiday season! As always, thanks for reading, and stay tuned!
Latest posts by Alexis Mallery
(see all)
Disclosure: In the spirit of full disclosure, DIYactive.com may be compensated in exchange for featured placement of certain reviews or your clicking on links posted on this website.