Digital Detox: Unplug as a family…
It's time to get back to your family roots and actually spend time with one another… not on the phone! Try these tips to help you unplug and get back to being "together"! It's time for a digital detox!
Building stronger family ties
When you reflect on your favorite activities in childhood, odds are you remember tearing around the neighborhood on your bicycle, playing at a friend's house, or watching Saturday morning cartoons. When you think about your kids' favorite activities, what comes to mind?
Has texting a friend replaced hanging out at their house?
Does your child play smartphone games instead of heading to the playground on a bicycle? If so, you may wish to consider a digital detox for the whole family.
What Are the Benefits of Unplugging the Family?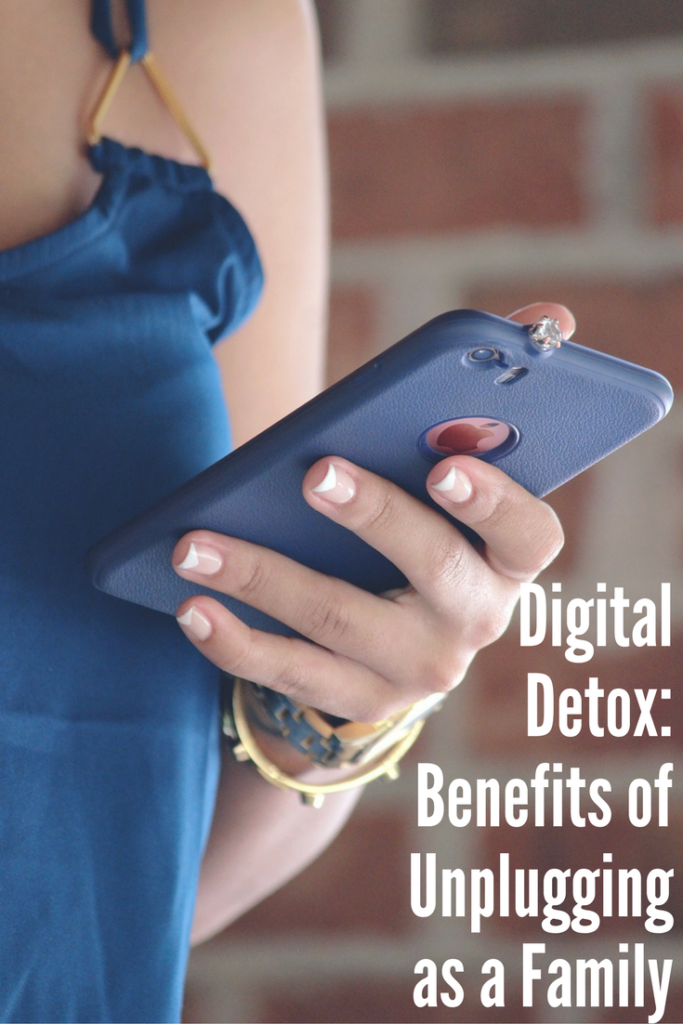 Technology can be great, but having it around all the time is draining. When everyone is sitting at the dining room table glued to their own device, real relationships suffer. As important as it is for children to be comfortable using technology, it should not be at the expense of healthy relationships. A digital detox can reinforce soft relationship skills, help your children appreciate nature, encourage empathy and communication, and bring everyone closer.
When you unplug the family, you get back to simpler times as you remember. Times when families sat around the dinner table and talked, or spent a Sunday afternoon engaged in a fun or relaxing activity. When everyone steps back from the online-24/7 news and social media cycle, negative feelings of jealousy, envy and loneliness can decrease.
By unplugging, you can increase your children's sense of self-sufficiency. The proliferation of social media has led to a culture of fear of missing out (FOMO). When you can help your children enjoy activities on their own — without the opportunity to Instagram or Snapchat every moment — you can help children live authentic, rich lives.
The Rules
To make the unplugged time a success, discuss the rules ahead of time. Maybe you will have a cellphone on hand in case of emergency but plan to keep it powered off unless you need it. Or maybe everyone will put their phones in a locked box for the duration of the getaway or simply power down together.
Older children may grumble about feeling disconnected from their friends, so be firm in your explanation of why you are having a family digital detox. Just as it can be difficult to start a new diet when you love sweets, it will be challenging for your teens to be without their phones for the first day or two of vacation. They may complain or shut down as a result. By planning several fun and engaging activities that will appeal to your family members, you can short-circuit the bad mood, and even get your children to enjoy their time away from their phones.
How to Have a Digital Detox
Try unplugging the family on a vacation, creating closeness through new experiences. To make this succeed, find a peaceful, family-friendly vacation spot. A forested area with streams, lakes, and mountains is one great option for all ages.
Pack your vacation week (or weekend) with fun, age-appropriate activities. Swimming is fun for everyone, and younger children can enjoy playing by the lakeshore or wading. Bird watching or fishing can bring everyone together and encourage your kids to appreciate the natural world. You might encourage a little healthy competition and sibling rivalry by holding a competition to see who can identify the most birds or catch the most fish in an afternoon.
If you don't know how to fish, then consider renting a guide for a family lesson on the lake. It is always fun to learn new skills, especially as a family. When your children can have the experience of catching a fish, then eat the food they caught that night for dinner, they will feel a sense of pride they cannot get from beating a level on a video game.
Get Active Together
Along with relaxing and fun activities, find ways to counteract all of that screen time with exercise. A mountain hike is a great way to get exercise and take in stellar views at the top. Canoe or kayak trips let your youngsters feel like explorers as they paddle to an island or down a river.
When evening comes, you can watch the sunset over the mountains, tell spooky stories over a campfire, or stare at the stars and enjoy the beauty of the natural world.
After the trip is over, consider having one day a month (or a week) where you unplug and connect as a family. During your family day, you might host a board game night, visit a museum together, go on a bike ride or a hike, or see family friends or grandparents.
Wrap-Up
When you put down the screens, you capture time for all of the other things that you used to do as a family.
Soon, your kids might be coming to you with requests of things they would like to do as a family during the next digital detox. Have you ever tried digital detox? If so, how was your experience?
Latest posts by Dave Swistun
(see all)
Disclosure: In the spirit of full disclosure, DIYactive.com may be compensated in exchange for featured placement of certain reviews or your clicking on links posted on this website.