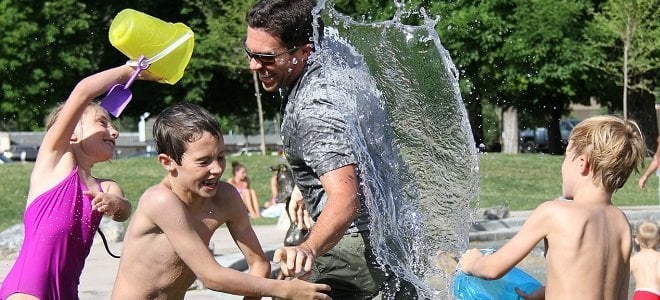 Cardio Tips for Improved Family Health
The family that exercises together stays healthy together! Here are some great DIY Lifestyle tips for you that will not only help you improve your cardio and family health, but do it without taking valuable time away from your family! Check out these family health tips below!

Family health at its finest
Working out is hard, doing cardio is harder, and taking time away from family to do cardio is the hardest.
For many of us, the issue is not the desire or the drive to get to the gym and do the work, the issue ends up being sacrificing time away from our families to do it.
After already being away from them all day to keep up with work, it's difficult to commit to another few hours away from them. Luckily there are many ways to keep your body active without taking time away from loved ones.
Not only is it a positive experience spending more time with your family and improving family health, but it's a great way to keep your family activities as well.
1. Walk the Dog
Your pup will get just as much out of these walks as you will. Depending on the breed and age of your dog, you can even run or ride your bike with your furry friend and help them get some energy out and stay at a healthy weight while you are getting your cardio on.
It can be difficult leaving the furry members of your family at home all day and then leave them again to get your workout in.
Fortunately, your dog needs exercise just as much as you do. Remember to pay attention to the weather and try not to run your pup when the ground is too hot or cold and can harm your dog's pads.
There are boots for your dog, however, if you'd like to take them out and protect their paws in the process.
Keeping your dog healthy and sticking to your health regimen doesn't have to stop with your cardio, either. Many healthy fruits that you enjoy are also great, healthy snacks for your pup.
Instead of giving them a milk bone, try offering them a carrot, blueberry, or watermelon. Just be sure not to offer them a grape or raisin as they are toxic for your furry friend.
2. Gym Together
Making time for the gym doesn't have to be a solitary act. Your family can join in on the fun and get a gym membership with you.
Many gyms offer family discounts or packages to help make the endeavor more affordable for you. If your kids aren't old enough to participate in gym time, there are many gyms that offer daycare as part of their package.
While you and your spouse spend some time focusing on your fitness, your kiddos can enjoy some playtime close by while helping their socialization.
They will love some time in the pool with you as well, so there are many ways to make the gym a fun experience for everyone without being too far apart.
3. Get a Stroller
On the same note as taking your pup for a walk, get a stroller and take your young kiddos for a walk in the stroller. Bring your spouse and the dog and make a family outing out of it.
Go to areas of your neighborhood that you aren't used to, pack the stroller and take a walk in a park nearby, or take the stroller to a trail outside of town.
Not only are there strollers made for different terrain, but the change in scenery will help your cardio stay interesting. Many parents also claim that their kiddos nap the best while they are being pushed in a stroller.
What better way to get your little one to sleep than by doing it while getting your cardio in?
4. Start a Routine
Getting the whole family into an active routine will help you stick to your cardio while creating family time on a consistent schedule. Ask your family members which type of cardio they like the best and plan a few times a week to do those things together. You can plan a bike ride, trip to the pool, the game of soccer, or rollerblading.
The possibilities are endless and vary based on the age and abilities of the family members involved, but consistency is key and kids will do best in a structured routine.
Mark it on the calendar and hold yourself accountable for keeping those commitments to yourself as well as your family members.
Start a workout calendar and mark the days you plan on going to the gym, the days you plan on doing a family activity, and even your relaxation days.
The visualization of a calendar will help all of you stick to the routine.
5. Join the Play
It's important to give your children plenty of time to play, run around, and burn off some of that energy that they always seem to have. Instead of taking them to the park and sitting on the bench watching them, get out there and join in on their playtime.
Push them on the swings, play tag, and help them in difficult jungle gyms. It's impressive, really, how much activity is involved in keeping up with your kiddos.
If you have children in sports that they need to practice for, offer to help them practice. Play goalie for them, join in on a game of one-on-one or let them pitch for you.
Just don't skip out on running the bases! Get the most out of your activity with them. It'll help you get your cardio in and they will appreciate you joining in on something fun and important to them.
Wrap-Up
For those trying to balance family time and time for cardio exercise (aka family health), the solution isn't necessarily to choose one over the other.
There are many ways to mesh the two and include your family in your cardio. Instead of spending time away from your loved ones or abandoning your cardio routine, try to blend the two with these ideas or create your own to fit your fitness needs and family lifestyle.
Make family health a priority!
Latest posts by Chelsy Ranard
(see all)