Healthy Portable Meals for the Summer
Nutrition is a key component of a healthy lifestyle, and it's essential for preventing serious health conditions, such as heart disease. During the summer months, as temperatures go up, it's very important to stay hydrated and to have a healthy diet, with all the essential nutrients.
Healthy portable meals and a healthy lifestyle
Intense hunger is largely responsible for overeating or eating junk food. When we go for hours without eating and don't have any healthy alternatives at hand, we will most likely eat things that are bad for us, that have a lot of calories but not enough nutrients, and that affect our weight over time.
Because most people live such an active lifestyle, it's even harder to stop and enjoy a healthy meal. That is why healthy portable meals are becoming increasingly popular.
From healthy snacks to mason jar lunches, these types of meals on the go are an excellent alternative to processed food. Plus, they take very little time to prepare in advance and are also inexpensive.
Healthy portable meals are great for lunch or breakfast, whether you are a student or an employee. They are also a good choice for vacations and family trips.
If you are thinking about taking a camping trip on your truck, you need to not only find a tent that is perfect for Tacoma but also bring portable meals that are highly nutritious and will keep hunger away while being on the road.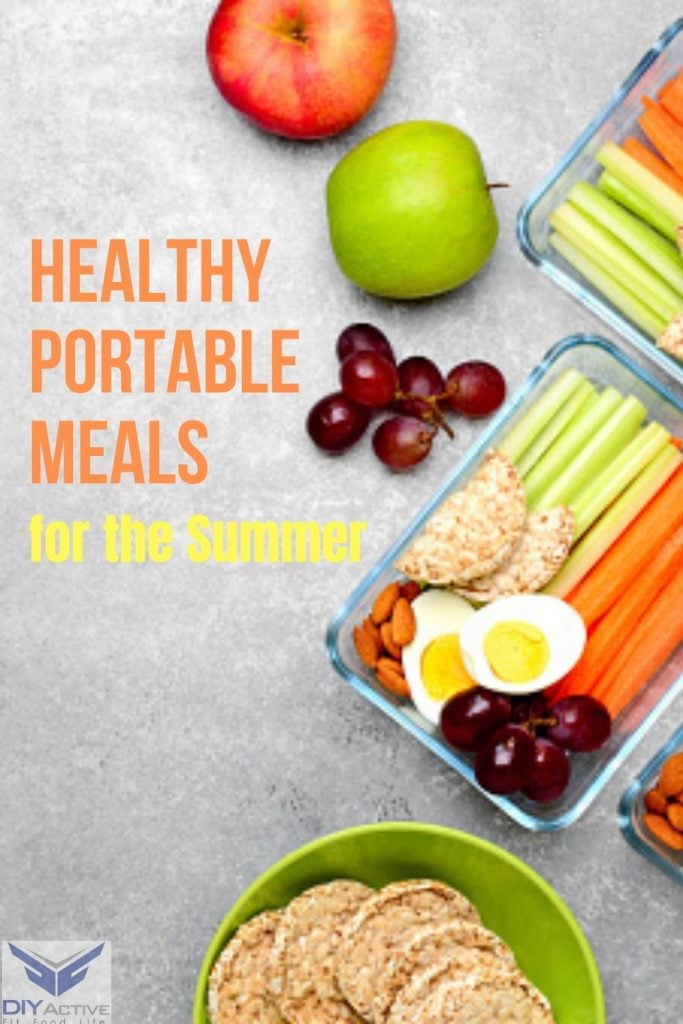 Having a healthy meal at hand is also important for our mood and energy level. Many of you know what it's like to feel cranky and unable to focus because you haven't eaten properly.
A fresh meal on the go can prevent mood swings and sudden drops in energy levels.
Healthy portable meal ideas
Introducing healthy portable meals into your daily lifestyle can make a big difference. It can help you stay fit or lose excess weight, it keeps your energy levels constant, and it also saves time.
Mason Jar Salads
Mason jar salads are some of the best meals you could have on the go, and they are perfect for a lunch at school, at work, or on a trip.
They are very easy to prepare; all you have to do is layer all the ingredients in the jar the night before and add the dressing in the morning. Salads are great because they can be consumed at room temperature, and they are very satiable.
The important thing is to combine various ingredients to get as many nutrients as possible. As a general rule, try to have a source of carbohydrates, a source of protein, and plenty of vegetables and greens.
This could look like a pasta salad with mozzarella, basil, and tomatoes, or a chickpea salad with spinach, lemon, olives, and chicken.
The possibilities are endless, and you are free to experiment with all sorts of fun combinations. Don't forget to add a dressing, preferably olive oil and lemon dressing, for healthy fats and vitamin C.
Oatmeal
Oatmeal is another great portable meal that can be prepared the night before. You can use oats, chia seeds, or quinoa and mix them with your favorite type of milk or plain water.
It's very important to add various nuts for healthy fats, as well as dry and fresh fruit for extra vitamins and minerals.
Other Options
Overnight oats or chia puddings are the best options for breakfast, whether you don't have enough time in the morning before you leave for work or school, or whether you are leaving early in the morning on a camping trip.
Fruit salads and fruit water are also great to have during the day.
Wrap-Up
These portable meals are nutritious and an excellent alternative to processed food.
Eat healthy anytime, anywhere. What's your idea of a healthy portable meal?
Disclosure: In the spirit of full disclosure, DIYactive.com may be compensated in exchange for featured placement of certain reviews or your clicking on links posted on this website.