Want Healthy Thanksgiving Recipes?
It's that time of the year – time for eating yourself into a coma and loosening up the belt! But maybe you are looking for heather, happier, less bloated way this year? Tara stops by and gives us some great tips for keeping it practical and some seriously awesome healthy Thanksgiving recipes!
Eat Healthily, Live Happily and Be Guilt-Free
There's no doubt that the holiday season is the most fun yet challenging time to maintain a healthy lifestyle.
There is an abundance of sugar, alcohol, and those oh so unhealthy, yet tasty treats.
The good news is that there is a solution that does not rely on self-control and deprivation; it's learning to listen to your body's signals and find healthy alternatives for those beloved holiday foods.
Here are some tips and healthy Thanksgiving recipes below that will help you get through this holiday season while still enjoying those amazing foods.
Naturally, Prevent Cravings and Over-Indulging: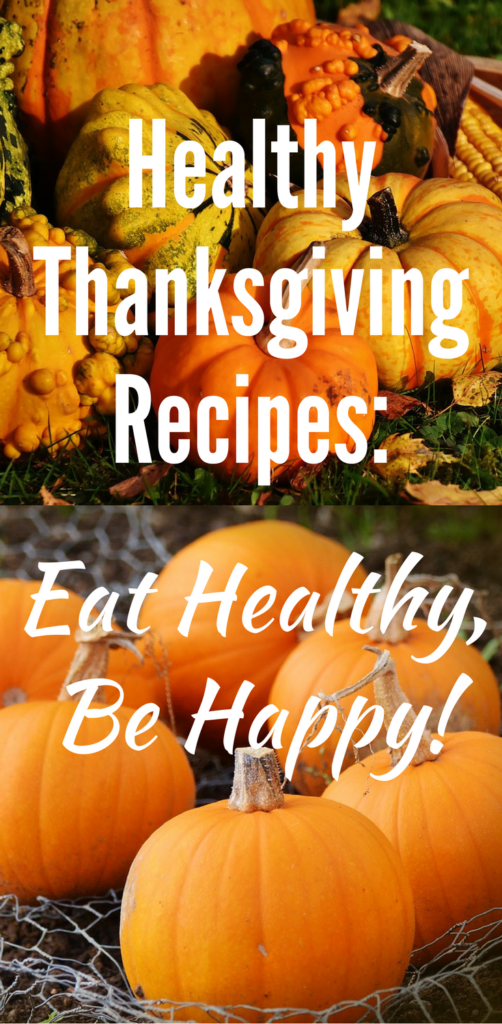 Eat more vegetables and fruits. Of course, this would be at the top of the list when it comes to healthy Thanksgiving recipes and tips. Some of the most delicious fruits are in season during the holidays including cranberries, pomegranates, and tangerines.
These fruits can help prevent overindulging in sweet treats, pies, and other holiday sweets by serving as replacements and satisfying that sweet tooth.
Adding in sweet vegetables helps to crowd out less healthy foods in the diet. Try parsnips, carrots, beets, winter squashes, sweet potatoes, and yams.
Eating more vegetables and fruits actually makes you crave sugarless.
Minimize caffeine. The highs and lows that caffeine creates in our bodies often result from dehydration and blood sugar spikes, leading to sugary food cravings more often. To minimize these extremes, try switching out your normal cup of coffee (or reducing the amount you drink) with herbal coffee.
This alternative to coffee is caffeine-free tea and comes in an array of flavors including Dandelion Roast or a Longevity Spring tea with Gynostemma, a herb that supports healthy immune activity and increased energy.
Stay hydrated. Often times we mistake the signals for thirst as hunger and end up eating unnecessarily. An easy tip to follow is to drink two glasses of water before your Thanksgiving meal and then find yourself reaching for that extra snack.
Your brain might actually be telling you that you're thirsty!
Add spices. Certain spices like coriander, cinnamon, nutmeg, cloves, saffron, and cardamom actually have properties that reduce food cravings.
These spices will naturally add flavor to your foods, increase serotonin levels that will leave you feeling satisfied and reduce cravings.
Load up on electrolytes: Drinking alcohol can deplete your electrolytes and make you feel lethargic and crave carbohydrates. Certain supplements such as Drinkwel that contain minerals and vitamins exist and should be taken before and after drinking alcohol.
You can also take 150 mg of magnesium, calcium, B6, and B12 which you might already have in your medicine cabinet. For extra electrolyte balance, drink natural coconut water, eat grapefruit for natural detoxification of alcohol, antioxidant-rich fruits, and dark leafy greens such as kale and spinach.
Avoid These Pitfalls During the Holidays
Using canned and packaged foods seems like a wonderful solution when you're in a crunch and need to get a dish prepared quickly.
However, these foods are usually highly processed and usually contain high amounts of sodium and preservatives that can lead to dehydration and increased food cravings.
Take the time to properly plan out your meal and prep items the night before, if needed. You'll have fresher ingredients and your body won't suffer the consequence of food cravings and the guilt you'll feel when overindulging.
Make sure to take extra notice to avoid these keywords: canned, stovetop, and ready-made.
Healthy Thanksgiving Recipes
1.) Mashed Cauliflower & Turnips (alt. to mashed potatoes)
Ingredients:
1 medium-sized cauliflower chopped up
3 turnips chopped and peeled
1 tbsp grass-fed butter
1/2 cup coconut milk or another nut milk
7 chives chopped
2 tbsp organic sour cream
pink salt and black pepper for taste
Instructions:
Bring water to a boil and add the chopped cauliflower and turnips and cook for 20 min
Once tender, drain the pot and add the vegetables, nut milk, sour cream to a blender
Blend until it's smooth and creamy. Garnish with chopped chives & add salt-pepper for
flavor
2.) Lemon Garlic Brussels Sprouts
Ingredients:
1 large brussel sprout bulb- cut each in half
2 lemons
3 garlic bulbs- chop up the cloves of each
3 tbsp coconut oil
1/2 tsp chili flakes
1 tsp pink salt and black pepper
Instructions:
Preheat oven to 450 and toss the chopped brussels sprouts and garlic in coconut oil
Use parchment paper over a large baking sheet and place the Brussel sprouts on top
Let it roast for 20-30 min. and stir and roast for another 15-20 minutes
Toss the Brussel sprouts with lemon juice, chili pepper, salt, and black pepper and serve
3.) Healthy Pumpkin Pie
Ingredients:
½ cup coconut palm sugar
1 teaspoon cinnamon
½ teaspoon sea salt
½ teaspoon ground ginger
¼ teaspoon ground cloves
2 large eggs
1 can (15 oz.) 100% Pure Pumpkin
1 unbaked 9-inch pie shell
1 can (13.5 oz.) full fat coconut milk
Instructions:
Preheat oven to 375. Combine all filling ingredients in a bowl and puree with a hand mixer
Pour filling ingredients into pie shell
Bake for 40 to 50 minutes or until knife inserted near center comes out clean
Cool on a rack for 2 hours. Serve immediately or refrigerate
Top with coconut whipped cream before serving
4.) Spinach, Pecan & Endive Salad
Ingredients:
1 bag of organic spinach
3 heads Belgian endive, halved, cored, and sliced
½ cup pomegranate seeds
½ cup of pecans, chopped
Agave Nectar Vinaigrette
2 tbsp agave nectar syrup
2 tbsp apple cider vinegar
2 tbsp organic cold-pressed extra virgin olive oil
Pinch pink salt/black pepper
Instructions:
Toast pecans in a skillet over low heat, stirring often for 2 to 3 minutes, and let them cool
Toss spinach, Belgian endive, and pomegranates in a large bowl
Heat olive oil in a small skillet with low heat. Add apple cider vinegar and agave nectar syrup and let it boil
Pour dressing over salad and toss with pecans and season with salt and pepper
5.) Holiday Spiced Nuts & Seeds
Ingredients:
1 egg white
1 teaspoon pink salt
3 teaspoons pumpkin pie spice (mix of cinnamon, cloves, ginger, and nutmeg)
1/2 teaspoon cayenne pepper
¼ cup coconut palm sugar
4 cups raw unsalted nuts (walnuts, almonds, pecans, and cashews)
2 cups raw pumpkin seeds
Instructions:
Preheat oven to 250 degrees
Place egg white in a bowl and whip until frothy
Stir in sugar, salt, and spices & combine it with the nuts and seeds coating them evenly
Use a large baking pan and line it with parchment paper and place nuts in one layer on top of it
Bake for 45 min to 1 hour and let the nuts cool down for a few minutes
Store the extra in an airtight container in the fridge
6.) Pecan Brookies
Ingredients:
2 eggs
1 tbsp. coconut oil
1 tsp. unsalted grass-fed butter
2 semisweet chocolate chunks (72% cacao)
¾ cup coconut palm sugar
½ tsp. vanilla extract
1/2 cup chopped pecans
½ tsp all-purpose flour
¼ tsp. baking powder
¼ tsp. pink salt
Instructions:
Preheat oven to 350 & melt the chocolate, oil, and butter on the stovetop
In another bowl, whisk together eggs, coconut sugar, and vanilla until combined. Add the melted chocolate mixture into the egg mixture
Whisk together the dry ingredients in a separate bowl. Combine the flour mixture with the chocolate mixture, pecans, and the chocolate chunks
Freeze the mixture on a pie plate for 8 minutes until it hardens
Take the mixture and place it on parchment paper in a deep baking pan. Bake 15 min
The tops should be dry and cracked while the insides will still be moist. Let it cool
Wrap-Up
How do those healthy Thanksgiving recipes sound?
From preventing your over-indulging to helping you eat healthily, these recipes and tips can help you really enjoy this holiday season! Apart from eating healthily, you should also take care of your dental health! Check out this link for the Best dentist In chandler.
This is some great advice that we can all implement (who doesn't need more healthy Thanksgiving recipes?) this year to be healthy, happy, and guilt-free!
Latest posts by Tara Zamani
(see all)
Disclosure: In the spirit of full disclosure, DIYactive.com may be compensated in exchange for featured placement of certain reviews or your clicking on links posted on this website.