Need Pain Relief? Try These Self Massage Techniques
According to AMTA's 2019 Massage Profession Research Report, about 47.5 million people had a total of 214 million massages in the U.S. in 2018. This is because 88% of people consider massage effective when it comes to relieving muscle pain, soreness, and trigger points.
Self-massage techniques for pain relief
Undoubtedly, stealing even a pinch of your time to book a massage with a therapist is a good thing. Sadly, for people with a busy lifestyle, this can be a hassle. Worse of all, not all people can afford a professional massage.
So, should you suffer in silence?
Of course, not all hope is lost.
The invention of self-massage techniques seems to be a relief for people with busy lifestyles and the disadvantaged in terms of wallet. Self-massaging from the comfort of your home or office could help you enjoy plenty of the benefits a professional massage provides. The best part? The internet is full of self-massage techniques that aren't difficult to integrate into your lifestyle.
Some of the self-massage techniques require you to use your fingers, a tennis ball, or special foam rollers you can buy online at affordable prices. So, in this article, we are going to share some of the effective DIY massage techniques to relieve your pain, muscle tightness, and other health issues.
But before we get started, let's learn a few basic things.
Reasons For Self-Massage
Self-massage is important for many reasons. It helps to relieve pain caused by stress, muscle tension, and other causes. It even helps with more serious issues. For example, if you are suffering from MPDS (myofascial pain dysfunction syndrome) then you may give regular self-massage a try.
Keep in mind, you should always check with your doctor when facing serious health issues. That said, if you want to give self-care a try, here are a few of the reported benefits of self-massage:
Relieves pain, muscle swelling, and soreness
Relieves stress and depression
Boost your immune system
Improves concentration
Refreshes your mind and body
Enables you to get a better night's sleep
Why Self-Massage Instead of Booking a Massage Therapist?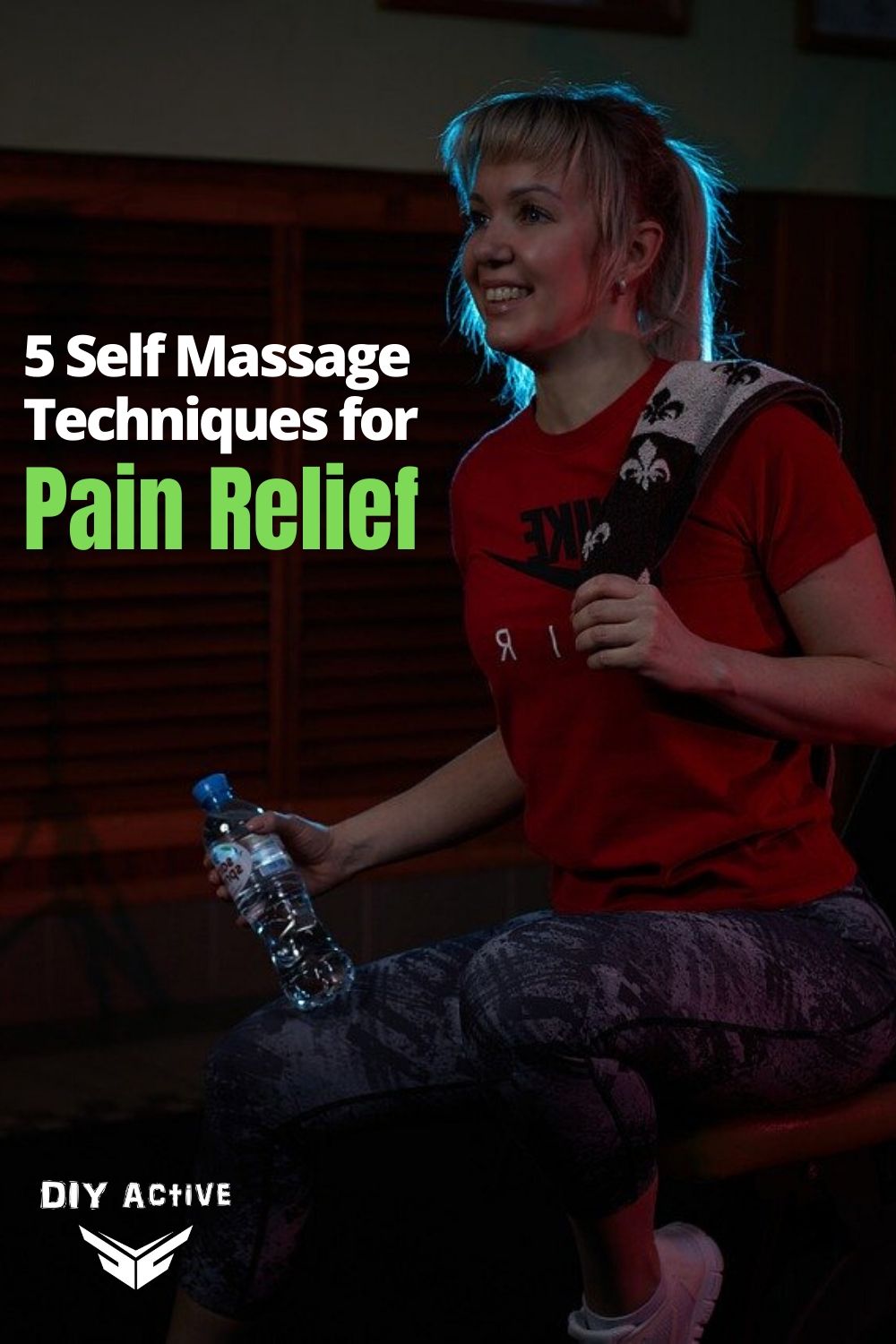 Learning the self-massage techniques may help you in many ways. So, consider self-massage techniques as an alternative to a professional massage.
Self-massage is less costly
It does not take much of your time
You can focus on the painful areas
It's doable almost anywhere
With that, here are the five self-massage techniques that may help to relieve your pain.
1. The Use of Tennis Ball
You can use a tennis ball as a foot massage as well as for lower back massage and for relieving tension headaches caused by a tight neck.
To use a tennis ball for foot massage, place the arch of your foot on the ball as you support yourself with one hand on the wall then press the ball through your arch.
Roll your foot slowly as the tennis ball massages your heel, toes, and forefoot. You can use a gold ball instead of a tennis ball as well.
2. Massage Your Neck
Sometimes a tight neck can cause tension headaches. People with chronic joint and muscle pain suffer neck pain most of the time.
People who spend most of their time working with computers struggle with neck pain and soreness.
Neck massage is a simple technique that requires you to use your own hands.
With neck massage, you just need to apply more pressure on the painful areas of your neck using your heel to ease the pain. Do this followed by rolling your shoulders forwards and backward, and repeat this at least three times a day.
3. Hand Massage
If you work with computers typing the whole day, at the end of the day, you are left with painful hands. With hand self-massage, you can relieve tension.
It's simple and you don't need an expensive massage tool.
4. Chest Massage
Chest pains may arise if you sit at a computer every day for extended periods. This is often caused by trigger points in your pectoralis muscles.
You can use a Thera cane to ease the trigger points and keep your shoulders in a good position.
Holding the hook of the Thera cane or any other manual massager, place the knob below your collarbone.
Apply pressure on the hook in different directions on your chest repeatedly but slowly.
5. Lower Back Massage
Low-back pain is one of the most common health problems costing Americans approximately $50 billion in health care every year. It can render you less productive at work and affect your general health. Sadly, it affects people of all ages.
Furthermore, daily activities like cleaning and gardening may compound the problem. Office work may also lead to lower back pain. If you spend most of your time sitting in front of your computer then you probably know that low-back pain is frustrating and problematic. It gets better.
With a tennis or massage ball, you can ease your back pain.
You can do this by rolling your back on a tennis ball on a wall applying stronger pressure in the areas of tension.
Wrap-Up
If you lack the time to book a massage therapist or you can't afford a professional massage, muscle tension, and trigger points should not cause pain and discomfort to you.
Use these self-massage techniques to relieve yourself of the pain caused by everyday activities.
Disclosure: In the spirit of full disclosure, DIYactive.com may be compensated in exchange for featured placement of certain reviews or your clicking on links posted on this website.