Quick 101 on Styling Yourself
Finally, after a super long stretch of winter, we can sense summer is in the air with sunnier, warmer days. It is already time to put away all those bulky jackets and hoodies and get ready for summer swag. One of the very interesting things about fashion and style is that it makes sure that you do not get bored with yourself by dressing monotonously.

Styling Yourself Casually This Summer
The styles change seasonally, which means you will be tweaking your style accordingly. That being said, the constant changes also irk many people who do want to stay up to date but do not have the luxury to shop again every season.
What they do not know is that they can easily restyle their older clothing items and still look fashionable without having to shop for new apparel and accessories.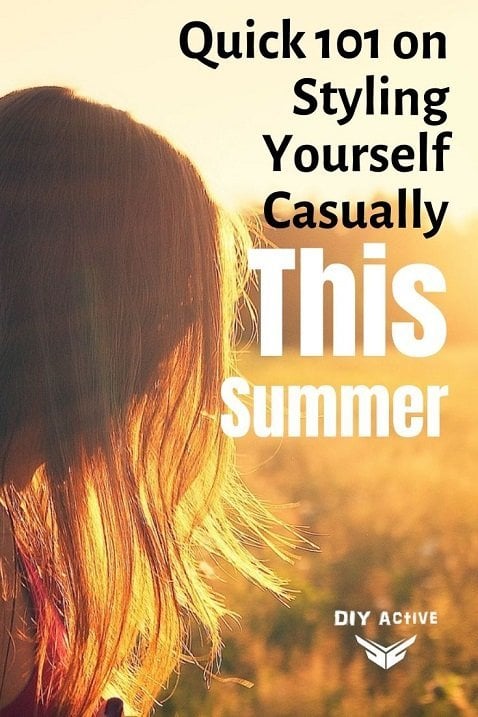 The biggest age group that is affected by the fashion bug are young adults and youth.
With so much energy and youthfulness, it only makes sense that they wish to look on point when it comes to styling. As a college or grad school student, you will mostly find yourself in casual settings compared to formal ones.
Interestingly, dressing right for casual settings is much trickier than the formal ones, because you need to create a balance between looking fashionable and yet avoid looking whacky.
It is a common perception that casual fashion is all about going whacky with a splash of colors in your hair and funky clothes. Interestingly, the latest fashion trends are more focused on the "less is more" mantra.
While you can absolutely go off the beaten path and do your own thing, the basic theme is more on the minimalistic line with subtle colors and prints. Here is a quick guide for all you need to have for a perfect summer look and styling yourself this year.
Wardrobe
This summer is all about light breathable fabric, pastel hues, and small light prints. Pure cotton will be your best friend this summer. Women can opt for Chantilly lace for an added oomph.
The evergreen casual button-down shirts will continue to be a hit. You can pair them up with lightweight denim trousers or even shorts. T-shirts and polos are a must-have for both men and women.
Girls should also consider having some flared skirts in their wardrobe for a perfect breathable summer attire that also exudes class. Crew necks and V-necks are the latest rages when it comes to necklines.
Shoes
Strapped sandals, Hawaiians, and Fit Flops are the biggest must-haves this season for your casual needs. For women, Slides and cross-slide flats are yet another hit. Those who like a bit of height can pick wedges in similar styles.
These open-toe styles are extremely comfortable and breathable for people in warmer climates. Get a good pair of sneakers for those days when you are expected to move around a lot and need something with a comfortable grip.
Bags
In the recent past, bags have emerged as a fashion essential not only for women but also for men. That is one of the reasons why most fashion houses today have their line of bags.
This season, fashion is all about comfort and ease. When it comes to bags, there is nothing more comfortable than backpacks and cross-shoulder bags. Both these styles have been a huge hit both among men and women past summer and the trend is here to stay this summer.
If you do not want to go for something oversized, and just want something that can easily accommodate a few essentials, you may also opt for a smart satchel.
Accessories
Let your clothes enjoy the limelight this summer and go easy on the accessories. Heavily loaded piercings and a wrist full of bands and bracelets are very outdated and also very discomforting especially if you are living in humid conditions.
Get a pair of small studs for your ears and a good casual watch for your wrist. One of the best and the most recommended watches this summer are the nomos club watch.
With breathable canvas straps in cool hues of white grays and blues, these watches are a unique blend of style and sophistication, a perfect fit for the current summer fashion trends. Oversized neckpieces are done to death and should only be kept for formal evenings.
A very small string or chain around the neck should be enough if you have a deep neckline.
Hair and Makeup
Short and neat is the latest in-thing regardless of gender. For men, short, neat cuts are the latest rage so do away with those messy locks. If you have longer hair, keep them neatly tied up so that they are not all over your face.
For the girlies, short and long bobs were quite a rage last summer and the trend is still quite hit this season.
Wrap-Up
This summer is all about no-makeup looks. Ditch your foundation and invest in a good tinted moisturizer or a CC cream with good SPF.
Top off styling yourself this summer with a cream concealer. Add on a lip and cheek tint and a cream highlighter to complete the look.
Disclosure: In the spirit of full disclosure, DIYactive.com may be compensated in exchange for featured placement of certain reviews or your clicking on links posted on this website.