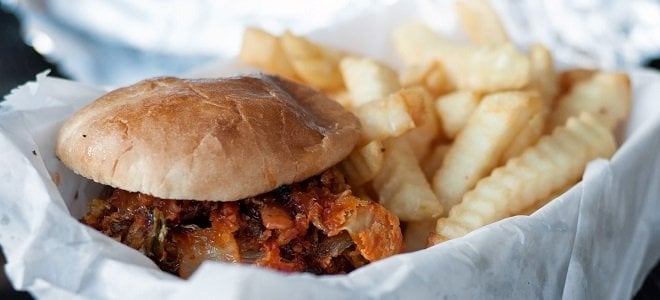 Don't Know What to do About Fast Food?
Who doesn't crave a quick meal occasionally and sometimes while traveling we succumb to the fast-food drive-thru, but that doesn't mean we should feel guilty! This expert breaks down some great ways to eat healthy next time you stop by the local fast food joint!

Fast Food is a Weight Loss Killer
Fast food restaurants aren't typically top of mind when you're thinking of a healthy meal.
Sure, we can all agree that a balanced, homemade meal is best, but there are times when you have to make a Beeline for the drive-through and speak to that anonymous voice on the other side of the speaker.
But with today's fast food options, you don't have to settle for a salad or leave lunch feeling guilty.
There are plenty of alternatives and main menu options that even your trainer would approve of. In fact, there are more healthy options than ever available at fast-food chains, as long as you're vigilant and well informed.
We've rounded up some of the healthier options at popular restaurants, as well as a few expert tips, to help guide you in the right direction next time your coworkers insist on french fries or your toddler has a fit for a happy meal.
The Basics
Just because you're eating out doesn't mean you have to throw out your fitness plan. All things can be added in moderation, so it's up to you to determine what exactly you want to moderate.
At fast-food restaurants, for example, it's best to keep condiments to a minimum. Stick to a packet of tomato-based ketchup over fatty mayonnaise to skim away a few extra calories.
Stay on track by swapping outsides for healthier alternatives, like a fruit cup instead of fries.
Many chains offer the switch at no extra cost and you can even save that compact little pack of strawberries and grapes for a treat later on.
You know sugary sodas are a problem when your own government tries to limit your intake.
No matter what side you stand on in the great pop debate, it's probably best to stick to water when you're ordering fast food. Plus, eating nutrient-rich foods will do a better job of filling you up and leaving you energized than sipping your calories. Not to mention, you'll save a few bucks by cutting the fizzy drink.
Speaking of spending, why pay more for your meal when the kids' menu offers plenty of perfectly portioned options?
You'll oftentimes find more balanced nutrients and reasonable helpings when you join the under 12 crowd. But don't think you'll be passing on taste—many places serve up mini replicas of standard menu items.
McDonald's
This American giant hasn't always felt the love from the general public.
But despite questionable articles posted on social media, McDonald's is becoming more transparent than ever, revamping its image across the board and offering healthier items for kids and adults alike.
Check out Ronald's Artisan Grilled Chicken Sandwich for a savory snack that satisfies without breaking the bank. Coming in at around 360 calories, this meal offers a solid protein and respectable carbohydrate count. Just be sure not to overdo it on your sodium the rest of the day.
Opt for apple slices on the side and if you just have to nibble on some French fries, we're sure your friends won't mind if you steal a few from them while you chow down on your delightful sandwich.
Starbucks
We just suggested sticking to water, but you probably visit this staple at least three times a week, so you might as well be sure you're making a smart choice when fueling your caffeine cravings.
We all love frothy pick-me-ups, but switching out your caramel-drenched love affair for a more straight-laced espresso can give you the boost you crave without the sugar rush.
And besides, drinking from that tiny cup gives you an effortlessly cool European vibe.
If strong shots aren't your thing, take a look at Starbucks' very own list of drinks under 150 calories.
And while you're there pick up a yogurt parfait for an on-the-go snack that will satisfy your sweet tooth and keep you on track.
Chipotle
This quick take on Tex-Mex is undeniably delicious, but the calories can add up fast; stick the basics and focus on nutritious veggies to top your creation.
A kids' meal is a great bet at this location. Skip the tortilla and fill up a bowl with scrumptious steak, black beans, fajita vegetables, and salsa, and add fruit on the side for a filling favorite.
You might just find your friends ogling over your lighter fare.
Wrap-Up
Indulging every once in a while can help you maintain a healthy lifestyle and the occasional trip to your favorite fast food joint is no exception.
And since most places list detailed nutritional information in stores and online, it's easier than ever to make conscious decisions about your health at the mall food court or while you're running around town.
Eating out shouldn't feel like a crime, so take advantage of your resources and enjoy a fast-food pit stop every once in a while. Stick with moderation and enjoy yourself!
Latest posts by David Hung
(see all)
Disclosure: In the spirit of full disclosure, DIYactive.com may be compensated in exchange for featured placement of certain reviews or your clicking on links posted on this website.