Upgrade Your Home Fitness Studio
With summer just around the corner, everyone is starting to worry about their beach bodies. Fortunately for you, you're ahead of the game — you already have a home fitness studio. Maybe, it's time for a home studio upgrade!

Your home fitness studio upgrade
Even a proud gym owner needs the occasional boost to keep their good exercise habits.
So this spring, try updating your home fitness studio by bringing in a few new pieces of equipment, making the environment your own, and filling it with what inspires you most.
Quality Equipment
Don't worry — in this context, "quality" doesn't necessarily mean "outrageously expensive."
There are many inexpensive pieces of workout equipment you can add to your home gym. Here are a few of the most useful and versatile pieces you should consider:
Resistance bands. You can use resistance bands to make strength training workouts a little bit harder, make pullups a little bit easier, and stretch those muscles a little bit deeper.
Yoga mat(s). Yoga mats are great for stretching, Pilates, floor workouts, and — of course — actual yoga.
Medicine balls. There are so many medicine ball workouts at your disposal that you just can't go wrong by having one or two of these weighted workout buddies on hand.
An adjustable bench. Having an adjustable bench in your home gym means two things: 1) You have access to hundreds of possible exercises, and 2) You save yourself the trouble of buying multiple benches at different angles.
Free Weights. If you have a little extra room, you can always opt for the practicality of your own set of free weights.
Maybe you already have some of these pieces, and maybe you don't. But if you're looking to keep your home gym up-to-date and enticing, it never hurts to try out different equipment that will challenge your body in new ways.
A "Zen" Environment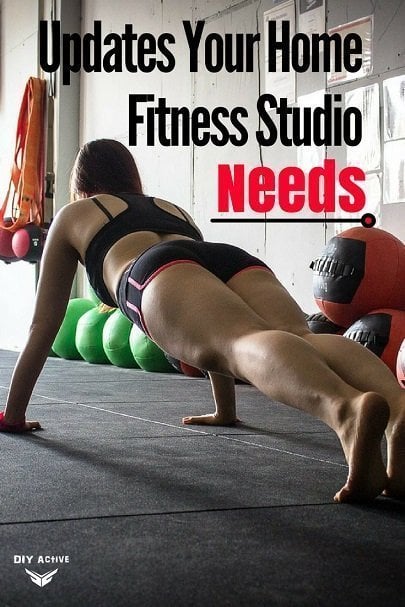 To get the most out of any workout, you need to feel comfortable.
Not comfortable in the sense that you're lazing about, of course — but in the sense that you can really dig into your exercises without feeling self-conscious or getting interrupted.
That's why you need to turn your gym into a "Zen center." When you walk into that room, you need to know that you're in your own safe, isolated little world.
Here are a few things you can do to make it happen:
Post a "do not disturb" sign. Closing the door is a given, but you're well within your rights to post a clear, "Leave me alone. I'm in the zone!" sign as well.
Make your gym soundproof. Or, at least as soundproof as possible. For instance, put your gym in a non-disruptive part of the house rather than right next to the study or your next-door neighbor's bedroom. That way, you'll be able to focus more on your workout and less on staying quiet.
Invite the right people. If you want to invite a buddy to work out with you, great. But don't let anyone tarnish your Zen environment. This is your place of exercise, after all, and you need to feel comfortable in it.
When you're working outright, you're probably pretty hard to distract. But it never hurts to have these updates in place so that you can get in the "zone" even more easily.
Motivation Boosters
The toughest thing about having a home gym is the guilt that comes with not using it. You've put time and money into building it — plus you know that exercise is great for your overall health.
So staying motivated is key. Here are a few ways how you can make your gym more inviting:
Hang an accountability poster. Keep track of your progress in a very visible way — one that you can see while your work out. Depending on what drives you, this could mean keeping a tally of weight lost, accomplishments so far, new goals to pursue, or your own personal fitness rewards program.
Create a new Pandora station. It's your environment, so make it your own! Nothing gets you in the right mentality like a few blood-pumping jams. Plus, it can get old to listen to the same playlist every time you hit the gym.
Decorate. Decorating a gym isn't quite like decorating a bedroom, but it's still important. Alongside that accountability poster, maybe you could hang a picture of your fitness idol, a quote that inspires you, or even just a TV to hold your attention when you're trying to push your limits.
Everyone is a little different when it comes to motivation, so don't be afraid to do something a little "out there."
After all, it's your gym, your environment, your body, your goals — who cares if the thing that motivates you is a picture of Elvis Presley? As long as it works for you, that's all that matters.
Wrap-Up
You've got the gym, you've got the goals and now you've got the looming deadline of summer. There's never been a better time to take the plunge with some fitness studio updates.
Just remember — it's not about how much you spend or what kinds of inspirational posters you hang.
It's about doing whatever it takes to make you an overall happier and healthier person.
Latest posts by Kacey Bradley
(see all)
Disclosure: In the spirit of full disclosure, DIYactive.com may be compensated in exchange for featured placement of certain reviews or your clicking on links posted on this website.