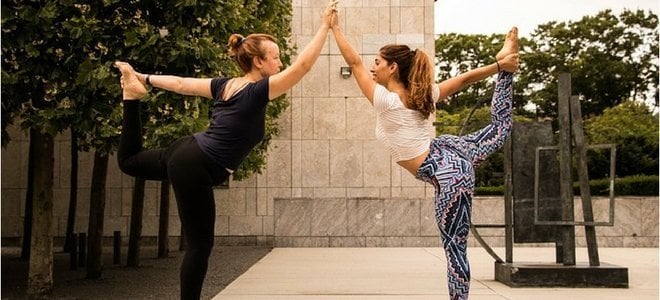 Let's Talk Activewear
Technology is conquering the whole world and every human-made tool will have its smart version sooner than you think. The same goes for sportswear. There are plenty of manufacturers in this market and a variety of products that will ease the whole workout process. What is true and when it comes to activewear? Until the first smart piece of wardrobe enters the market, it is good to get prepared and go through current innovations and their features.
What You Need to Know About Your Activewear
Energy saver
Every time you go for a run, you bring the phone with you since its applications can help with tracking your progress. The app will later sync with your PC and you will be able to compare performance, including the number of steps, speed, distance covered, calories burned, etc.
The next step toward smart activewear is made by designer Pauline van Dongen. Her latest creation is a wearable solar shirt that contains 120 solar cells. This is enough to charge your phone in just a couple of hours. If you wear this piece of equipment, you can forget about extra batteries and you won't be late for training ever again.
Getting all the data
In the last few years, it has become pretty normal to use a metric app or even purchase a Fitbit or a smartwatch, to track your workout progress. The technology incorporated in these items is capable of gathering relevant information about your workout. These platforms allow you to compete with other people and upload your achievements on the cloud.
The next step in wearable trackers is being made by Ralph Lauren. They designed and created a biotech shirt that will do the same thing your watch does. It will collect data about your activity and send it to a Bluetooth-enabled black box, which can be attached to your smart shirt. No more need for extra tech on your run!
Improved ventilation
Something really cool is coming from MIT and New Balance. They started working together on activewear that will ventilate itself during training. Once you start sweating, ancient bacteria, which is bio-printed on the clothes, will start contracting and expanding in reaction to the moisture.
Specially designed flaps will be activated by bacteria and will open up as you sweat. Unfortunately, this product is not available on the market yet, but it will be soon. Imagine your results while wearing this piece of thermoregulation activewear.
Monitoring the progress
Maybe it is too early for thermoregulated clothes, but it is the right time for activewear with electromyography (EMG) sensors. Athos made a line of sportswear that is capable of tracking and analyzing your muscle effort in real-time.
Your clothes activate once your muscles start working. Embedded sensors can recognize if you aren't giving your 100%, thanks to your muscles' electrical activity. You can track your progress via the app, which then provides you with a lot of valuable information.
These sensors will track your heart rate and will know if your muscle regions are symmetrical, giving you an optimized workout!
Psychological factors
Activewear isn't just about technology and cool features. This type of sports clothing will also improve your motivation and focus. These clothes carry symbolic meaning and change your behavior during training.
You will feel more confident and your performance will be much better. By wearing youractivewear, you prime your body for high effort, and its fabric and design will help you to stay safe.
The last thing you want is an injury, and professional sportswear will keep you warm so your muscles won't be in danger during early running sessions. Make sure to get yourself a pair of high-quality running shoes since your feet will suffer the most. Good footwear will help you to avoid blisters, foot and ankle injuries, and shin splints. As you can see, good activewear will keep you focused while helping you to improve your records.
Staying safe
What do you get when you mix an airline and a clothing company? EasyJet and CuteCircuit teamed up and created uniforms packed with LED lights and sensors. This wear is made for airport purposes, but it can be easily transformed into sportswear.
Let's say you are a night owl and like to go running after hours. LEDs on jacket lapels will help you to see in front of you, and those on your back will keep you safe from drivers. These jackets are being tested as we speak, and hopefully, their creators will think about active people and make some items that can be used for workouts.
Wrap-Up
Regardless of your experience in sports, you should really consider getting yourself some good activewear. Their design will make you look and feel good, which will improve your results, while their materials will keep you safe from injuries. Besides that, upcoming high-tech options will help you to monitor your success and help you to do even better. Feel free to test as many items as you want until you find those that are best for you. Keep up with good work, and don't shirk on the track!
Latest posts by Cate Palmer
(see all)
Disclosure: In the spirit of full disclosure, DIYactive.com may be compensated in exchange for featured placement of certain reviews or your clicking on links posted on this website.