What To Do If You're Injured By Faulty Home Gym Equipment
Exercising is a healthy hobby to have since it lowers your chances of getting heart disease, allows you to maintain stable levels of blood sugar and insulin levels, and helps you control your weight and build stronger bones and muscles.
What To Do If You're Injured
It even aids in boosting your mental health. When you exercise, your body produces chemicals that improve your mood and let you feel relaxed. This is why many recommend exercising as a way to deal with stress and reduce the likelihood of depression. In short, you achieve a healthy mind and body by working out.
However, workout sessions can bring about injuries due to low-quality or damaged gym equipment. For instance, you could fall off a stair-stepper or an exercise bike. You could also get hurt because of a broken seat, damaged weight locks, or flawed resistance tubes.
In fact, many people who exercise have gotten injured since the gym equipment they used was defective. According to a report, 468,315 people sustained injuries from working out with or without gym equipment in 2019.
The following are factors that lead to defective fitness equipment: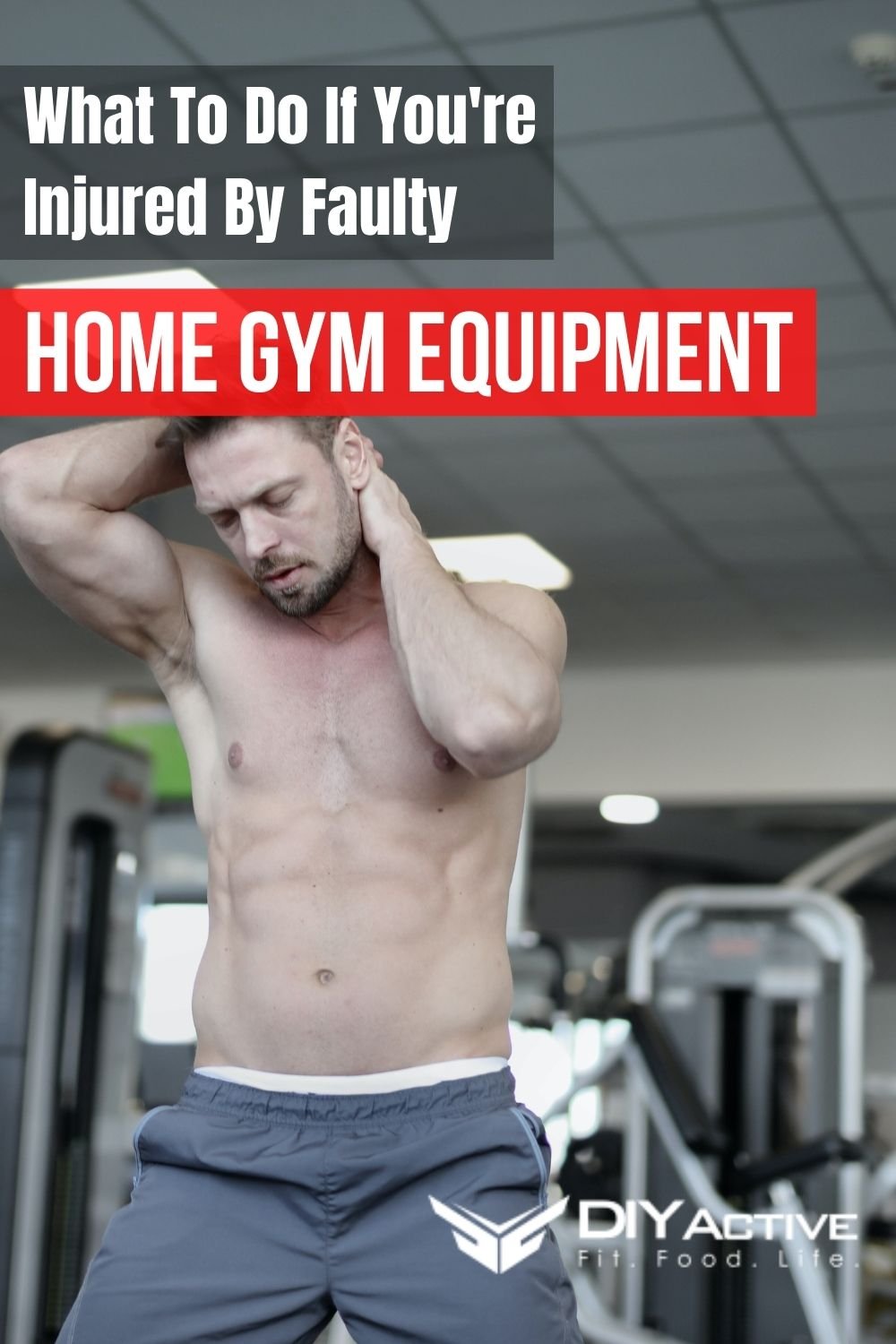 Design defects: These are flaws caused by the design of the equipment. One example is the high center gravity of a heavy fitness machine. The machine can be toppled over easily, resulting in injuries, such as fractures.
Manufacturing defects: These defects occur during the manufacturing process. The machine might be missing a bolt or has the loose gear. The design fits the purpose, but the equipment will eventually malfunction without the right parts.
Marketing defects: Even if the design and manufacturing are flawless, defects may still appear during the marketing stage. Proper installation instructions might be missing from the package, so vital information about using the equipment is lost.
Here's what you can do if you get injured by faulty home gym equipment:
1. Find A Reliable Lawyer
Search for a trustworthy personal injury lawyer by checking out an established referral network like 1-800-Injured. Your lawyer will review your compensation claim and see if you can prove that the manufacturer failed to ensure the safety of their products or was negligent during the production process.
In other words, they will do everything they can to substantiate your claim that you sustained injuries because of a defective product.
With their help, you'll receive just compensation, depending on the severity of your injuries or the financial impact of your injuries.
2. Get A Medical Check-Up
After the accident, your safety should be your priority. You can perform first aid if your injuries aren't severe. However, getting a thorough medical check-up is recommended to diagnose any internal injuries you might have.
A medical check-up will also serve as proof of injuries caused by defective fitness equipment, which you'll need to file an injury claim.
Some of the most common injuries people get because of damaged gym equipment are:
Cuts, abrasions, and scrapes: Although you may sustain these kinds of injuries from handling equipment poorly, you might suffer from them because of a damaged product.
Face and eye injuries: These injuries happen as a result of falling face down on home gym equipment. Severe facial injuries may lead to permanent scars.
Head and neck injuries: Collapsing from defective home gym equipment can be fatal if your head or neck comes into contact with one of the metal pieces of equipment, or you hit your head on the floor. Worse, you might experience paralysis or fall into a coma.
Back and spinal cord injuries: Being thrown off aggressively moving defective equipment will result in spinal cord injuries.
3. Take Photos Of The Equipment
Aside from finding a lawyer and getting a medical checkup, you need to take pictures or videos of the malfunctioning home gym equipment. Don't forget to document the surrounding area where you sustained injuries. For example, photos of blood on the floor would be useful.
4. Keep An Injury Journal
In your journal, record all your activities that have been affected by your injuries. You can describe how the injuries have affected your life too. For instance, describe how you had to miss work.
In addition, you should include crucial details about your lost income and opportunities for promotions, overtime, or even perks and bonuses.
Wrap-Up
Exercising is a fun recreational activity, as well as a healthy hobby. However, it can turn a wonderful experience into a mishap that may lead to serious consequences because of faulty home gym equipment.
Getting injured due to defective equipment isn't just damaging physically but also emotionally and financially. As the injured party, you have the right to pursue legal action to get the compensation you deserve.
Photo by Max Vakhtbovych
Photo by Andrea Piacquadio
Disclosure: In the spirit of full disclosure, DIYactive.com may be compensated in exchange for featured placement of certain reviews or your clicking on links posted on this website.