Tricks for Dining Out While on a Keto Diet
The keto diet continues to skyrocket in popularity in the U.S., with even celebs such as Tim Tebow and Halle Berry singing its praises. Although following a keto diet takes some practice, it is not overly difficult to sustain. Dining out, however, can be somewhat more daunting and in some cases can seem impossible.

Dining Out While on a Keto Diet
Thankfully, with a little bit of forethought, dining out is completely doable.
Whether you find yourself enjoying a celebratory meal with family or friends or grabbing a quick bite to eat during your lunch hour, there are several useful dining out tips to keep in mind that won't compromise your ketosis.
Plan in advance
If you are still new to keto and trying to balance your macros, it is definitely recommended to plan ahead and peruse the menu of the restaurant you are visiting beforehand.
Thankfully, most restaurants have a copy of their menus online, and even if they don't, no one is going to turn you away if you pop into the eatery and ask to have a look at the menu.
By familiarizing yourself with the menu in advance, you can not only decide which meals will fit your meal plan best but also prepare yourself mentally for the possibility of being faced with countless temptations. Depending on the payment form you use, you may even find that you qualify for a special offer when you make low-carb choices when eating out at a participating restaurant.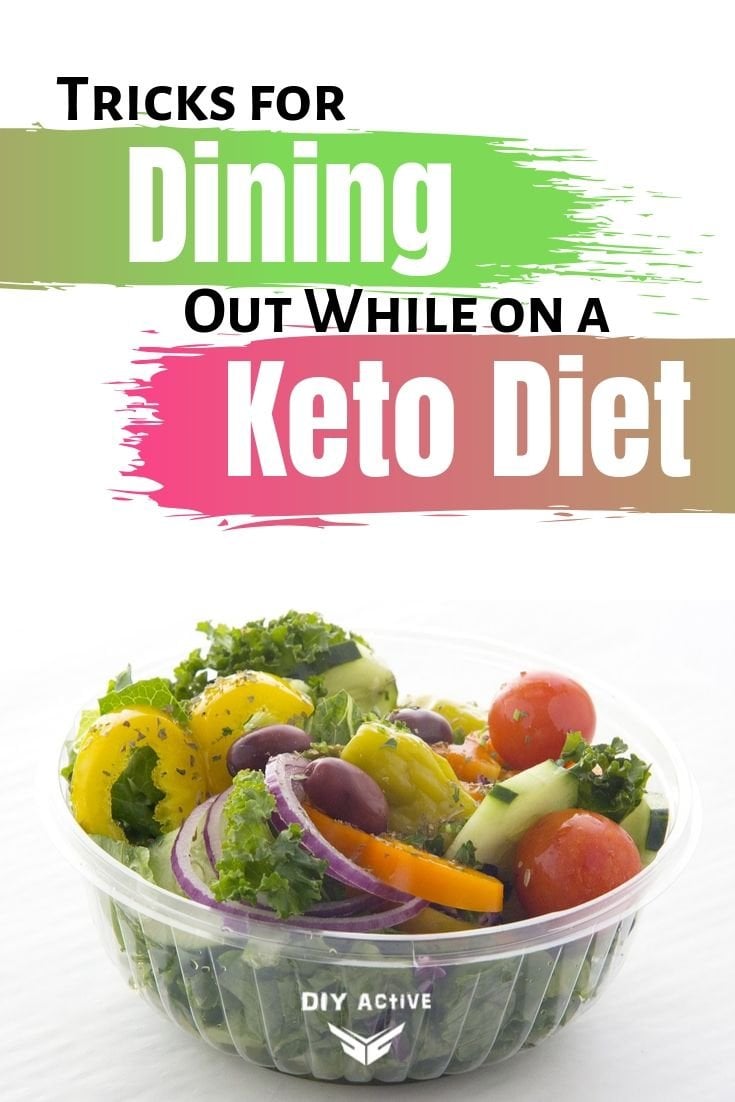 Special offers typically include a discount on your total bill or selected menu items, or a buy-one-get-one-free offer. Restaurant Meal Prices is a great website to visit and get information on various restaurant menus, prices, deals, and discounts.
Always steer clear of starch
Starch is without a doubt one of the biggest temptations you will be faced with when dining out, especially if you don't have a chance to plan in advance.
The easiest way to avoid such a temptation is to keep it off your plate. When ordering an entrée, swap the rice and potato for a portion of salad or steamed vegetables instead.
Alternatively, skip the entrée menu altogether and build your own meal from a selection of starters and side dishes.
When ordering a burger, most restaurants will be more than happy to substitute lettuce wraps in lieu of buns. Sometimes, despite your best planning, you may still end up with a pile of starch on your plate.
If you have faith in your willpower you can leave it there untouched or, alternatively, ask your server to re-plate your meal without the starch.
Choose your drinks carefully
When dining out, it is often not your meal that derails your diet but your drinks. While being on a keto diet does not prevent you from having a drink on occasion, it is important to stick to low-carb options that aren't laden with sugar.
Sparkling water is always a great option although you can indulge in an alcoholic beverage or two as well without feeling guilty.
Spirits such as gin, tequila, and vodka are all carb-free while dry red and white wines are also a good choice. Where possible, steer clear of spirit coolers and beer that can contain large amounts of sugar while also being considerably higher in carbs.
If you are wanting a hot drink, order tea or coffee with fresh cream instead of milk and, unless the restaurant offers a keto-friendly sweetener such as Xylitol or Stevia, have it bitter instead.
Wrap-Up
As difficult as it may seem to eat out at a restaurant while on keto, it is possible.
As long as you plan in advance and ensure that your head is in the game, there is no reason why you can't enjoy a keto-friendly meal away from your home.
Disclosure: In the spirit of full disclosure, DIYactive.com may be compensated in exchange for featured placement of certain reviews or your clicking on links posted on this website.