Thinking of starting a new career that fits your passion and lifestyle?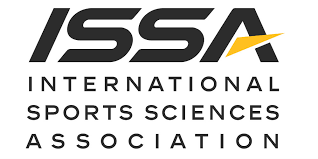 Becoming a Certified Personal Trainer (CPT) is a great way to pursue your passion and jumpstart your career in wellness. With over 475,000 personal trainers in 176 countries, ISSA is backed by a rock-solid job placement guarantee! If you are ready to get started, here are a few exclusive offers:
Save 75% on ISSA CPT and take ANOTHER $100 off below: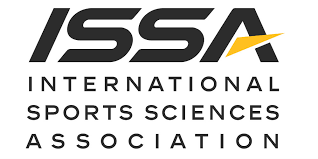 ISSA Certifications
Save 75% and take ANOTHER $100 OFF
Depending on your location and hustle, you can earn $65,000 per year (national median as of 2023), with top trainers earning over $90,000 on your own terms. So, how do you get started? Let's get started!
Here's What We Will Cover:
ISSA CPT Review
There are several accreditation programs that offer certification in personal training. How can you pick the right one? A good personal training certification should go further than just offering an exam so you can use the title "Certified Personal Trainer".
For a personal training certification to really be beneficial, you should learn all that you need to get started training others safely and effectively and it needs to be backed and accredited by the most trusted players in the game.
Is ISSA accredited?
ISSA is accredited by the two most trusted programs in the fitness industry: DETC and NCCA. They are well respected everywhere and will help you land that first job!
Let's get started in our review of one of the most, if not the, trusted names in the industry – The International Sports Science Association (ISSA).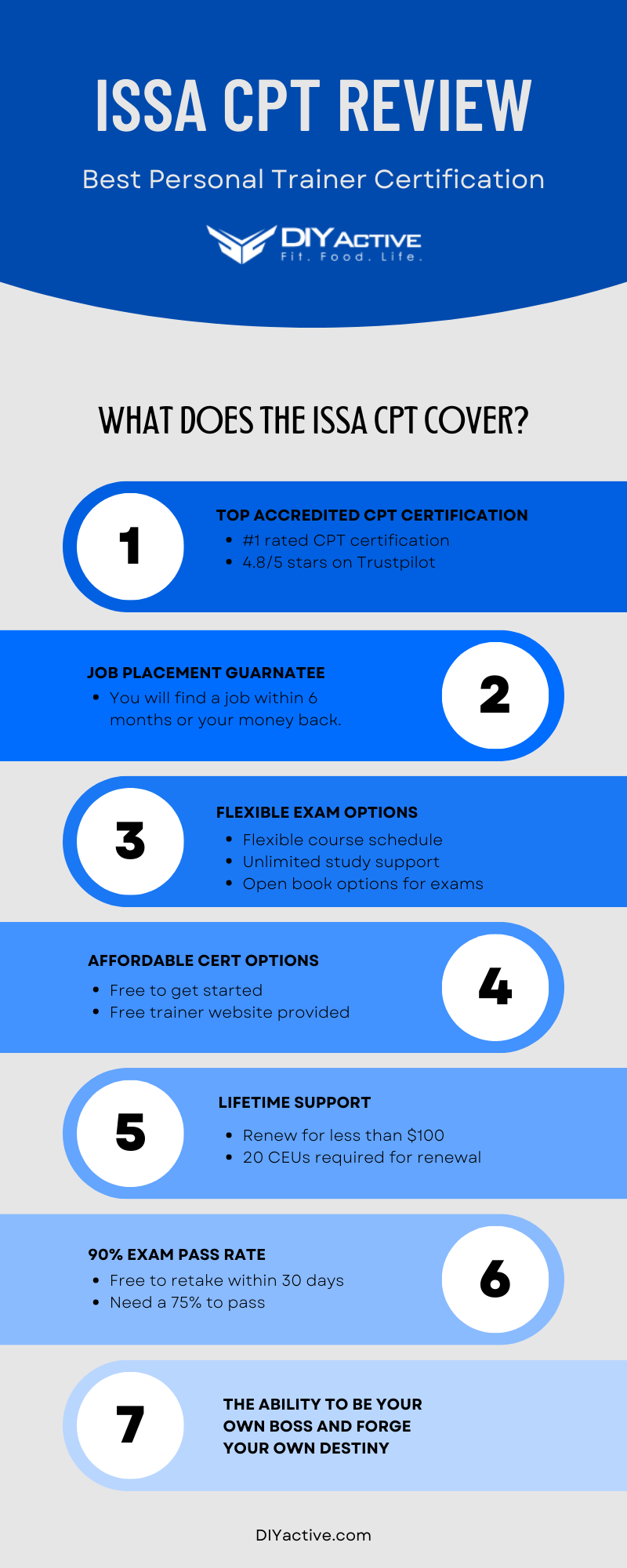 ISSA Vs NASM / The Others
There are several other accredited certifications out there. You can get our full breakdown of the top 10 best personal trainer certifications but here is a quick breakdown.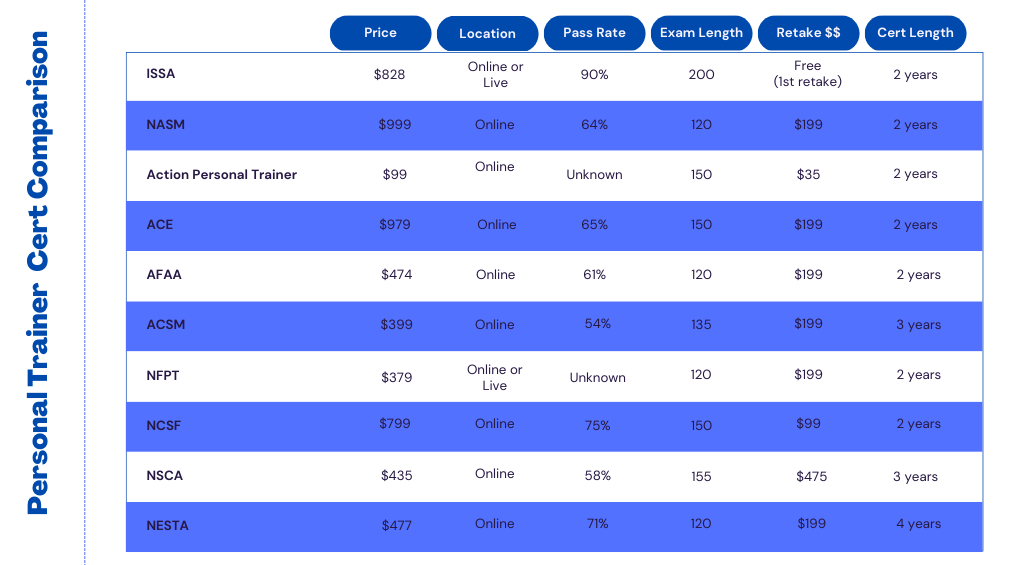 Getting Started as an ISSA CPT
A personal trainer can give personalized recommendations to help you meet your specific goals (losing weight, bulking up, increasing endurance, etc.) while at the same time giving you tips to keep you from injuring yourself.
Many personal trainers also expand their scope by receiving specialization in a specific area or by covering nutritional information. A personal trainer needs to have a broad knowledge base to make for a safe and effective exercise session.
To equip them for this, a good personal trainer certification program is essential. A good CPT program should provide quality education, tools to help you succeed as a trainer, and an easy-to-follow format to help you achieve your goals quickly.
The International Sports Science Association (ISSA) offers a top-rated, high-quality program that can help you reach your fitness and career goals at your pace.
How much does ISSA Cost?
It starts at only $69-$99/month (depending on their current promo) per month for 12 months.
Quality
The quality of CPT courses available varies, but it can be hard to know which ones are worthwhile without purchasing the courses. Thankfully, ISSA offers transparent programs, countless reviews, and even a guarantee!
Instead of leaving things vague, ISSA tells you what you can expect to learn from the course. This includes such important points as:
How to motivate anyone to make their fitness goals a reality
In-depth knowledge of the body's muscle and skeletal structure
How to assess and build custom training programs
How to help clients get stronger with less pain or injury
How to pinpoint what exercise is most effective for each movement
Details of how diet and exercise work together to transform people's lives
The deeper answers to help go beyond "workout more" and "eat better"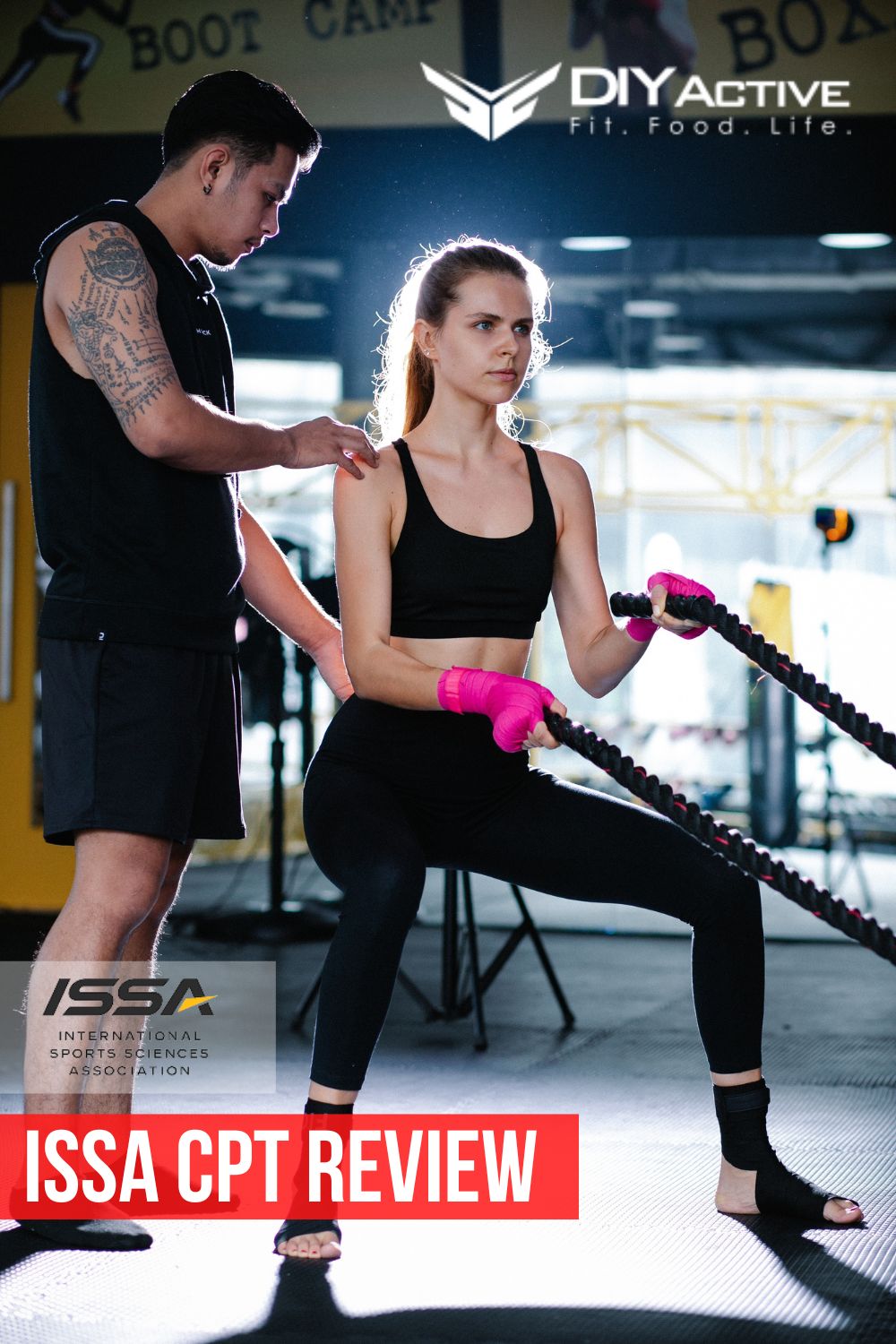 By giving details about what is included in the course, you can have a better feel for what to expect before investing. In addition, ISSA CPT reviews are rated number 1, with 4.8/5 stars on Trustpilot at the time of this writing. Here are some of the more recent ISSA CPT reviews, showing just how helpful this training course is:
"This product is incredible! The guided study is my favorite part of all ISSA products allowing you to fast-track it or go at a slower pace. It is incredibly interactive and keeps you focused so you get to the final feeling confident that you know the material. Most practical, time efficient, and value for money! Highly recommend any of their certifications."
"The ISSA CPT course was well set up, well written, and easy to work through. It was a good re-hash of my previous training experience and a good mix of theoretical and practical work. I would highly recommend it for those interested in personal training, or for re-visiting their own knowledge for health and fitness."
Both reviews go to show just how beneficial this instruction is. The ISSA doesn't just hope that you will learn what you need from these courses, though.
The ISSA takes it a step further, guaranteeing you will find a job within 6 months or your money back.
All you have to do is take the course and pass the exam, interview with at least 3 gyms within 6 months, and if by then you still don't have a job, they will either help place you in a job or pay your money back!
ISSA CPT Benefits
Flexible course schedule
Unlimited study support
Open book options for exams
Audio or video lectures and reviews
Online discussion groups
Live lessons and in-person courses are available
Multiple trainer options are available
Lifetime support
Job placement guarantee
Free trainer website
Money back guarantee
Start for free
Most ISSA CPT reviews will mention that you get more than just a course when you study with the ISSA. Not only do you get accurate and up-to-date information, but you also get a number of other benefits. Many ISSA CPT reviews also include the fact that the courses offer a flexible schedule to fit your busy lifestyle.
Study Materials
While some CPT courses give you textbook material and leave you to learn on your own, ISSA CPT courses also include unlimited study support with a coach to help you succeed on the exam and in your career. The exams offered range from fully NCAA-accredited exams as well as open-book options.
Even if you don't learn best on your own, ISSA CPT courses provide alternative ways of taking in this information. While a text portion is available, ISSA also offers audio or video lectures and reviews of the material covered in the textbook. Easy-to-follow videos show the exact form and safety techniques needed to succeed as a personal trainer.
Online Forums and Live Lessons
Online discussion groups and forums give you access to the knowledge base of experts as well as other students, giving you the support you need. ISSA also offers online live lessons, letting you get the benefit of a live, in-person course without having to fit your busy schedule into that of a course.
CPT Bootcamp
If you want to follow a more intensive live study program, ISSA also offers a CPT Bootcamp, included free with the purchase of a certification course. This Bootcamp covers everything you need to know to successfully pass the CPT exam and start your career as a personal trainer.
With hours of live training and plenty of time for asking questions, you can see not just what to study, but how to study it in a way that you will be able to retain it and use it in your career. This also gives you a nice opportunity to learn from the minds that designed the ISSA CPT course.
Flexible Options
Depending on the tier of courses you purchase, you can also receive specialization courses. These courses include strength specialties like becoming a Running Coach or Powerlifting Instructor, recovery specializations like becoming a Sleep, Stress, & Recovery Coach, group-based specializations like becoming an Indoor Cycling Instructor, or even special population specializations like becoming a Senior Fitness Instructor or Tactical Conditioning Specialist.
On top of the specialization programs, you can also receive nutrition coaching and weight loss specialist courses as well, thoroughly preparing you to have a successful career as you grow and expand.
ISSA Study/Prep Time Required
In addition to the actual courses offered, ISSA provides a flexible timeline for finishing your training. You get an eight-month exam voucher, so you have plenty of time! Are you the type who will spend 40 hours a week studying? Then you'll fly through the material and be ready to take the CPT exam in no time.
Not sure if you can devote that much time to studying? Do you have a full-time job, a family, or other obligations that will limit your time? The ISSA understands that, and they make it possible for everyone to cover the material thoroughly with whatever time they can carve out.
Get a free chapter preview by scrolling down to the bottom of this page.
ISSA Placement Guarantee
ISSA benefits don't end when the course is over, though. Along with the job placement guarantee, you also receive lifetime support from the ISSA. The ISSA has also partnered with FitnessProSites to provide a free, professional website to each graduate from their program included free. These sites are easy to customize and are designed with trainers in mind.
By having a personal, custom website you can stand out against the other certified personal trainers and grow your business through online referrals and leads.
ISSA CPT Exam
The final exam for an ISSA personal trainer certification program is 200 questions long. This test is specifically designed to be a challenge and put you to the test. While it is a challenge, having a more difficult exam also means that those holding this certification are only the best. With the prep materials that are provided, including the text and videos, you can get off to a good start in being certified by ISSA as a personal trainer.
While the sheer length of this test can be intimidating at first, you can be confident that your efforts will be worthwhile. The ISSA personal trainer exam has a pass rate of 90%. That means that the course materials are exactly what you need to succeed in this difficult exam.
In order to successfully pass the ISSA CPT exam, you will need to achieve a score of 75% or more. This test can take up to 2 hours depending on your personal testing preferences.
Unlike other certification exams, the ISSA CPT exam is designed with you in mind. This exam does not have a built-in time limit. Instead, you are given an unlimited amount of time. Sometimes, circumstances don't allow you to sit down for a couple of hours and focus on a test. With the ISSA CPT exam, you can even log out of the exam page and then log back in later.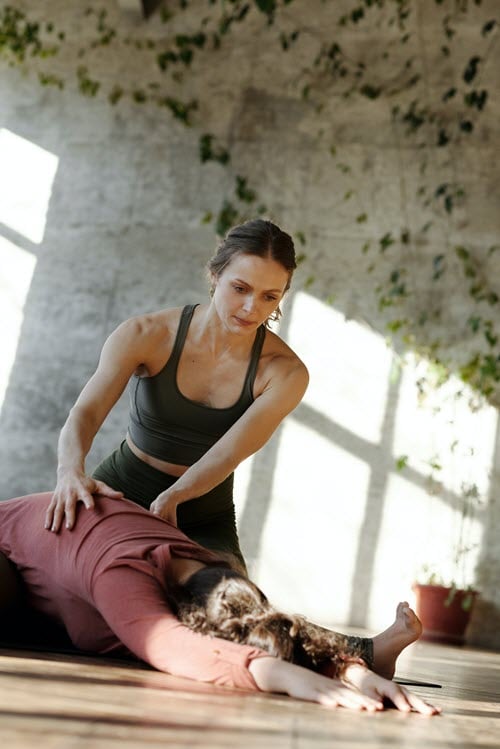 Whether you prefer to break up your testing across multiple periods or just don't like the pressure of having a timer counting down, the ISSA CPT exam makes for a more comfortable testing environment.
Understandably, not everyone is able to pass a comprehensive exam in one attempt. If you do not pass the ISSA CPT exam on your first attempt, don't worry. You have a 30-day window to retake your ISSA CPT exam without an additional cost. This means you can study extra on the areas in which you need a little improvement, then take the test again once you're better prepared.
ISSC CPT Exam Breakdown:
200 questions
Unlimited time
Multiple sittings allowed
75% minimum passing grade
90% pass rate
30-day free retest window (1)
ISSA Certification Renewal and CEUs
Like many certifications, maintaining your credentials as an active Certified Personal Trainer requires Continuing Education Units (CEUs). The purpose of these additional education units is to keep your knowledge up-to-date on the latest trends in personal training while at the same time fortifying your understanding of the basics so you can provide the best services possible to your clients.
Since you still carry the title of an ISSA-certified personal trainer, the ISSA works hard to keep you informed and educated in the field
When it comes to attending and participating in these continuing education courses, there are a number of different areas you can study. Some of these continuing education courses are live workshops where you can sharpen your skills and learn new techniques to help your clients reach their full potential.
Another option for continuing education is to pursue alternate certifications through ISSA. For example, you can choose to specialize in one type of activity – such as becoming a bodybuilding specialist. On the other hand, you can focus on one particular area of the body- like becoming a glute specialist. Want to branch out and expand your knowledge? You can even learn new skills by becoming a nutritionist and helping your clients in the gym and out.
Once you have picked the area of study you want to select, you can purchase the courses and pass the CEU. After you have completed 20 continuing education units – each of which does have a cost associated – you can renew your certification as a personal trainer for under $100.
ISSA CPT CUEs:
2-year certification
$99 if CEUs earned outside of ISSA
$0 if all 20 credits earned through ISSA
20 CEUs per 2 years
Subject areas include:

Nutrition & Diet
Sport-Specific Specialization
Population Specific Specialization
Business Growth
Injury-Specific Training
And More
Wrap-Up
Once you have decided that an ISSA CPT course is right for you, how do you start? Simply visit their website (link below) and choose the path that is right for you. Once you've decided on the tier that matches your career goals best, you can sign up and start for free.
ISSA CPT courses offer flexible payment plans with no interest so you can start your career on stable footing. As mentioned above, ISSA also guarantees that their course will enable you to find a job with your new skillset or your money back!
While there are many different companies offering personal training certifications, ISSA is an industry leader. In fact, ISSA has been offering personal trainer certifications for 25 years!
Simply having the approval and certification from such an established institution, is a simple step that can help move your resume to the top of the pile in a competitive job market. Gyms know that there is little that is more valuable than a well-trained certified personal trainer.
By receiving accurate text and video instruction as well as personalized study coaching, ISSA is able to reliably and repeatedly produce the next generation of professional personal trainers.
Save 75% on ISSA CPT and take ANOTHER $100 off below: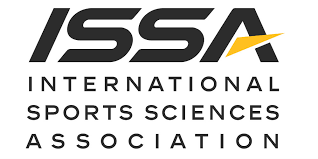 ISSA Certifications
Save 75% and take ANOTHER $100 OFF
Questions? Don't hesitate to drop us a line!
Disclosure: In the spirit of full disclosure, DIYactive.com may be compensated in exchange for featured placement of certain reviews or your clicking on links posted on this website.