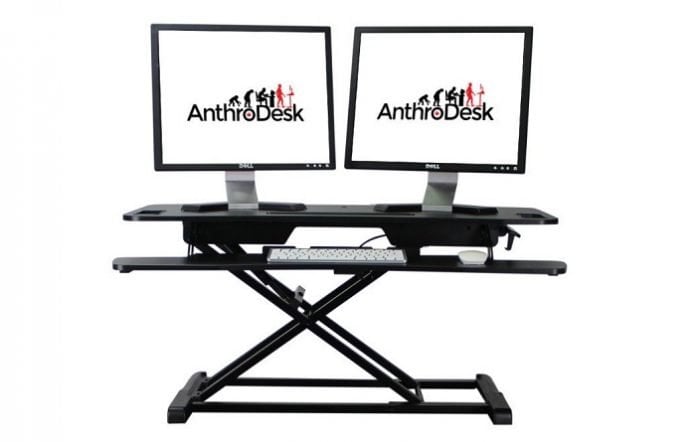 What We've Learned From Using a Standing Desk
Do you jealously walk by the coworker that has a stand-up desk? Worried you can't afford one or wondering if you'd even use it? We reviewed the AnthroDesk: ErgoSpring Standing Desk Converter – Extra Wide and here's what we found!

Thinking of using a standing desk?
You've been wanting a standing desk to help get you moving more, right? You want to improve your posture and help you stretch from time to time.
Here are the 5 biggest takeaways from our two-week trial of this stand-up desk converter.
This might be a good reason to have your boss buy you one? Getting up and moving around is a great way to get your blood pumping and give you a new perspective and mindset.
Just the fact that you're moving around can reset your focus and help you blast through the project you've been procrastinating on. In fact, a Texas A&M University study revealed that "…those in which the worker could raise or lower the desk to stand or sit as they wished throughout the day–were about 46 percent more productive than those with traditional, seated desk configurations."
Straining your neck or hunched over in your office chair staring at your computer can kill your posture. Doing that for 8 hours a day, 40+ hours a week, 12 months of the year can add up to terrible issues. What you need is a way to get active every so often.
A standing desk converter is perfect for this. Set a timer on your phone to get up every 45-60 minutes.
Plus, the more you stand the more likely you are to stave off weight gain. For instance, a study in the European Journal of Preventive Cardiology determined that standing instead of sitting for six hours a day (which is a really long time to stand) could prevent weight gain. In fact, it could help people lose weight.
3. Flexibility When You Need It
Along with improved posture, a standing desk converter can help you get up and limber up! It allowed us, obviously, to stand occasionally and stretch our backs, quads, hamstrings, and hip flexors. We found that when we did stand up, we received a mental trigger to stretch and limber up.
4. Get Proper Padding
You may want to get some extra padding/mats to stand on because you will be using it so much! If you're going to be standing up for half an hour at a time, purchase some extra padding to stand on. They make floor mats just for this issue. Also, make sure to have comfortable footwear.
5. More Affordable Than We Thought
That's all good, but they are just too expensive, right? We found AnthroDesk.com to be incredibly affordable for the quality of the product you get at less than $200. Seriously, for less than $0.55 a day over the year, you can get all of this and more.
Wrap-Up
We've been using our AnthroDesk: ErgoSpring Standing Desk Converter – Extra Wide for about two weeks now and really appreciate the quality of it and how it gives them the freedom to stand up and stretch. Plus, it was super easy to put together and set up!
This is a pretty sleek, quality solution for those looking to get a stand-up desk converter at an affordable cost.
Have you tried one before? Let us know below!
Disclosure: In the spirit of full disclosure, DIYactive.com may be compensated in exchange for featured placement of certain reviews or your clicking on links posted on this website.