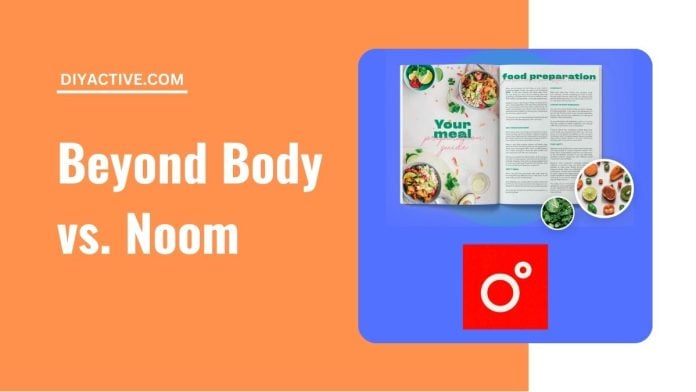 Are you tired of scrolling through endless weight loss apps, wondering which one will actually work for you?
Look no further because we've got you covered with a detailed comparison of two of the most popular weight loss programs on the market: Beyond Body and Noom.
Both claim to provide personalized approaches to weight loss, but which one is really worth your time and money? We've done the research and are here to break down the pros and cons of each program.
So, let's dive into the Beyond Body vs. Noom comparison and see which one provides better value for your money!
Beyond Body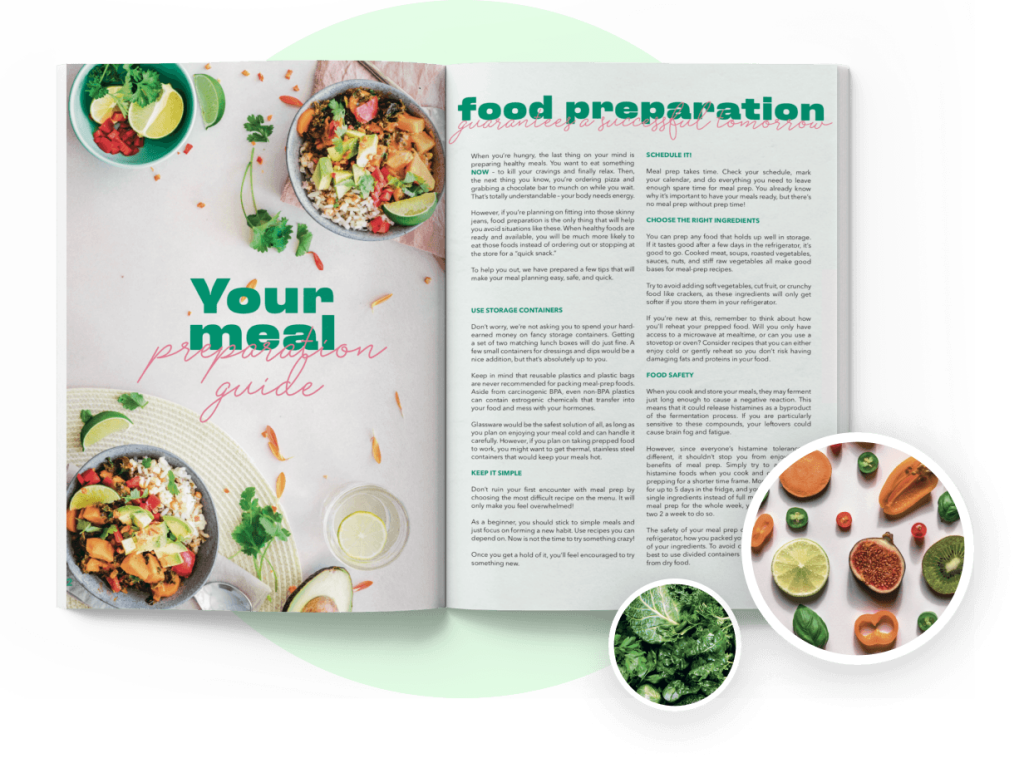 Beyond Body is a detailed weight loss program that provides a personalized approach to weight loss. It begins by asking a series of questions to understand your health status and preferences and creates a personalized book accordingly.
Users can also opt for an app subscription that provides additional benefits such as tracking tools, personalized meal plans, and fitness options.
Beyond Body's personalized approach and comprehensive program make it a popular choice for those looking to improve their health and well-being.
How Beyond Body Works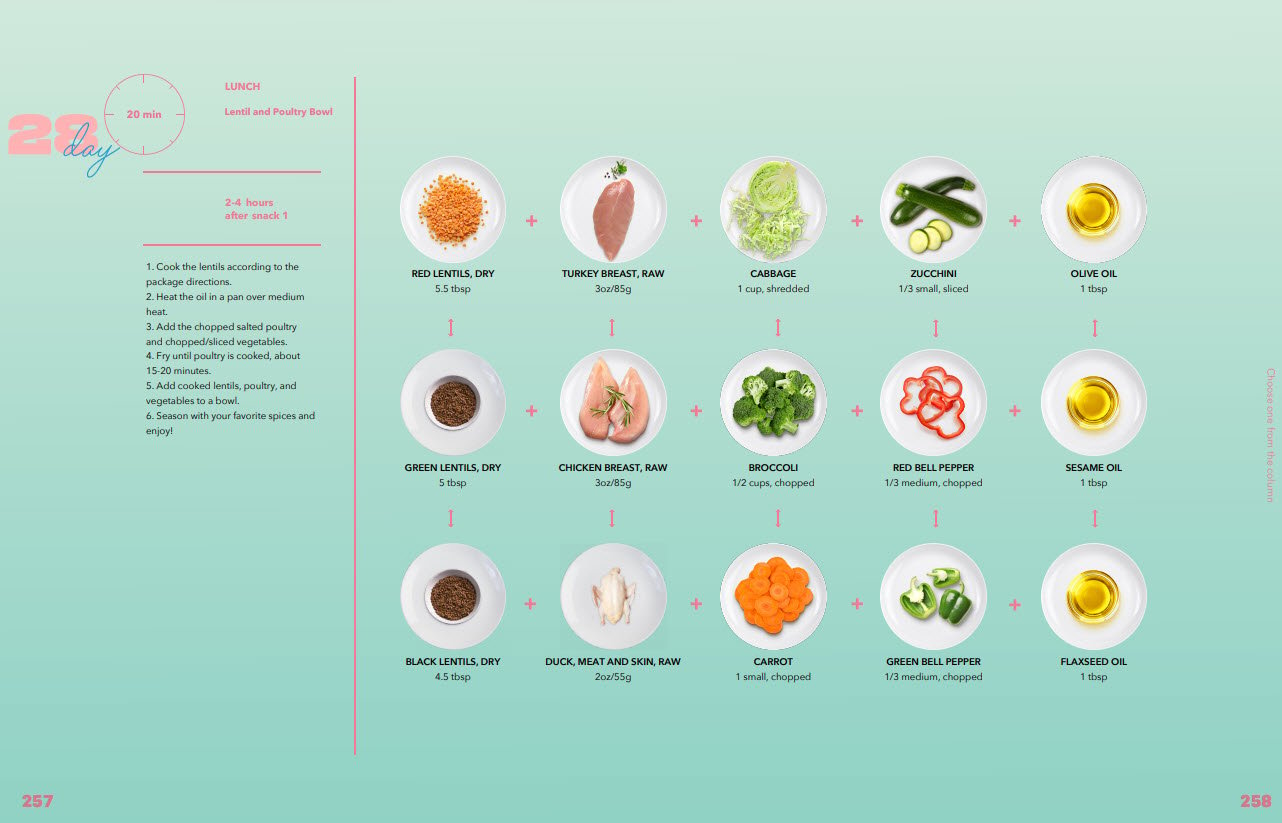 As mentioned, Beyond Body begins by asking questions regarding your health status and preferences. These may include your current weight, cooking preferences, favorite ingredients, and exercise habits.
Based on the user's answers, Beyond Body creates a personalized book with hundreds of diet options. You can make these diets using your favorite ingredients and cooking methods.
Key Features
Here are some key features of Beyond Body:
Customized meal plans designed to fit your dietary requirements and goals.
Wide range of exercises that can be customized according to your interests and fitness level.
Comprehensive book tailored to your individual need.
App subscription offers many additional benefits, including personalized 28-day meal plans and a daily tracker.
Weight loss progress tracker to help you stay motivated and on track to achieve your goals.
Access to a supportive community of other users who are also working towards their weight loss goals.
Beyond Body Pricing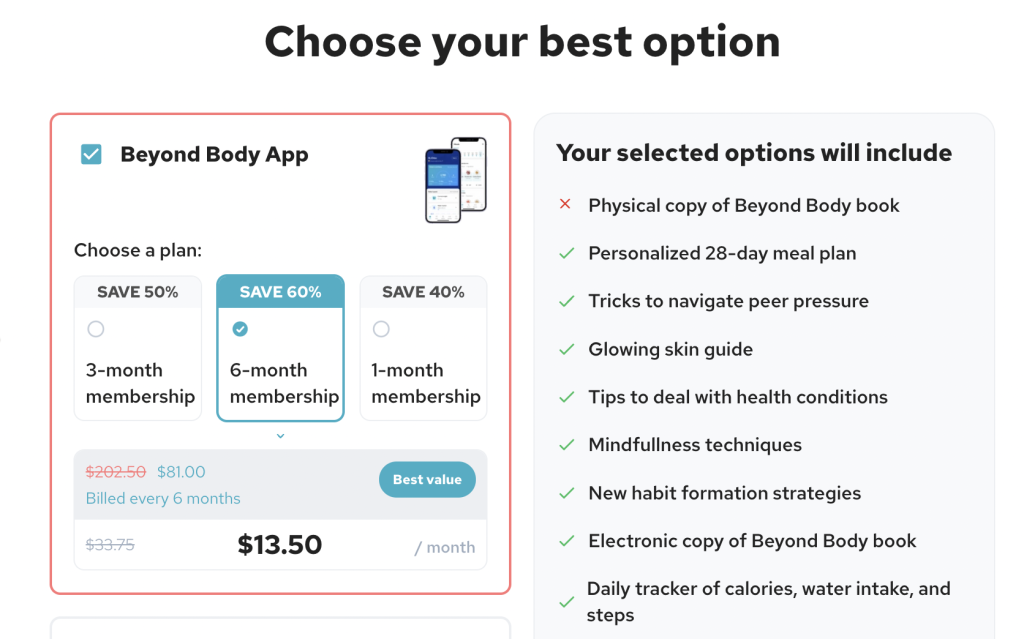 Beyond Body's weight loss program includes a book, an app, or both.
If you opt to purchase the Beyond Body eBook separately, it will cost you $35. However, if you choose to subscribe to the app, you can access the eBook for free. On the other hand, the paper version of the book costs $79.99 without the app subscription but only $29.99 with the subscription.
As for the Beyond Body app subscription itself, the standard pricing is $33 per month. However, if you commit to a longer subscription period, you can save more money.
For example, a three-month subscription reduces the price to $18 per month, while a six-month subscription costs only $13.50 per month. This means that the longer you subscribe, the bigger discount you receive.
Noom
Noom is another popular weight loss program that combines the power of technology with the guidance of personal coaches to help users achieve their weight loss goals.
The program offers a mobile app with a psychology-based approach to provide personalized meal plans, fitness coaching, and tracking tools.
Noom's unique approach focuses on changing the user's behavior and mindset rather than just promoting temporary weight loss. It has gained popularity for its personalized approach and has helped millions of users achieve their weight loss goals.
How Noom Works
Noom uses cognitive-behavioral techniques to help you make sustainable changes in your lifestyle, diet, and exercise habits. Like Beyond Body, Noom asks a series of questions that help it build a personalized plan based on your goals, preferences, and lifestyle.
Noom provides you with a color-coded food tracking system, coaching and support from a trained health coach. Plus, you get daily challenges along with access to a community of other users. Noom also offers educational resources on nutrition and healthy habits.
Key Features
Below are some key features of Noom:
Personalized meal plans based on your dietary preferences and goals.
Coaching sessions with trained professionals to help you stay motivated and on track.
In-app tracking of meals, exercise, weight, and other health metrics.
Access to a supportive community of other users on the same journey.
Interactive challenges and quizzes to help you develop healthy habits and behaviors.
Ability to sync with fitness trackers and other health apps.
Noom Pricing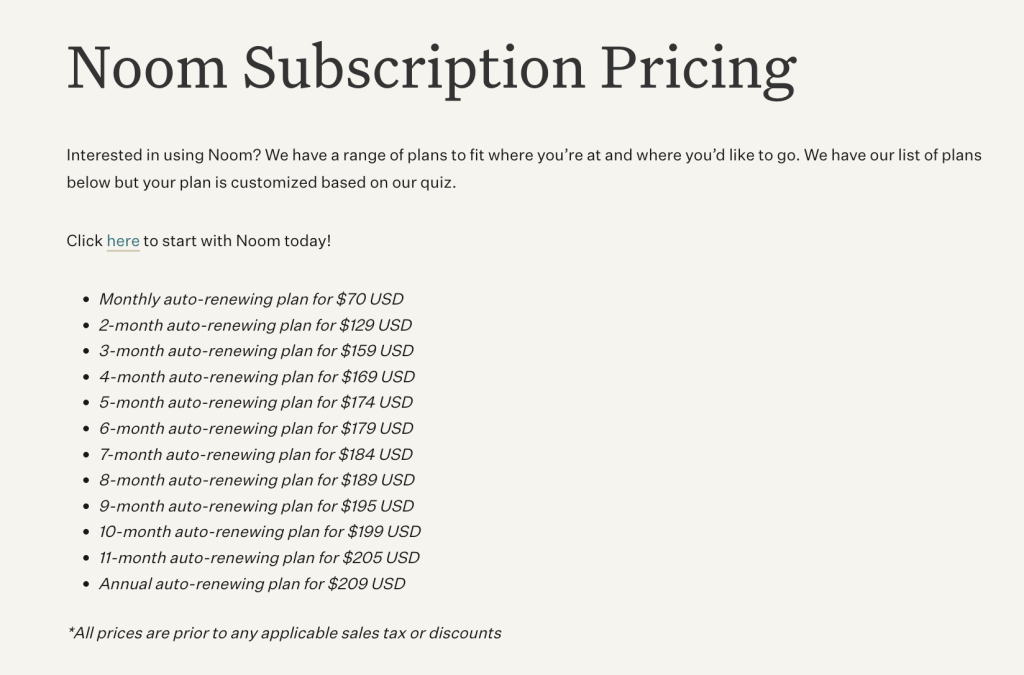 Noom provides a free one-week trial, but the regular subscription can cost as much as $59 per month. The cost is based on your individualized plan, which takes into account your weight loss goals and the recommended duration of the program.
If you're aiming to lose 12 pounds, for example, you may be suggested a four-month plan, which could cost you around $26 per month.
Signing up for a longer period will give you deeper monthly discounts, but the program is still relatively expensive compared to Beyond Body.
Check also: Beyond Body vs Perfect Body vs DoFasting vs fitMom
Comparing Beyond Body and Noom
Here's a quick comparison of Beyond Body and Noom in terms of effectiveness, key features, pricing, and more.
Factor
Noom
Beyond Body
Effectiveness

Data-driven and personalized approach
Supports long-term lifestyle changes

Encourages a holistic approach to health
Emphasizes mindfulness and self-care

Key Features

Calorie tracking
Goal setting and tracking
Personalized coaching
Community support

Personalized 28-day meal plan
Mindfulness techniques
New habit formation strategies
Glow skin guide

Philosophy

Based on cognitive behavioral therapy
Focuses on developing sustainable habits

Focuses on overall wellness
Encourages self-love and acceptance

Accessibility

Mobile app-based
Can be used from anywhere, as long as there is an internet connection available

eBook and paper book available for purchase
App-based subscription available

Pricing

$59/month (with discounts for longer plans)

Standalone eBook: $35
Standalone paper book: $79.99
App subscription: $33/month
Pros and Cons of Beyond Body
Pros
Here are the top advantages of Beyond Body:
Comprehensive approach to weight loss that combines nutrition, exercise, and mindfulness
Personalized 28-day meal plan to help you reach your goals
Grocery shopping list feature and meal plan customization tool
Glowing skin guide, tips to deal with health conditions, and new habit formation strategies
Electronic copy of the Beyond Body book
Optional app subscription with additional benefits like a daily tracker of calories, water intake, steps, progress reports, and more
One-time purchase price of $35 for the eBook is reasonable compared to other weight loss programs
Cons
The main downsides of Beyond Body are as follows:
App subscription price of $33 per month is a bit expensive
May not be suitable for people who prefer a more structured meal plan or want more guidance on their fitness journey
Click here to see our detailed Beyond Body review.
Pros and Cons of Noom
Pros
The main benefits of Beyond Body are as follows:
Individualized plan tailored to your goals and lifestyle
Focuses on sustainable lifestyle changes rather than crash diets
Provides support through a dedicated coach and virtual community
Offers a free trial period to test the program
Easy-to-use app with interactive features and daily tracking
Compatible with a wide range of dietary restrictions and preferences
Research-based approach and curriculum
Option to customize meal plans and recipes
Incorporates psychology and behavioral techniques for long-term success
Cons
Below are the top disadvantages of Beyond Body:
May not be suitable for those who prefer a more traditional approach to weight loss
Can be overwhelming for some users with the amount of information and tracking
Some users report technical glitches with the app though rare
Wrap-Up
After comparing the key features, pricing, pros, and cons of Beyond Body and Noom, it's clear that both programs have their strengths. They can be effective for different people depending on their goals and preferences.
But for those looking for a more personalized approach with a greater emphasis on mindfulness and habit formation, we recommend Beyond Body. It offers a more affordable pricing structure with a great emphasis on customization and flexibility.
If you're interested in trying Beyond Body, click here to get started today!
Beyond Body 60% OFF Checkout Code: ACTIVE23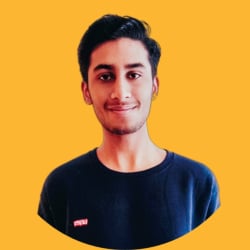 Latest posts by Abdul Wahab
(see all)
Disclosure: In the spirit of full disclosure, DIYactive.com may be compensated in exchange for featured placement of certain reviews or your clicking on links posted on this website.