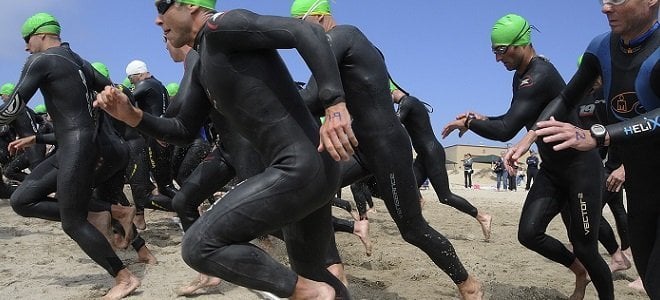 Does a Triathlon Sound Scary? Get over it
Looking for a way to push yourself to the limits and see "what you're made of"? Ever thought about participating in a triathlon? This combination of swimming, cycling, and running pushes you to the limits and is a great way to make amazing new friends. Read more about them below!

What's the deal with triathlons?
One of the most noticeable (and recent) trends in the fitness world has been a gradual increase in the number of people who participate in Triathlons.
These three-sport endurance competitions, which combine swimming, cycling and running, are becoming more popular all the time.
One attraction may be that the events are promoted as something that anyone can do. The distances of each segment of the race can vary because they are designed for athletes ranging anywhere from the beginner level to the advanced.
Triathlon Breakdown
The most popular Triathlon race is called the Sprint and it is usually a .5 mile swim, a 12.4-mile bike, and a 3.1-mile run.
The longest race is called an Ironman, and it consists of a 2.4-mile swim, a 112-mile bike, and a 26.2-mile run. The Ironman World Championship, held in Kailua Kona, is considered to be one of the most difficult one-day athletic events in the world.
Triathlon History
Triathlons first originated in France during the 1920s and began in the US in the 1970s in Southern California. The Hawaiian Ironman race began in 1978, and by 1982, ABC Sports started broadcasting the competition, which had 600 entrants. By 2006, that number had increased to 3,000.
Last year more than 80,000 people worldwide tried to qualify for the Triathlon World Championship, and 2,000 competed on race day.
The popularity of Triathlons in the US has reached a record high of more than 550,000 participants last year, compared to about 100,000 back in 1998. USA Triathlon governs the sport and sponsors about 4,300 races each year.
The Sport and Industry Association (SFIA) reported last year that participation in Triathlons rose 59 percent from 2008 to 2011, and the athlete numbers were estimated to be 1,992,000.
Why are Triathlons becoming so popular?
Some athletes say they want to challenge their abilities in each portion of the race.
For some people it simply means proving to themselves that they are tough enough to do it.
Others say they enjoy the chance to meet new people who share their interests. Some people compete in Triathlons because they like the excitement of the race and having a chance to win, or beat their own completion time from previous years.
Each person seems to find their own individual reasons for doing Triathlons. Some Triathletes say they like the variety and combination of the three kinds of sports in the event.
And other racers say they enjoy the whole sensory experience of being able to survive the event, which can mean facing some tough odds, both mentally and physically. Individuals have also said they like to compete in Triathlons so they can be role models for their children.
The bottom line is that Triathletes are just people who enjoy sports and like to achieve goals.
They are those who look forward to the whole process of working out and training for an event. This may include a large number of people, because of the increasing interest in health and fitness around the world.
There are many fitness-minded and fitness-motivated adults of all ages who care about their health and want to put themselves to the test. Triathlons are one way of doing that.
For many people, doing a Triathlon may seem like something they may not think they can do, so they might decide to go for it anyway, just to prove that they can. Doing a Triathlon can be a way to push the limits on your own physical capabilities. The motivation behind doing a Triathlon could be simply because you want the satisfaction of being able to say that you did it.
Getting to the finish line is often talked about as one of the ultimate thrills of completing a Triathlon.
The emotional and mental rush that comes from doing something you originally thought would be impossible, can be one of the biggest reasons for doing it.
So, if you are the type of person who wants to doing something outrageous and to test yourself to the limits, maybe you should do a Triathlon.
Wrap-Up
If you are interested, there is a ton of advice available everywhere about how to prepare for a Triathlon, especially if it is your first one. If you decide that doing a Triathlon is a goal you want to set, good luck. You might just surprise yourself, along with everyone you know.
You never know what you are capable of, unless you try, right?

Latest posts by Karen Bresnahan
(see all)