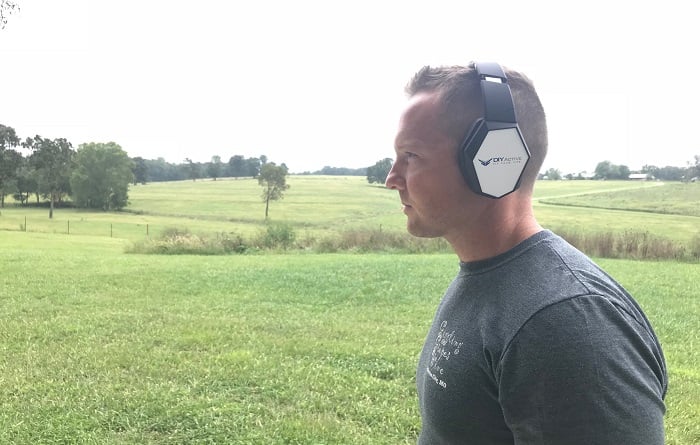 Wrapsody Bluetooth Headphones Review
When it comes to rocking out to your favorites jams at the gym, on the trail, or exercising at home, having a quality set of headphones can be vital. We want them to be noise-canceling at the gym, right? But still remain in place while doing pushups. Check out our Wrapsody Bluetooth headphones customized by Lazer Designs review.
Looking for Bluetooth headphones?
When it comes to reviewing this set of Wrapsody Bluetooth headphones, we wanted to thoroughly test based on four criteria: comfort (including the ability to stay in place), technology (including battery life and ease of use), sound quality (including noise-canceling capabilities) and aesthetics.
There are closed-back and open-back headphones and you can read MusicCritic's take on their comparison. The latter is a bit polarizing in preference; either you like it or not.
One thing that is true with them is that they produce superior quality audio.
Comfort
Crushing a workout can have you all over the place and sweating profusely. So you need a set of headphones that will stay in place and remain comfortable.
The Wrapsody Bluetooth Headphone has comfortable cushion padding located on both over-the-ear earpieces. The adjustable band allows for all-day wear so no matter the workout, you won't witness any unnecessary interruptions to your comfort.
It's all about comfort, right?
In fact, we wore them while we were out doing active yardwork for 3+ hours and they were still comfortable after that length of time.
Technology
This is where the Wrapsody Bluetooth Headphones stand out. With over a 10-hour battery life due to the included rechargeable lithium-ion battery and an impressive 33-foot Bluetooth range means you can exercise in comfort for hours and not have to have your phone actually on you the entire time!
Plus, have a call you need to take while on the treadmill? The advanced built-in microphone is perfect for calls. A simple touch of the button allows you to take and hang up on calls.
Obvosiuly, that's common tech these days but it's really nice to have built-in when you do need it.
Sound
It's all about the sound, that's why you are interested in headphones. With an 85% noise-cancellation, over-the-ear earpieces mean you can get in the zone, anywhere! Not only perfect for the gym but the airplane or mowing the yard too!
These headphones really produce some quality sound that is hard to beat (their website mentions "omnidirectional full range audio drivers" but that's way over our head).
Aesthetics
Not only do you want to have crisp, quality audio but you also want to look good. These things are beautiful! Lazer Designs gives you the ability to add your own touch and really stand out. Got a favorite sports team? Avenger? Anything? Get it a full-color digital print on a metal place.
They truly become yours!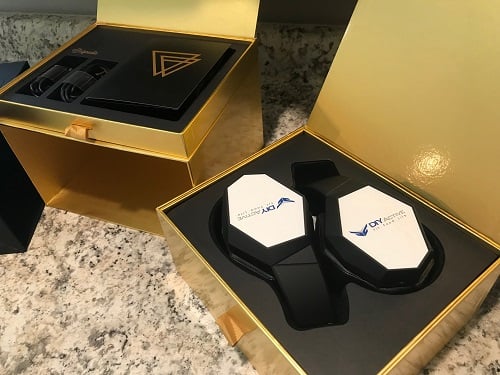 Plus, the fold-and-go design of these headphones makes for easy and safe storage in between uses. They fold up wonderfully for quick storage.
Note On Lazer Designs
We've reviewed dozens of products on DIY Active, but we were blown away by the customer service and overall package offered by Lazer Designs.
They were a pleasure to work with, very professional, fast and they simply delivered.
In fact, they were super patient with us even though we sent them the wrong logo format a few times. DOH!
It was much appreciated and we were floored with the overall experience.
I have no doubt that we will use them again to get custom branded products. They over-delivered.
Wrap-Up
So, as you can probably tell, we are huge fans of these headphones. They are simply beautiful and work wonderfully. It's a high-quality set that produces high-quality audio and we highly recommend it!
If you want to check out the Wrapsody Bluetooth Headphones or dozens of other great gifts you can personalize visit LazerDesigns.com.
Disclosure: In the spirit of full disclosure, DIYactive.com may be compensated in exchange for featured placement of certain reviews or your clicking on links posted on this website.