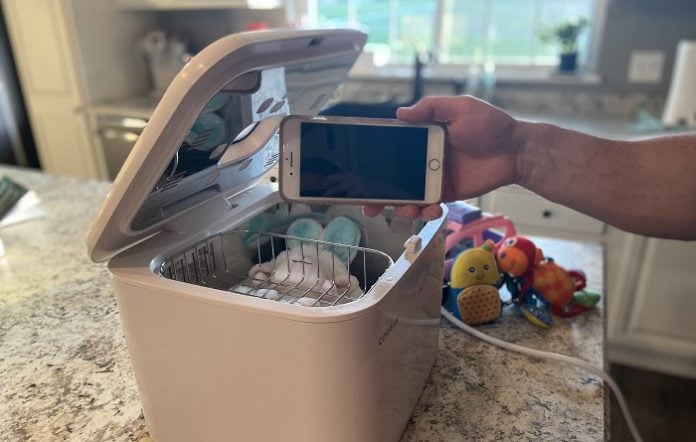 Coral UV 2 Review: Disinfect Anything
More than ever, people are keenly aware of the existence of germs on every substance we touch. We can almost envision these microscopic monsters on our doorknobs, cell phones, television remotes, and any other frequently touched surface. Want to eliminate 99.9% of bacteria?

Coral UV 2 Review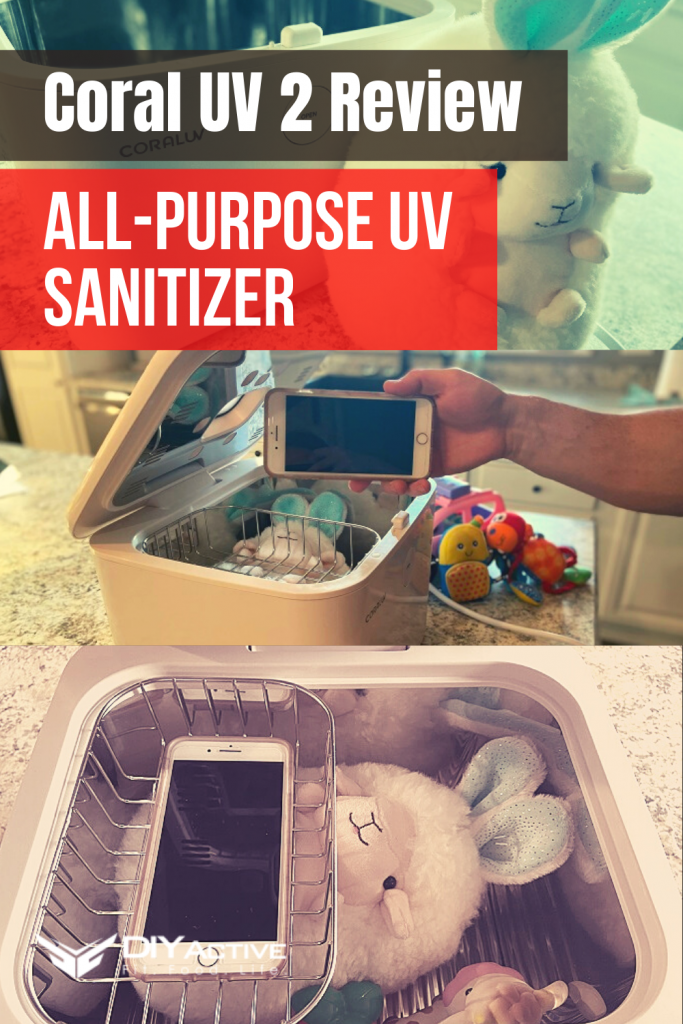 Even though we know that good handwashing practices can greatly limit our risk of infection, we want to do everything in our power to protect ourselves and those we care about. Taking appropriate precautions with every item can help us to limit the risk that we face.
So many techniques to kill germs involve abrasive products and harmful chemicals. While these may be effective, they can leave nasty residues and be potentially harmful on their own. UV sterilization has been proven to be effective in killing 99.9% of bacteria or viruses without any residual risk of harm once completed.
This is especially important for the smallest members of our families, our children. When you know that any and everything may end up in their mouths, you want to take every possible precaution to keep them safe from germs and harsh cleaners.
Coral UV 2 Review: How it works
This product is all about thoughtful design. In fact, the Coral UV 2 won the prestigious Red Dot Design Award that honors only the very best in product design!
The Coral UV 2 offers a unique solution to the challenges of household disinfecting. While there are many UV disinfectant devices on the market, the Coral UV 2stands out above all others.
Get this: Sanitize, Filtrate, and Smart-Dry All-in-One. No Water, No Chemicals, No Mess, No Waste.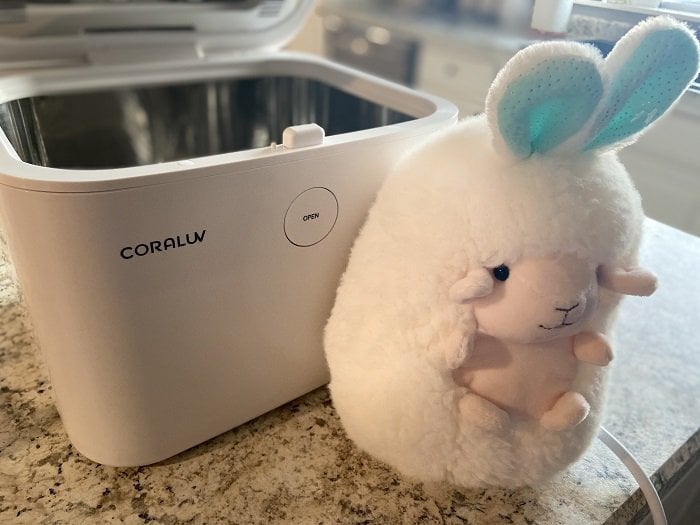 Unlike the original Coral UV, the new model replaces the older mercury bulbs with 6, LED lights increasing efficiency and reducing mercury exposure! The bulbs make quick work of killing germs, taking only 10 minutes to kill most bacteria and viruses.
In addition to using an increased number of bulbs, the Coral UV 2 is also specifically designed to reflect the UV lights around the inside of the container to disinfect all angles.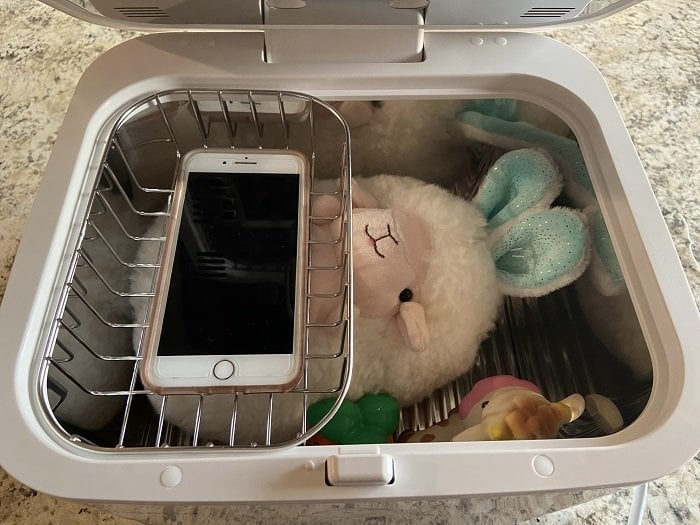 So how does UV light kill bacteria? UV light helps to break down DNA in bacteria or virus cells. So, what does this mean? This means bacteria or viruses can't function or reproduce! They die!
Check out our quick video of the original Coral UV. The Coral UV 2 is a bigger, more effective model!
Disinfect Almost Anything
What exactly can you disinfect in your house? If you have kids, some of the most important things to disinfect will be baby bottles, plastic and plush toys, electric toys, pacifiers, and just about anything else.
Once you get thinking about it, though, there are so many things that could benefit from being sanitized. Cell phones are notorious for holding germs and spreading bacteria.
Television remotes, kitchen sponges, razors and shavers, make-up brushes and applicators, cooking tools, and so many more items in the house silently build up germs.
Coral UV is a great way to sanitize everything! It's great for sanitizing wet bottles or stuffed animals! It's so simple to use and will help you sanitize the most used objects in your life.
The Coral UV 2 light comes with 4 different modes (you can adjust the default length of the cycles):
Sanitize and Dry mode – Great for bottles that you have just washed by running a default 10 minute sterilize cycle then a dry cycle
Sanitize mode – Runs a default 10-minute sterilization cycle
Dry mode – Runs a dry cycle
24 Hour Storage mode – Runs a default 50 minute sterilize and dry cycle and then a 2 minute sterilize cycle every 2 hours for 24 hours
The possibilities are endless!
Wrap-Up
As you can see in our Coral UV 2 review, having a UV sanitizer, like the Coral UV 2, makes it easy to be mindful of cleanliness. They've taken it up a notch with the new Coral UV 2 model. Plus, you can get it at a steal of a price:
Save 30% now – only $119!
With such a useful tool, you can be sure that the items that you come into contact with every day will be safer for you and those in your household.
Be sure to check out the Coral UV 2 on their Kickstarter campaign – all in one UV sterilizer – today.
Disclosure: In the spirit of full disclosure, DIYactive.com may be compensated in exchange for featured placement of certain reviews or your clicking on links posted on this website.