Thinking about kick-starting your health and wellness journey? Well, look no further than DoFasting!
This innovative fasting app offers a simple and effective way to improve your overall health, boost your metabolism, and shed those stubborn pounds.
But is it really worth the hype?
Today, we're going to dive into a comprehensive review of DoFasting to see if it's the real deal or just another fad.
With that said, let's roll in.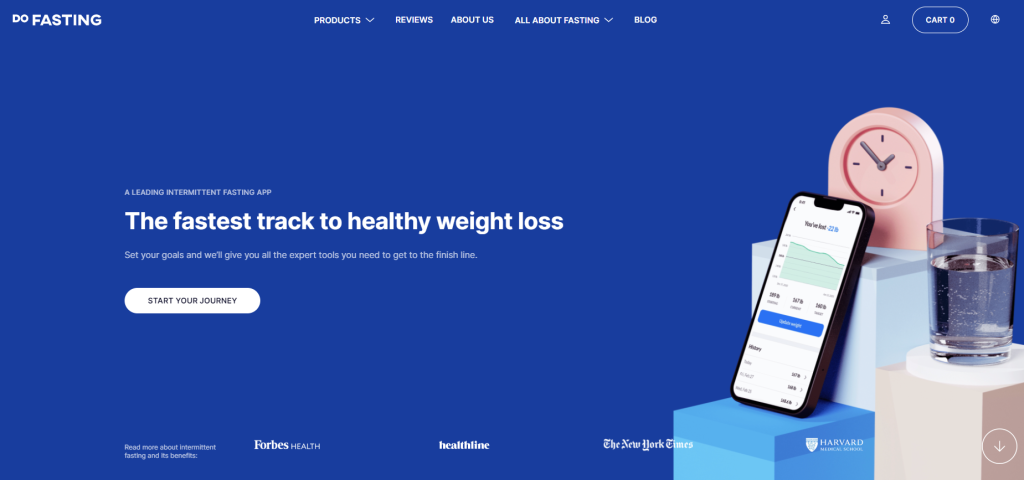 DoFasting is an innovative health and wellness company that offers an app-based solution to help you achieve your weight loss and fitness goals. The app provides you with a convenient way to monitor your fasting periods, food intake, water consumption, exercise routine, and weight loss progress all in one place.
If you're new to intermittent fasting, don't worry. DoFasting has got you covered with a library of articles that explain the benefits of intermittent fasting and provide useful tips for getting started. The app also has a fasting tracker that helps you keep track of your fasting hours and eating window, making it easier to stay on track.
DoFasting's app also includes a food and recipe library with over 5,000 healthy recipes tailored to your meal preferences. Whether you're vegan, vegetarian, or prefer a low-carb diet, the app can provide you with recipe ideas to make your intermittent fasting journey more enjoyable and sustainable.
In addition to the app, DoFasting also offers weight loss supplements that can help suppress your appetite and provide much-needed nutrients while you're fasting. These supplements work in conjunction with the app to enhance your weight loss efforts and make your fasting regimen more tolerable.
How DoFasting Works
When you sign up for DoFasting, you'll download the app and create your account. From there, you can input your weight loss goals, meal preferences, and workout routines. The app will then generate a custom fasting plan that fits your lifestyle.
During your fasting periods, the app will track your progress and remind you when it's time to break your fast. You can also track your food intake, water consumption, and weight loss progress in the app.
To enhance your weight loss efforts, DoFasting also offers supplements that can help suppress hunger and provide necessary nutrients while you fast. By combining the app with these supplements, you'll have all the tools you need to achieve your weight loss goals.
Read Also: Does DoFasting really work?
What is Intermittent Fasting?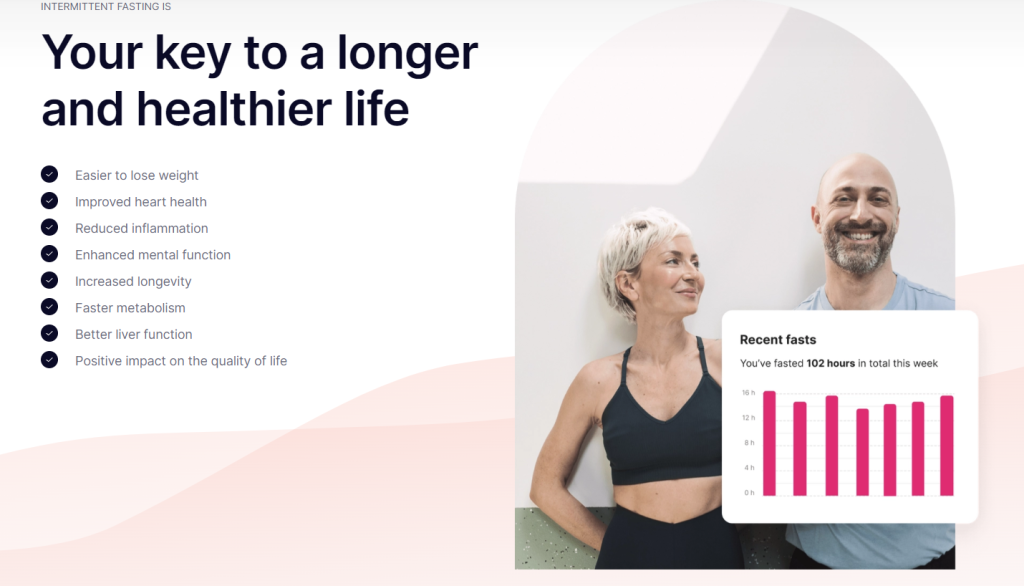 Intermittent fasting (IF) is a way of eating that involves cycles of fasting and eating. The idea is that you give your body a break from constantly digesting food, which can have a number of health benefits beyond just weight loss.
There are several different approaches to IF, but the most common involve fasting for at least 12 hours per day and eating during a set window of time.
For example, you might fast for 16 hours and eat during an 8-hour window. Other approaches involve fasting for longer periods, like 24 hours, once or twice a week.
IF has been shown to have a number of benefits, including improved mental clarity, reduced inflammation, and a decreased risk of obesity and obesity-related diseases. It's an easy, yet effective way to improve your overall health and well-being.
DoFasting Review
Let's now dive deep into this DoFasting review.
Pricing
Note that DoFasting is a bit more expensive than some comparable apps on the market. Its monthly fee of $11.50 is higher than some other fasting apps, and some of those apps even offer the fasting tracker for free. Moreover, many different apps further offer resources like articles on fasting and healthy eating, as well as integration with fitness trackers.
However, it's worth considering that DoFasting does offer some unique features, such as access to over 5,000 healthy recipes and a library of workouts. Plus, the supplements they offer could be a helpful addition to a fasting regimen. Ultimately, whether DoFasting is worth the price depends on your individual needs and preferences.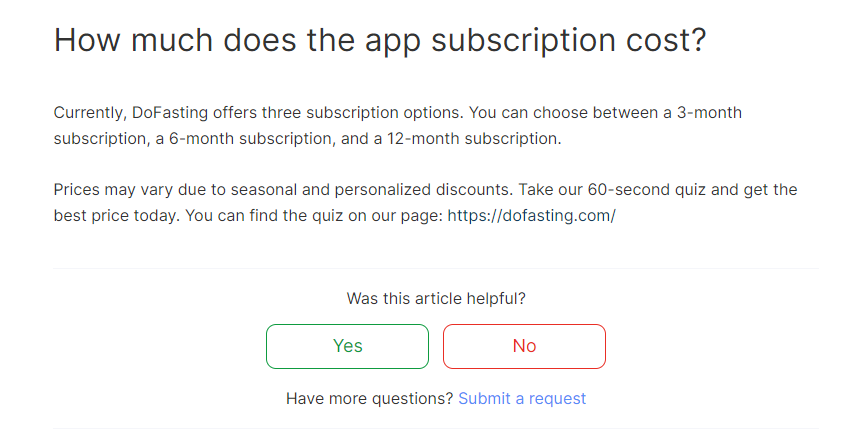 Here's an overview of DoFasting's pricing compared with Fastic's pricing:
| | | |
| --- | --- | --- |
| | DoFasting | Fastic |
| Monthly Cost | $11.50 | $9.99 |
| Annual Cost | $49.99 | $49.99 |
| Free Trial | 7 Days | 14 Days |
| Fasting Tracker | Yes | Yes |
| Healthy Recipes | Yes | Yes |
| Workouts | Yes | Yes |
| Supplements | Yes | No |
| Custom Plans | Yes | Yes |
Related: How much does DoFasting cost?
Effectiveness
If you're interested in fasting, the DoFasting app could be a great tool for you. Its fasting tracker is the standout feature, which lets you choose a fasting method that suits you or follow the app's recommendations. It sends daily reminders about your fast, so you don't have to constantly think about it.
Logging weight, steps, food, and water is easy, and you can also integrate the step counter with Apple and Android systems. The app's workout library is also impressive, guiding you through each exercise with video tutorials and tracking your time. DoFasting's recipe database is a great resource, especially for new fasters, and you can add your favorites to a list for quick access.
The app also has an article database, although it could use more content. While its supplements and smart scale have some benefits, they're not necessarily worth the extra cost.
Customer Support
When it comes to customer support, DoFasting falls short. Although this is a common issue with fasting apps, it's still a notable drawback. You can only contact customer support through email, and there's no phone number or chat support available.
Additionally, when we reached out to DoFasting with a question, we were told that customer support couldn't help and that our query would be passed on to a nutritionist.
It's also important to note that if you need guidance on fasting or nutrition, DoFasting doesn't offer personalized coaching. Fastic, on the other hand, has a system that can connect you with a personal health coach who can help you through your fasting journey.
Wrap-Up
To sum up, DoFasting is a solid app for anyone looking to try intermittent fasting. Its fasting timer and tracker is its standout feature, and the app also offers helpful resources like a workout library and recipe database.
However, its pricing is on the high side compared to similar apps that offer similar features for free. Additionally, the customer support and supplement offerings could be improved.
Despite these downsides, we recommend DoFasting for its user-friendly interface and useful features. If you're interested in trying DoFasting, click here to download the app and start your fasting journey today!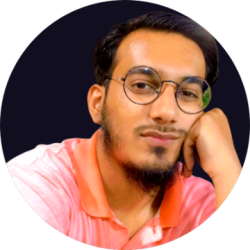 Latest posts by Areeb Shaikh
(see all)
Disclosure: In the spirit of full disclosure, DIYactive.com may be compensated in exchange for featured placement of certain reviews or your clicking on links posted on this website.