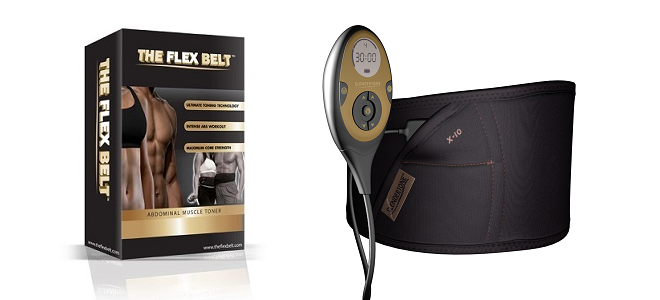 The Flex Belt Review: Blasting your core
Flex Belt review: I recently reviewed the Flex Belt, an electrical muscle stimulating belt that strengthens and builds your core.
Not only is the product shocking (see what I did there?) but the results can be as well! See how it worked for me below.
How many Flex Belt reviews have you read? Hopefully, this will be the last one! Straight-up, this product will not give you a killer 6 pack if this is the ONLY practice you are using to lose weight. In fact, this isn't a weight loss product at all, it's a product that helps strengthen and tone your core, so along with your normal exercise and nutrition regime, your abs will become more visible. In conjunction with your normal practices, this can supplement your core routine!

Flex Belt: Want One?
"Tone, Tighten, Firm, and Strengthen Your Abs"
Overview: This is an incredibly effective product by anyone's standards. And while not an excuse to not work out, this is a great tool to have in the arsenal!
Ease of Use: 4/5

Instructions:

3.75/5

Practicality: 5/5
Storage: 5/5
Battery: 3.75/5
Effectiveness: 5/5
Overall: 4.41 / 5
Overview
The Flex Belt is a pretty cool product that essentially makes your abdominal muscles contract via three "sticky" pads located on the belt which electro-stimulate the muscles into contraction.
So right there tells you this isn't a weight-loss tool – it's used to build up the abs so they can be seen!
Building up your abdominals (they also have several other products), it's a great way to strengthen your core and I could see this as a valuable tool for anyone with weak core problems.
This is because it can help strengthen the obliques and other abdominal muscles to help stabilize your core and spine.
Instructions
The Flex Belt comes with a quick start and a full-length instruction guide. Don't get me wrong, while they are definitely lengthy and thorough they can be a little confusing, and sometimes the wording does get a little weird.
That is pretty nit-picky though because all-in-all the instructions are complete and will help you get set up and started. Plus, the makers of Flex Belt even provide you with the extra motivation of buying you before and after pictures.
If you have some fabulous results, it could result in some serious cash (like $1000)! Might be the motivation you need to give it your all and kick some ass!
Use/Storage
Once you use the belt a few times it's like "old-hat". The belt is simple to charge (it can last about 2-3 usages per charge), simple to strap to your midsection, and easy to start and get going.
Plus, it comes with a handy black draw-string bag for storage. Lastly, it comes with a convenient "usage card" that can help you track your progress and let you know where you left off the previous day.
Make sure you keep the plastic covers for the pads so they don't dry out and get dirty – you won't have to buy new pads as often.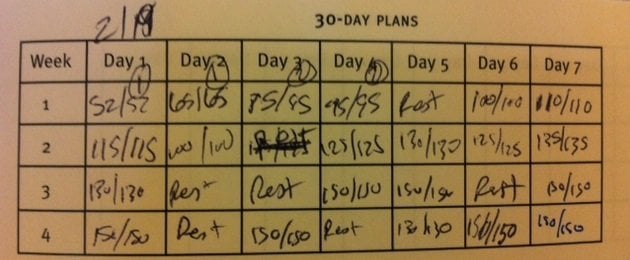 Effectiveness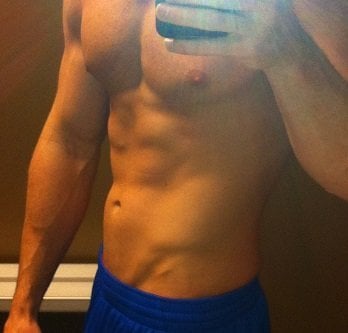 The belt has intensity levels that range from 1 to 150 with multiple training levels and toning powers.
The very first time you use it you might be nervous, I was because I had no idea what to expect. As you increase the intensity and you get to around 25 you finally start to feel a little tingle.
As you increase the intensity your obliques and abs will start to contract…like hard! It's a weird feeling at first and you may have to start by sitting down but you can totally feel it contracting the abdominal muscles! This will help build them up over the course of several weeks.
Honestly, it is a really effective product and when you get to intensity level 120 or so there are some serious contractions going on that can leave you sore (they recommend taking two days off per week).
Like I said earlier, when you combine this with your exercise regime and nutrition plan, it can help bulk up your abdominal muscles so they are more visible and it can help improve your core strength (which could help alleviate some back problems). It's a pretty awesome tool to use in order to blast your core!
Note: Ab rollers are a great way to get a 6 pack. Read our review of the best ab rollers on Amazon.
Wrap-Up: Verdict
As I've said multiple times already, combining the Flex Belt with your workout and nutrition regime can be a great way to supplement your core workout – strengthening and toning your core.
Trust me, after putting the belt on, cranking it up, and using it a few times you will see how the Flex Belt can really help you work towards the core you've been wanting! Flex Belt review verdict: We give it a 4.41/5!
Get your own core sculpture: HERE

Latest posts by Josh Anderson
(see all)
Disclosure: In the spirit of full disclosure, DIYactive.com may be compensated in exchange for featured placement of certain reviews or your clicking on links posted on this website.