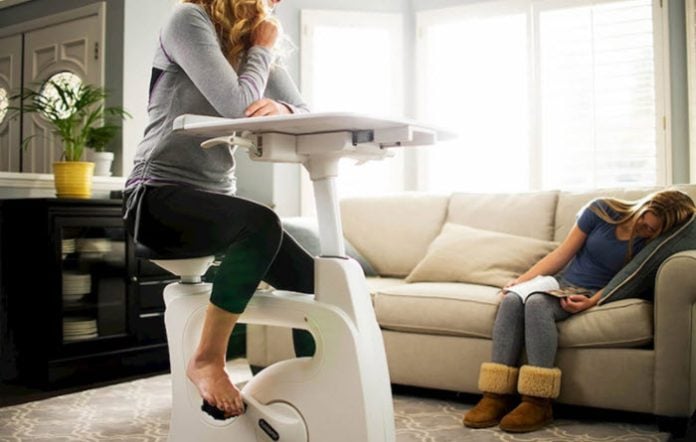 Flexispot All-in-One Deskcise Bike Review
Now, more than ever, people are looking into ways to exercise at home. Because of the COVID-19 pandemic, many people also find themselves working from home for the first time for a prolonged period of time. With our busy schedules, it can be hard to find time to exercise. Thanks to the Flexispot All-in-One Deskcise Pro bike, you can do both, freeing up time in your schedule for other important things. Seriously… it's awesome!

Flexispot Deskcise Bike Review
As people transitioned to working from home, one of the initial challenges was setting up a workspace. A distraction-free environment is hard to find, and getting new equipment can be expensive.
Ergonomically, sitting all day in front of a computer can do serious damage to your back, neck, and more. That's where the Flexipsot Deskcise Bike comes in.
It's a workstation, standing desk, and bike all in one! Think of it as the ultimate utility player on a baseball team. You can get your work done, burn calories and stand up whenever you want. For this Flexipsot Deskcise Bike review, we gave it a 3-week trial, using it every weekday without fail. We loved it. Here's why!
Bike PLUS Standing Desk
Designed with a superior comfort fit cushion, we were able to work out all day without getting cramped and uncomfortable. This is truly a great workstation.
If you do decide to take a break from sitting on the seat, the desktop is designed to be accessible from both sides, meaning you can use it as a standing desk as well. The Deskcise Pro is a great solution to give you the office space you need with the ergonomic support you want.
During our 3 week trial, we found ourselves peddling for a few miles then getting up and standing for 15-30 minutes. It led to a great mixture of exercise and activity.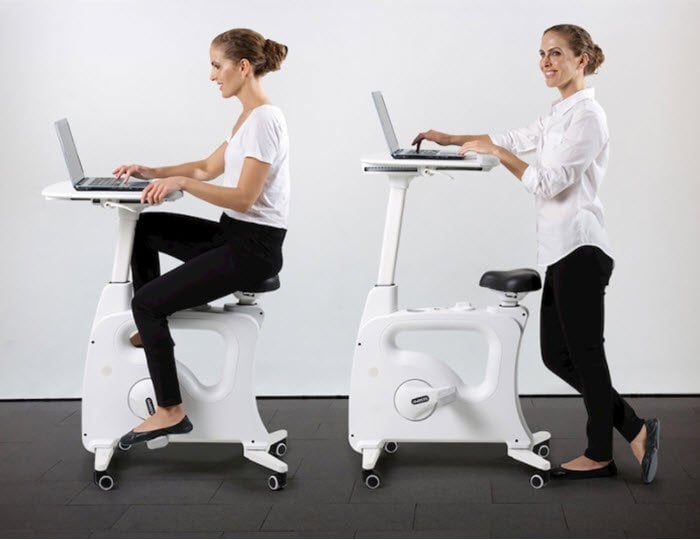 Small Footprint
With storage space so limited in our homes, having modular and collapsible furniture has become more popular than ever. With the Deskcise Pro, you can pack up your desk and store it in any closet space out of the way, freeing up your home for better flow.
We were able to roll ours in and out of the pantry every morning quickly and easily. It rolls smoothly and fits right in this very small space. This is a HUGE benefit for those with smaller living quarters and you don't want a bike taking up room.
The spacious desktop gives you plenty of room to work when you need it, or can be packed up for storage.
Want a Change of Scenery?
The Deskcise Pro can be moved easily and set up in about 1 minute wherever you want in your house. Built with a lightweight design and equipped with wheels, you can even move your desk partway through your day for a change of pace.
We found ourselves doing this on the reg. We'd look out one window while working, then roll the bike to another.
The lockable gravity casters make it easy. Click here to learn more and get yours!
Avoid the Gym Time Suck
Time is a precious commodity, so finding a way to save time in our routine is a worthwhile endeavor. By exercising while you work, you can use the time you would have spent at the gym doing something else.
In addition, physical activity has been proven to improve cognitive function, meaning that exercising while you work will make you a better worker and keep you focused. Because of its whisper-quiet design, you won't be distracted by the sound of your equipment.
Doing 75 Hard? Well you need two workouts per day, right? That can take a lot of time, but if one of your workouts was on the bike while you worked, your productivity and efficiency just went through the roof!
We set a goal of biking 15 miles each working day. They put us at 75 miles per week and over 350 extra calories burned per day while we were working. That seriously adds up quickly. There's no way I could have found a few hours to do that on a normal bike between Zoom meetings and calls.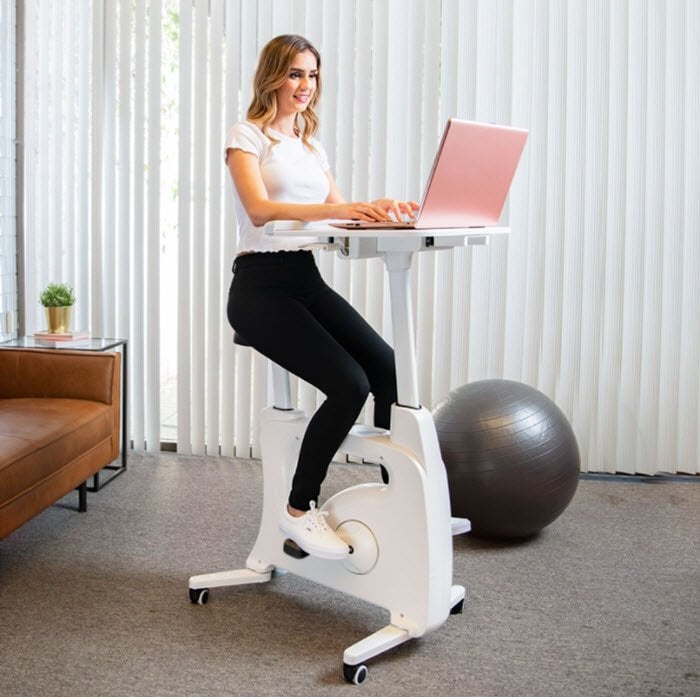 You can even run the exercise bike while on a video call! The integrated digital display gives you an accurate and precise readout of your workout progress, helping you keep track of how much time you've saved.
My teams would have never known I was biking away unless I hadn't told them!
As we adjust to doing more at home and trying to fit even more into our hectic lifestyles, we all can benefit from the space-efficient, time-saving nature of the All-in-One Deskcise Pro.
Adjusts to You
With eight resistance levels, you can always be improving. The integrated digital display shows you exactly where you are in terms of time, calories burned, distance…etc. so you can improve your personal records each time.
The spacious workspace adjusts height-wise and in and out so you can bring the workstation close to you or further away. Finally, the uber-comfy seat – though towards the end of 15 miles it can take its toll – easily adjusts up and down so you get the perfect fit.
Wrap-Up
Look, let's be honest. We try a ton of products here at DIY Active. Many never make it to publication because they just don't cut it. This is one of the coolest, well though-out and useful products we've tried in years.
We are all about increasing productivity and efficiency and this simple desk can do that for you. If you're serious about your health but can't find a few extra hours to exercise or if you hate doing mindless cardio, this will help you out.
Whether you have a busy job working 40 hours a week from home or if you want to get some personal desk jobs done alongside your workout, being able to multitask will help you get more accomplished and leave you more time to do the things you want
We highly recommend the Flexispot Deskcise Bike to anyone. 5/5 stars here!
Click here to learn more and get yours.
Disclosure: In the spirit of full disclosure, DIYactive.com may be compensated in exchange for featured placement of certain reviews or your clicking on links posted on this website.