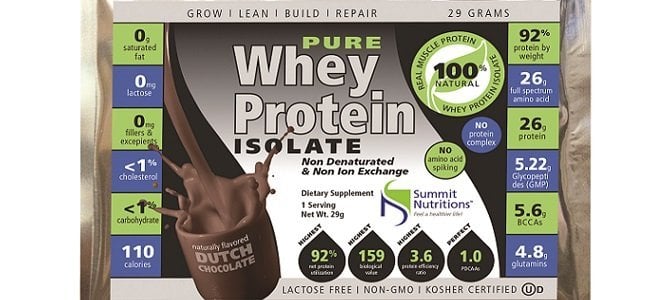 Your Whey Protein Solution?
If you ever walk through a gym you will see shaker bottles everywhere – most likely full of whey protein.
Whey protein is literally everywhere because frankly, it's a great, easy way to help build lean muscle and satiate your appetite. I recently tested out Summit Nutrition's Pure Whey Protein Isolate and wanted to give you the low-down on this whey protein!
Get Your Whey Protein On
"Grow | Lean | Build | Repair"
Overview: 100% pure whey protein that gives you 92% protein per scoop! Start growing and recharging effectively!
Serving Size: 29g
Protein: 26g
BCAAs: 5.6g
Fat: 0g
Carbs: < 1%
Calories: 110
Quality: 4.25 / 5
Overview
Summit Nutritions Pure Whey Protein Isolate is their latest and greatest protein – improving on an already effective nutrition tool: simple whey protein.
Protein, in general, is great for helping us build muscle, maintain muscle, recover, and even satiate our appetite – so we definitely need it!
When it comes to protein recommendations the current US recommendation is 0.8g/kg of body weight (more for pregnant women). Another good recommendation is to consume your "ideal" lean bodyweight you are trying to reach in grams of protein.
So if you want to weigh 120lbs then shoot for consuming 120 grams a day – this will keep you consuming lean proteins like whey, fish, poultry, lean beef…etc. instead of consuming other junk like processed foods!
So Summit Nutrition steps in with this great protein in order to provide a convenient and effective protein!
Mixability/Ease of Use
When it comes to whey protein we all know that we want a protein that mixes up evenly, and smoothly in our shaker bottles without having to shake it like a paint-can shaker machine. This protein shakes up really well and was nice and smooth.
When it comes to the packaging and ease of use, the one serving packets would be great to take to the gym – way easier than taking your 5-pound tub with you! 🙂 Likewise, they are resealable so if for some reason you didn't want to use the entire thing you can easily seal it up and have it ready to go for next time.
Little things like that in a product that seems so small really do help make all of the difference!
Taste
If you've used protein long enough and have used several brands (or even just one) you will know that taste ranges greatly when it comes to drinking the stuff.
I think I've drunk some crap that would make a train take a dirt road. I probably would have thrown the junk away but back then when I was poor I had to suck it up and use it – ever been there?
When it comes to Summit Nutritions whey protein taste, I give it a 4/5 which is pretty respectable for whey protein. The taste really isn't that bad at all, it is just really bland. Of course, this is just from mixing it with water but if I would have added Greek yogurt or milk, it would have vastly improved it.
Unlike other whey protein I've had, I didn't gag and it was actually enjoyable!
Nutrition
Of course, the main thing about whey protein is if it gets results and helps build muscle – or basically the protein content. With over 90% protein by weight, 26g of protein per serving, over 5.5g of BCCAs (get a full breakdown on BCAAs), and almost 5g of glutamines this protein can get the job done!
Likewise, whey protein contains no fat, sugar, or cholesterol and is low in sodium. Plus, there are no added fillers, banned substances, hidden ingredients, and non-food-based amino acids – basically, you are getting pure protein to help power your muscles!
Pure protein – sounds good to me! #NonProteinspikingsummitnutritions
Wrap-Up
I really enjoyed Summit Nutritions Pure Whey Protein – it was super easy to mix and store. Aside from the normal bland taste of whey protein, it wasn't too bad!
Lastly, because it is basically pure whey protein without any of the added fillers and crap that is usually added, I think this could be a great whey protein that would help you achieve results [along with the right nutrition and fitness plan of course].
We give the stuff a 4.25/5!
To get your own, check it out HERE!

Latest posts by Josh Anderson
(see all)
Disclosure: In the spirit of full disclosure, DIYactive.com may be compensated in exchange for featured placement of certain reviews or your clicking on links posted on this website.