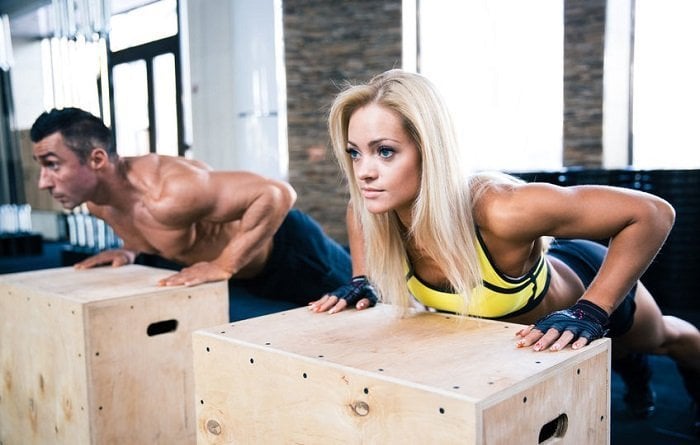 The Truth About Willpower
You hear about willpower all the time. It's the power of self-control or your ability to control your impulses. It's a huge part of motivation and getting results so it's always worth a closer look. We had a chance to ask a few questions to an expert in the field – Benjamin Hardy author of Willpower Doesn't Work – about how to get motivated and the most effective way to reach your goals. Is it harnessing your willpower or something else?
How to get motivated
Benjamin Hardy has had an amazing life and, like all of us he has overcome serious obstacles throughout his life. He is a hugely popular writer on self-improvement, motivation, and entrepreneurship, so this was a great chance for us to get to the truth on how to reach our goals.
Let's dive in!
Is there such thing as willpower?
Yes. Absolutely. Willpower has been researched in psychological fields and the general belief is that the more you exercise it, the more of it you have.
"They preach that with enough willpower, a person with a sugar addiction can live healthy in a candy house. And yes, I suppose they could for a period of time. But willpower requires great amounts of energy and is NOT sustainable for long-term change."
Okay, at least we know willpower does exist!
If it's not a long-term change, why do we constantly hear about it?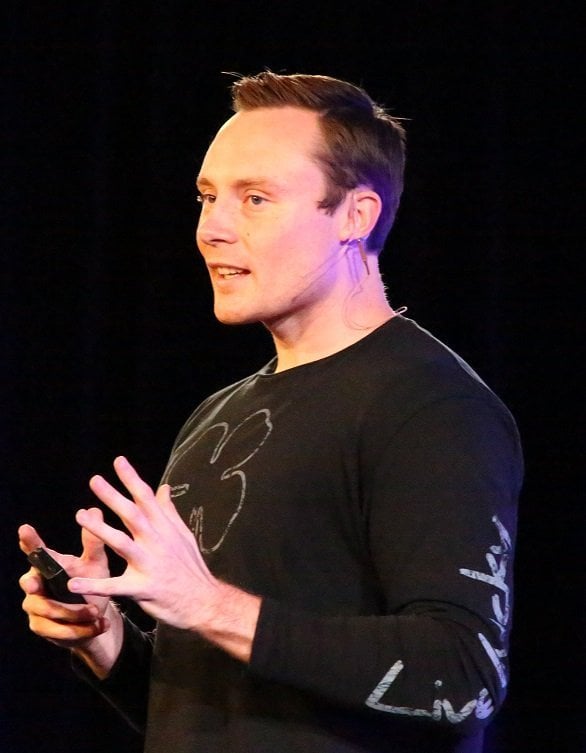 "We like to talk about willpower because it gives us a great sense of control. We like to be in control of our own choices and think that everything was either our own success or our own fault.
It can be very difficult to admit the greater truth, you are more a product of your environment than a product of your choices. My book, Willpower Doesn't Work is about how we can use our choices to shape environments that make success inevitable.
Rather than making yourself get out of bed and go to the gym, get a gym buddy who is leaps and bounds ahead of you to text you in the morning. This eliminates the willpower battle you have in bed as you have set up conditions that require your success."
At DIY Active we are huge believers in accountability systems including workout partners!
Is this constant focus on willpower a bad thing?
Yes, it is very destructive to continue encouraging willpower. It masks the real solution or environmental design.
"When an environment is designed to help you accomplish your highest goals, the journey is exciting and fun rather than simply drudgery you need to endure to reach the joy at the end."
Well then, how can we change our bad habits or form new ones?
1. Invest upfront
Money is a powerful motivator! When I decided to start blogging, it was a really tough decision for my wife and me to put down a couple of hundred dollars buying the domain Benjaminhardy.com. We were both working a $15 dollar an hour job and hadn't taken a risk like that before. Go get some new running shoes. The investment will motivate you to get out there.
2. Make your goals public
Take pictures of yourself along the way to share on social media. Encourage your friends to follow up with you. Their expectation of you is a way of outsourcing the need for willpower.
3. Set a timeline
Sign yourself up for a marathon or competition. This is a great way to not only invest but to make yourself show up in a specific amount of time.
4. And of course, move out of the candy house
Remove the crap in your environment that is keeping you from reaching your goals.
Why is this an effective method?
"Focus on environmental design means outsourcing the conflict. Any time you find yourself rationalizing why you aren't achieving your goals, instead of beating yourself up, find a way to manipulate your environment so that those battles don't happen anymore.
This could be a simple as changing your route to work so you stop at a different gas station and aren't triggered to buy a soda."
No matter how much internal resolve you have, you will fail to change your life if you don't change your environment.
"This is where the willpower approach fails. The willpower approach doesn't focus on changing the environment but instead on increasing personal efforts to overcome the current environment. What ends up happening? Eventually, you succumb to your environment despite your greatest efforts to resist.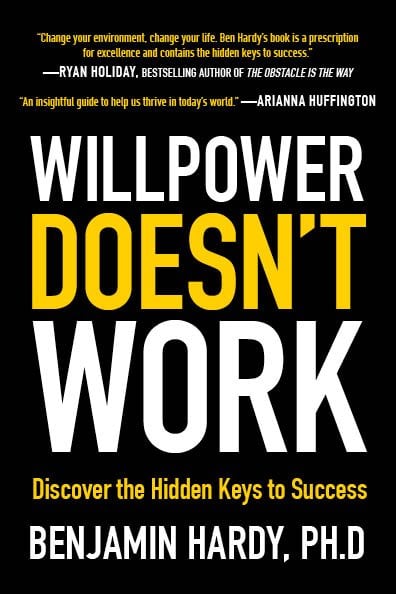 The environment is more powerful than your internal resolve. As a human being, you always take on the form of the environments in which you continually place yourself. Consequently, the best use of your choices is consciously designing environments that facilitate your commitments."
Design and conquer!
Wrap-Up
Willpower is real, but focusing solely on it will not help us reach our goals in the most efficient matter alone. According to Benjamin, and we're 100% on board with this, we need to engineer our environment to give us the best chance at success.
Once we design our environment to make it easier for us to stick to our goals, it makes it a lot easier for willpower to work!
Interesting stuff, right? So if you really want to know how to get motivated, go out and grab Hardy's full breakdown on willpower and how his method can help you reach any of your goals!
Get your copy today – Willpower Doesn't Work
About Benjamin Hardy
Benjamin Hardy, Medium.com's #1 writer, Ph.D. Candidate at Clemson University and author of, Willpower Doesn't Work: Discover the Hidden Keys to Success (March 6, 2018, Hachette Books). With his popular writings focusing on self-improvement, motivation, and entrepreneurship, Hardy has spent years inspiring others to obtain success through his work, studies, and personal experiences.
The foster dad of 3 personally overcame a broken family afflicted by addiction, discovering that the only way to truly thrive is to proactively shape your environment.
About Willpower Doesn't Work
In Willpower Doesn't Work, Hardy explains that willpower is nothing more than a dangerous fad—one that is bound to lead to failure. Instead of "white-knuckling" your way to change, you need to alter your surroundings to support your goals. Willpower Doesn't Work will specifically teach you:
How to make the biggest decisions of your life—and why those decisions must be made in specific settings
How to create a daily "sacred" environment to live your life with intention, and not get sucked into the cultural addictions
How to invest big in yourself to upgrade your environment and mindset
How to quickly put yourself in proximity to the most successful people in the world—and how to adapt their knowledge and skills
How to create an environment where endless creativity and boundless productivity is the norm
Are you ready to change your environment and change your habits?

Latest posts by Josh Anderson
(see all)
Disclosure: In the spirit of full disclosure, DIYactive.com may be compensated in exchange for featured placement of certain reviews or your clicking on links posted on this website.