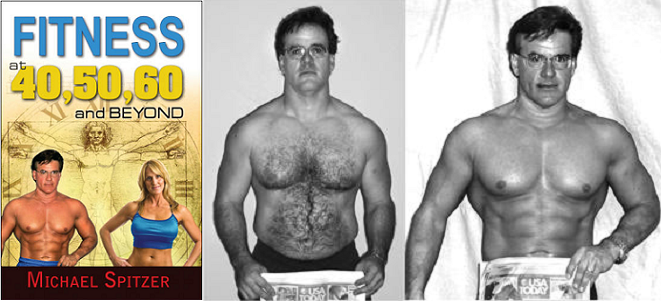 The Fitness Book That Gets Results
I'll be the first to admit that I'm not a big fan of reviewing books. For one, it takes for friggin ever to read them thoroughly, especially when it's a behemoth like Michael Spitzer's Fitness at 40, 50, 60, and Beyond (400+ pages). Plus, I'm just not a fan of writing reviews these days.
But I really wanted to check out this book because Spitzer has been on the site several times spitting nothing but amazing knowledge and actionable advice in a no-BS style that fits our philosophy. So check out this review on Fitness at 40, 50, 50, and Beyond and see how it can help you with all of your fitness and nutrition questions – at any age!

The Ultimate Fitness Book?
Fitness at 40, 50, 60, and Beyond
"The # 1 Top Rated Guide for Weight Loss and Fitness Over Age 40"
Overview: Seriously, go get a copy now! No matter your age, if you want a well-written source of information from nutrition to fitness to everything in between, this 400+ page source can help you get results! While geared towards the older crowd, the solid information provided can help anyone – that's why it received the highest-rated review we've ever done!
Information: 5.00/5
Engagement: 4.90/5
Readability: 4.95/5
Images: 4.95/5
Overall: 4.95 / 5
Overview
Look, we all have a ton of fitness and nutrition questions – even myself who tries to make a living in this field. We all can use a reference fitness book we can grab to help point us in the right direction and that is what Michael Spitzer created.
He created the ultimate guide to reaching results as we age and this sound advice can help anyone get results.
The book is built on his many years of experience and is backed by science. The guy was a world-class chemist who sold his lab in southern Florida before writing the book.
If you have ever read any of my content you know my entire background is science-based as well.
This all equates to one of the best sources of fitness information that I've come across and I think everyone out there needs to get their hands on it.
Information
We all know that nutrition is the key to really achieving weight loss and this book takes the time to thoroughly cover all the basics. It is loaded with information to help you determine your caloric needs and hits all the aspects of nutrition.
While it is geared towards those over 40 (those with a slowing metabolism), it can be helpful to anyone.
Not only that, but it thoroughly covers hormones such as estrogen and testosterone. As we age men's production of testosterone can decrease and women going through menopause can have hormonal problems with things like estrogen.
This book depicts some natural ways to help fix this imbalance.
Plus, if you are looking for a fitness book to guide you through dozens of exercises for a specific body part then look no further. Not only are there images of each exercise but Spitzer walks you through several stretches as well! Simply put – it's the complete package and honestly it's something he should be proud of!

Engagement / Readability
If you are going to get through a 400+ page fitness book it better be well written and engaging. Nothing like pounding your head against the wall while reading some author goes on and on like it's a textbook. That sucks and can kill a well-researched book.
I found this book to be highly engaging and fun.
It's written in a fun, no-nonsense tone that speaks to many of us and is flush with anecdotes and first-hand experiences that make you believe and trust the author.
In my first sitting, I blew through 100 pages of some pretty heavy information but Spitzer made it easily understandable and enjoyable. I didn't feel as though I was listening to a college professor monotonously carry one about physics (or insert your least favorite subject).
For example, ever heard trans fats described this way?
The one exception is trans-fats. Trans-fats do indeed seem to be a product spawned by the Devil himself and dumped on mankind as a form of dietary plaque.
That right there speaks to me!
Images
An image says a thousand words, right? We see this daily on social media. Type out a great workout and blast it to your followers and no one notices but throws up a picture of some buff guy or pretty girl and the thing goes viral. I only say this because images can add huge value and understanding to a book and this book is loaded with great images on how to perform exercises and stretches.
These black and white images help the reader more thoroughly understand what Spitzer is talking about and also keeps the reader engaged!

Wrap-Up: Verdict
With the massive publishing companies out there getting all the limelight, this book hasn't gotten the total attention it deserves.
This thing can really help you crush your goals at any age.
It comes with a highly engaging, fun, matter-of-fact tone to get you up and active and taking control of your life. It's your life to live, so why not be as healthy as possible? We highly recommend this book and wish we would have found it sooner.
Go grab your copy now and trust me you will see that this thing can help answer almost any fitness question you have! We give it a 4.95/5!
Want to get your own? Check it out HERE!

Latest posts by Josh Anderson
(see all)
Disclosure: In the spirit of full disclosure, DIYactive.com may be compensated in exchange for featured placement of certain reviews or your clicking on links posted on this website.