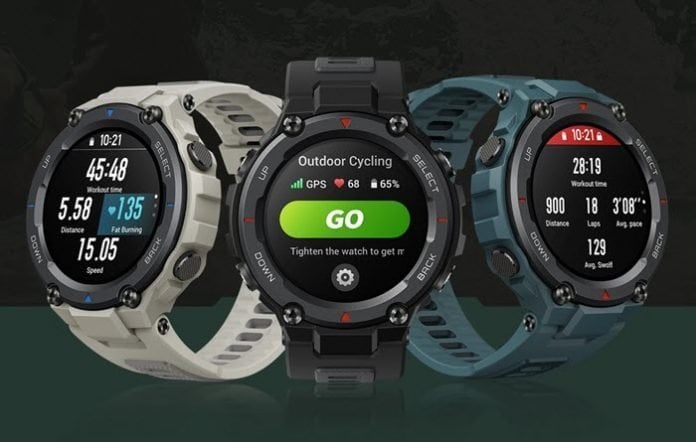 Amazfit T-Rex Pro Review
Introduce yourself to the new Amazfit T-Rex Pro, the latest edition of Amazfit's line of durable, outdoor sports smartwatches! With up to 18-day battery life and just launched on March 23rd, the Amazfit T-Rex Pro is created to help you Explore Your Instinct. Is it the perfect partner for your busy, creative, and active lifestyle? We put it to the test over 30 days.

Amazfit T-Rex Pro Review: Let's explore
Right away we could tell this watch was tough! The Amazfit T-Rex Pro has passed 15 military-grades tests, making it tough and reliable in even the most extreme conditions and challenges.
We thought the features were just awesome! Equipped with its in-depth health and fitness tracking and numerous outdoor sport modes, the Amazfit T-Rex Pro is ready for you to stay fit, healthy, and adventurous.
Lightweight Yet Tough
The Amazfit T-Rex Pro lightweight, shock resistant, robust polycarbonate body is tough and is capable of withstanding any environment, wet or dry. The metal angular designed body keeps the Amazfit T-Rex Pro-light, and attractive. It really is a beautiful watch.
Along with its toughness is the comfort of a silicone, skin-friendly strap. All the information you need is a glance away. We had this thing on day and night – still do – for 30 days and to be quite honest, sometimes forgot it was on.
The Amazfit T-Rex Pro is equipped with a bright 1.3 inch always-on AMOLED display encased in strong tempered glass with an anti-fingerprint coating to protect the display no matter where you bring it. Whether you're running, swimming, hiking, or training in the gym, the Amazfit T-Rex Pro is up to the challenge.
Powerful Endless Features
Warning… you will get lost in the features… The Amazfit T-Rex Pro builds on the success of its predecessor, the Amazfit T-Rex, through constant and consistent innovation and research the Amazfit T-Rex Pro adds countless new features to its already diverse platform.
With the Amazfit T-Rex Pro comes new functionality with 10 ATM water resistance, a blood oxygen saturation monitoring system, four global navigation satellite systems, a barometric altimeter, and over 100 sports modes.
Designed for the outdoors and enhanced with powerful features, the Amazfit T-Rex Pro is ready to explore and be your exploration partner.
Ready to workout? With 100 different sports modes available, the Amazfit T-Rex Pro can track your heart rate, distance, speed, and calories burned throughout your workouts, activities, and sports.
The specialized Firstbeat™ algorithm takes things to a new level when gauging important data such as your maximum oxygen uptake, full recovery time, and training load, and lets you know your progress and accomplishments.
In addition to tracking your health and activity, the Amazfit T-Rex Pro stays in tune with the nature around you. The Amazfit T-Rex Pro comes standard with weather tracking, sunrise and sunset monitoring, and a current moon phase display. The Amazfit T-Rex Pro keeps you in tune with yourself and the world around you.
Oh yeah, and it has an 18-day battery life!
The Perfect Personal Assistant
What else can it do? Plenty. The Amazfit T-Rex Pro helps you learn more about your health, with a healthy heart as a priority, the Amazfit T-Rex Pro is equipped with the BioTracker™ 2 PPG Bio-Tracking Optical Sensor, which executes accurate heart rate monitoring 24 hours a day and sends an alert if your heart rate gets too high. In addition to that, the Amazfit T-Rex Pro tracks heart rate variability to record your response to stress.
What we really took from wearing the Amazfit T-Rex Pro for 30 days was how it made us more health-conscious.
The Amazfit T-Rex Pro helps broaden your understanding of your health, it also offers personalized evaluations through its Personal Activity Intelligence (PAI) health system. PAI takes all the data collected from your workouts, runs, and training sessions and provides a single numerical value as your unique health score and evaluation.
Armed with this advanced knowledge and understanding, now is the time you can set your next health and fitness goal and achieve new personal bests and continue to get stronger, and healthier!
Wake Up To How You're Sleeping
A good night's sleep is one of the most important building blocks of good physical and mental health, and achieving that is within your reach with Amazfit's SomnusCare™ sleep-quality monitoring system.
The Amazfit T-Rex Pro recognizes different sleep states, such as light, deep, and REM sleep, and also detects daytime naps, and monitors potential breathing problems when you are asleep.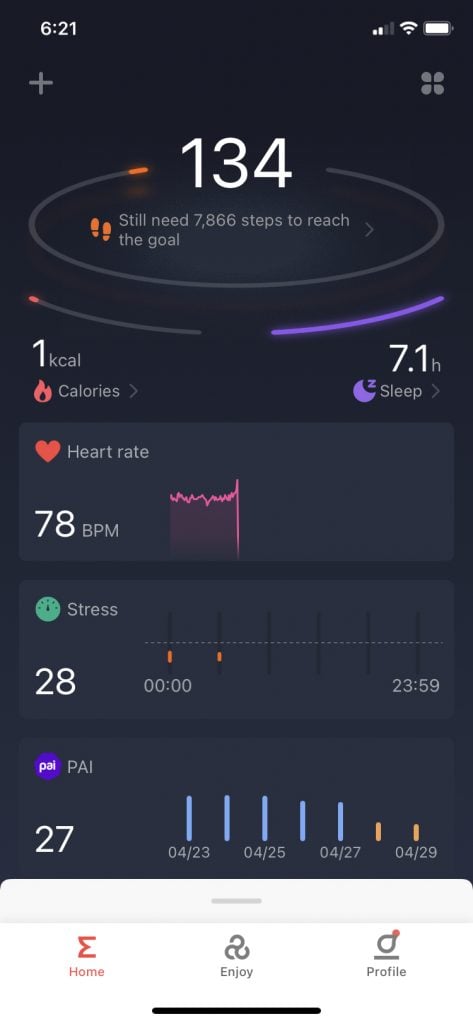 This is all recorded in their app, so it's all in one convenient location! Note: don't judge for the lack of steps… This was taken shortly after I woke up!
Additional Thoughts
Along with the health and sleep tracking assistance, the Amazfit T-Rex Pro helps manage your everyday life in practical ways. Equipped with Bluetooth® 5.0 BLE and supporting Android and iOS, Amazfit T-Rex Pro can notify you of incoming calls, text messages, reminders as well as allowing you to set alarms and control the music on your phone right from your wrist!
We will admit that the physical instructions that come with the watch were lacking, but there are a ton of guides on their website to help you better understand the features. But that being said, it's better to have a nice digital guide than waste paper.
Just launched March 23rd, the Amazfit T-Rex Pro is advanced, lightweight, tough, and powerful. With its all-new enhanced features and abilities along with over 100 sport modes. The Amazfit T-Rex Pro is available in three rugged colors: Meteorite Black, Desert Grey, and Steel Blue.
Wrap-Up
As you can probably see from our Amazfit T-Rex Pro review, we really enjoyed this watch. We thought it was beautifully crafted and really made us more aware of our health. Which is hard to do in a world always trying to grab your attention.
Whether you're hiking in the mountains, surfing the waves of the ocean, challenging yourself to an endurance run, or training hard in the gym, the Amazfit T-Rex Pro is ready to help you Explore Your Instinct!
Check it out here.

Latest posts by Josh Anderson
(see all)
Disclosure: In the spirit of full disclosure, DIYactive.com may be compensated in exchange for featured placement of certain reviews or your clicking on links posted on this website.