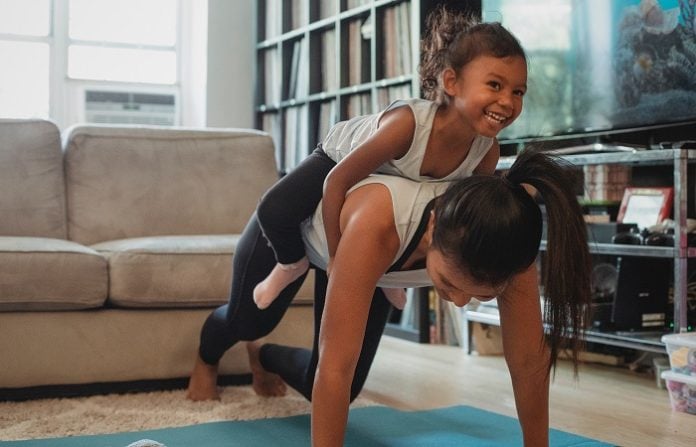 Get Back in Shape After Pregnancy: fitMom Review
Social media gives the impression that losing weight after pregnancy takes only a few weeks. And that's it – you look just like you did before. Even better! But the following fact might surprise you:
On average, 75 out of 100 women were still heavier 1 year postpartum than they were before pregnancy.
So if you haven't bounced back to your normal weight after the baby – you're not alone! Just know that it is possible to regain your body again. Even better – achieve your goals in a healthy way. And fitMom is here to prove it. Let's dive into this fitMom review.
Click this link to save 49% on a 6-month plan (only available to diyactive.com readers).
fitMom Review
For so many women, the postpartum period is extremely stressful. Not only have daily routines been flipped upside down with new responsibilities and lack of sleep, but the body recovery process also turns out to be slower than anticipated.
By reading any fitMom review, it is easy to see that women achieve great results with their workout plans. But how does it work? What makes it unique? Here are some of the biggest benefits we see:
Personalized and unique workout plans
At-home workout videos
Daily motivation and helpful tips
Easy-to-follow program
Personalized meal plans
Food recommendations for faster recovery
Flexible pricing plans – no hidden fees
Get started in 2 minutes
How Does fitMom Work?
With this fitMom review, we want to get down to the postnatal recovery basics. Every woman goes through a different journey before and after the baby. Some have easy pregnancies; some struggle a lot. Some have a lot of extra help and can dedicate their entire time to taking care of a newborn baby and themselves, and some have less time and fewer resources.
That's why a postnatal fitness regime cannot be the same for everyone. And fitMom creators know that. fitMom has a team of experts who dedicate their time preparing personalized workout and meal plans, cherry-picked to reflect the main focus points for post-pregnancy body recovery.
The fitMom app creates personalized wellness and meal plans for new moms. It can increase the speed of fat burn, as well as help you recover and have more energy.
This weight management program:
Eases into weight loss one step at a time. It takes current weight, goal weight and creates a healthy weight loss program so it would be possible to lose those extra pounds without restricting yourself.
Includes personalized weekly meal plans and shopping lists. No need to browse for the recipes. All of them are easy and quick to make, yet nutritious and tasty for the entire family to enjoy. Additionally, they are safe for the baby if the new mom is breastfeeding.
Has beginner/new mom-friendly workout routines that do not require special equipment and are home-environment-friendly (moms can even work out with their babies). These workouts are also specifically designed to target areas that new moms are conscious about, like tummy and legs.
Tracks weight loss progress and gives reports. It's possible to adjust the program according to the changes in 28 days and create more strict goals. If everything is going great and the customer feels like they have achieved what they wanted, they can adjust the program to help them stay that way.
This weight loss guide is highly personalized based on a short 2-minute quiz that asks about your current and goal weight, allergies, food preferences, and any health conditions you may have.
fitMom even pays attention to any pregnancy-related injuries, for example, diastasis recti, which causes discomfort for a lot of new mothers.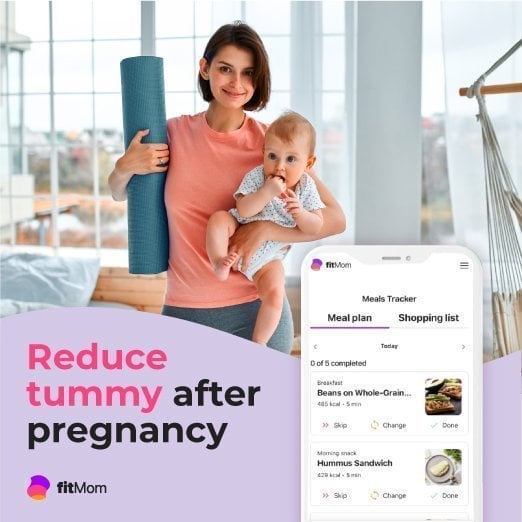 By combining all of this information, a professional team of dietitians and personal trainers is able to make a meal and exercise plan that will help you lose weight while still staying satisfied and healthy.
fitMom's goal is different from many diet plans available today. Instead of focusing on a quick fix, fitMom actually knows how to approach the postnatal healing process and make you regain your confidence in a healthy way. Even once you have reached your goal weight or if you have stopped using the service, you will still remember the healthy habits you have developed while following this personalized plan.
No strings attached. The fitMom quiz takes only a few minutes and shows how much weight you could lose in just 28 days.
How Much Does fitMom Cost?
While some fitness programs try to lure people into buying their services with a low, upfront cost followed by loads of hidden fees, fitMom is actually very transparent when it comes to pricing.
While the price varies depending on the length of the plan you choose, what you will pay is clearly written upfront. In addition to your exercise and meal plan, you can also choose to pay extra for a meditation ebook and a healthy dessert e-book.
Each of these additional services has its price written clearly, with an easy option to opt-out so you can pay only for what you actually need.
Because the hardest work is to create the personalized plan, fitMom charges less for a longer subscription (6 months) rather than short ones like a 3-month or 1-month plan.
It doesn't matter what plan you choose, you can always extend it or add more additional services as you progress.
Wrap-Up
Whether your post-pregnancy goal is to lose weight or just simply have more time for yourself, fitMom is the perfect solution to improve your general well-being.
With the personalized workout and meal plan, straightforward pricing structure, and long-lasting results, fitMom can help you get the most out of your recovery journey.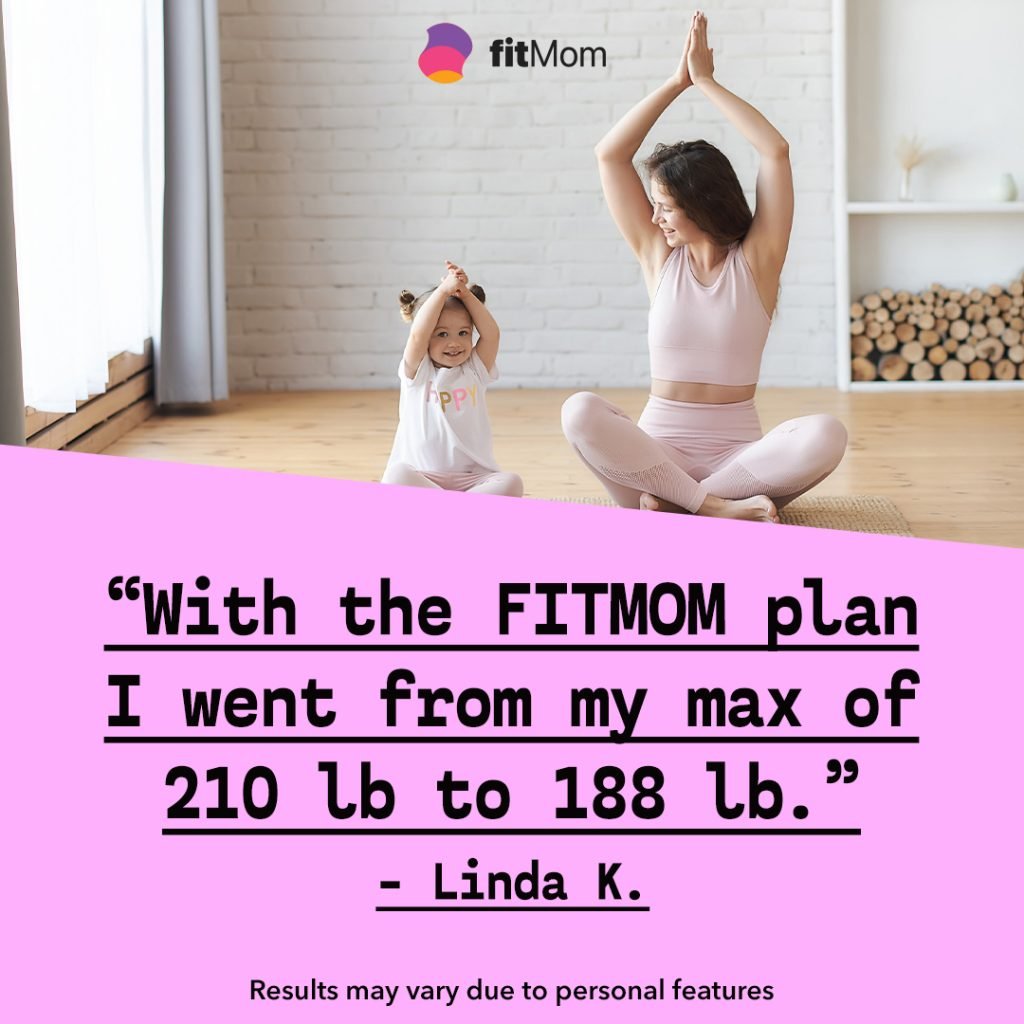 For a quick recap, this is what you will get from fitMom when you order:
Personalized and unique workout plans
At-home workout videos
Daily motivation and helpful tips
Easy-to-follow program
Personalized meal plans
Food recommendations for faster recovery
Flexible pricing plans – no hidden fees
Get started in 2 minutes
There's no need to be hard on yourself. After all, bringing a new life into this world is the most wonderful thing anyone could ever do, and you should be extremely proud. We are just going through the options to make every new mom's life a little bit easier.
Becoming healthier and fitter for yourself and your baby has never been this easy.
Click here to take a short quiz and see how much weight you can lose with fitMom!
Disclosure: In the spirit of full disclosure, DIYactive.com may be compensated in exchange for featured placement of certain reviews or your clicking on links posted on this website.