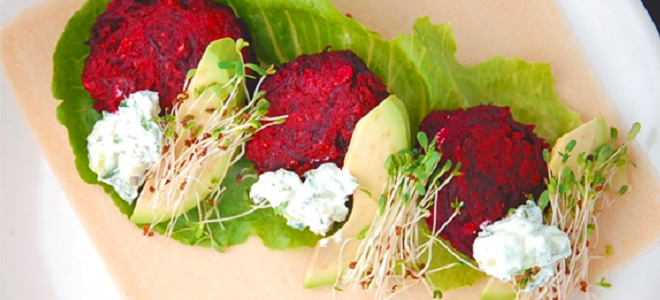 Beet Patties Recipe
There are so many reasons to include beets in your veggie burger rotation. They help lower blood pressure, increase your stamina during your workout, fight inflammation and cancer, boost your immune system, and assist in removing toxins from your body. Here's a creative way to enjoy them! Makes 5-6 beet patties.
Beet Patties Ingredients
3 large red beets
1 15-ounce can garbanzo beans, drained and rinsed
1 ½ cups rolled oats
½ cup onion, chopped
2 cloves garlic, minced
2 eggs
¼ cup fresh basil, chopped
2 teaspoons smoked paprika
1 teaspoon cumin
½ teaspoon sea salt
¼ teaspoon cayenne pepper
3 tablespoons coconut oil
Spread Ingredients
4 ounces goat cheese
2 tablespoons lemon juice
½ cup seedless cucumber, finely chopped
2 tablespoons fresh mint, finely chopped
Garnish Ingredients
sprouts
avocado
lettuce
6 coconut wraps
Beet Patties Directions
Wrap beets in foil and roast at 450℉. Remove beets from foil. push skins off with fingers. Grate in the food processor. Transfer to a bowl and set aside.
Place garbanzo beans, oats, onions, garlic, eggs, basil, smoked paprika, cumin, salt, and cayenne pepper in the food processor. Pulse until small chunks of garbanzo beans and oats still remain.
Transfer mixture to a large mixing bowl and blend in the grated beets. Cover bowl with plastic wrap and place in the refrigerator so that oats absorb moisture.
Meanwhile, prepare the goat cheese sauce. Place all ingredients in a bowl and blend together.
Heat 1 tablespoon of coconut oil in a large skillet. Remove beet mixture from refrigerator and form 20 small patties. Cook 4 minutes per side until lightly browned. Add coconut oil to the pan for repeated batches.
Place 3 patties in each coconut wrap with sprouts, avocado slices, and chopped
lettuce. Top these beet patties with goat cheese spread.
Looking for a certain recipe? Special meal? Anything else you can think of?
Let us know and we will make it happen! We love giving you exactly what you want so drop us a line today!
Give this recipe a try and let us know below.

Latest posts by Jennifer Cohen Katz
(see all)