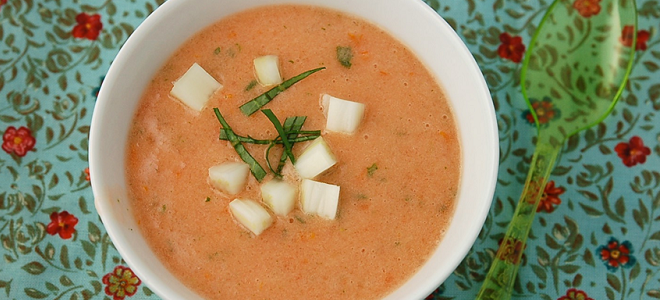 Tomato Soup Recipe
A chilled tomato soup perfect for your summer tomatoes and basil. Cancer-fighting lycopene from the tomatoes gives the soup its' beautiful red color. Makes 6 servings of soup.
Tomato Soup Ingredients
3 medium flavorful tomatoes, quartered
¼ cup olive oil
1 tablespoon agave nectar or sugar
½ cup fresh basil, chopped, divided
½ cup fennel bulb, finely chopped
¼ cup feta cheese, crumbled
Directions
In a blender or food processor, purée the tomatoes, oil, agave nectar, and ¼ cup of the basil until smooth.
Chill until ready to serve. Thin with water, if necessary, to desired consistency. Garnish the tomato soup with chopped fennel, feta, and basil.
Looking for a certain recipe? Special meal? Anything else you can think of?
Let us know and we will make it happen! We love giving you exactly the recipes you want so drop us a line today!
Give this recipe a try and let us know below.

Latest posts by Jennifer Cohen Katz
(see all)