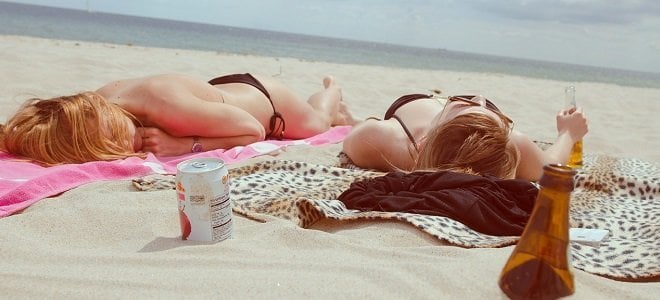 Eat Healthy While Traveling 101
Vacation season is coming but that doesn't mean you can't eat healthy while traveling. With a little planning and prep work, you can ensure you don't kill your nutrition plan. Eat healthy while traveling and have some fun – it's all about staying healthy!

It's not complicated to eat healthy while traveling
Traveling is fun for most people.
Unfortunately, finding healthy eating options when traveling can be quite difficult.
Plus, road trips can pose even more of a challenge. Fast food is everywhere, and pretty soon, paper bags, cups, and containers start to pile up in your car.
On your next trip, consider trying some of these healthier options and forego the fast food, fried food, and garbage that can fill up your vehicle!
1. Bring a Cooler
If you really want to eat healthy as you travel on a road trip, try packing a cooler. Coolers give you so many more options when it comes to healthy snacking. You can cut up veggies before you leave and whip up some homemade dip or hummus for them. Apples, pears, oranges, or clementine slices are all great snack choices as well.
A cooler will keep these foods fresh during your travels — and, of course, these options are much healthier than an order of fries from a drive-thru!
2. Eat Dried Fruit
Dried fruit is a great snack for traveling. It doesn't require any refrigeration, and it's an ideal replacement for a typical travel food: candy.
Dried fruit is sweet, but it's still healthy. Just make sure you read the ingredients, and look out for added sugar. Fruit is sweet enough on its own.
3. Find a Restaurant With Healthy Food
Don't make stopping at the nearest fast food joint a common practice when traveling. Do your research before you leave and plan a travel route that will take you past restaurants you can truly enjoy. Choose restaurants that provide fresh meals and local ingredients.
Restaurants that have local ingredient sources usually provide well-rounded meals. They also support the community they are in if they buy from local farmers — just one more reason to eat there! If you are really looking to stay healthy on your trip, try ordering a side of veggies with your entrée instead of the typical French fries or bread.
4. Stay in a Hotel With a Mini-Fridge
If you end up staying in a hotel on your trip, make sure it has a mini-fridge. This way, you can keep your snacks cold and ready to go when you start traveling again. Just make sure the snacks you bring will last at least a couple of days, so you can avoid throwing food away. Also, look into what kind of breakfast your hotel offers.
Sometimes you will have the option to enjoy an exceptionally healthy — and free — breakfast.
5. Use a Water Bottle and Other Eating Utensils
There's nothing elegant about empty paper cups from fast-food restaurants floating around your car when you travel. Stick to just water and bring a reusable water bottle on your trip. You can refill it whenever you stop at rest stops or restaurants. Just give the cashier a heads up and tell them you'd like to refill your water bottle with water.
In addition to your reusable water bottle, bring other eating utensils. Knives, forks, and spoons will help you enjoy your healthy food. Use them for dips or spreading things like peanut butter on crackers. Being prepared will make it more convenient and enticing to eat the healthy food you packed for your travels.
6. Pack Your Own Food When Flying
Airport food is notoriously expensive and unhealthy. Packing your own food can really help you out with your budget and eating healthy. There is a pretty clear list of what you can't bring through security, but there are a lot of food items that will pass security with no problem.
For example, you could wrap up a sandwich and take it on a plane with you. Sliced-up fruits, veggies, and even hard-boiled eggs can come with you through security and onto the plane. This opens up a lot of healthier options for in-flight snacking.
7. Pre-Measure Your Snacks
Always pre-measure your foods before a trip. This will help you keep your proportions correct as you snack. It's easy to grab a bag of chips and keep eating until they are all gone — sometimes boredom, or a long car ride, will do that to you.
However, you can make some homemade trail mix and put it in a single serving, snack-sized bag. The same can be done with pretzels, crackers, peanuts, almonds, and, yes, even chips. This way, when you reach the bottom of your bag, you will know you should be done snacking.
Wrap-Up
It may require a little more effort and hard work to eat healthy while traveling, but it certainly can be done. Simply plan ahead, prepare your food and make a commitment to yourself to eat it when you get hungry.
You won't need to stop for greasy food, and your body will thank you for it.
Latest posts by Kacey Bradley
(see all)