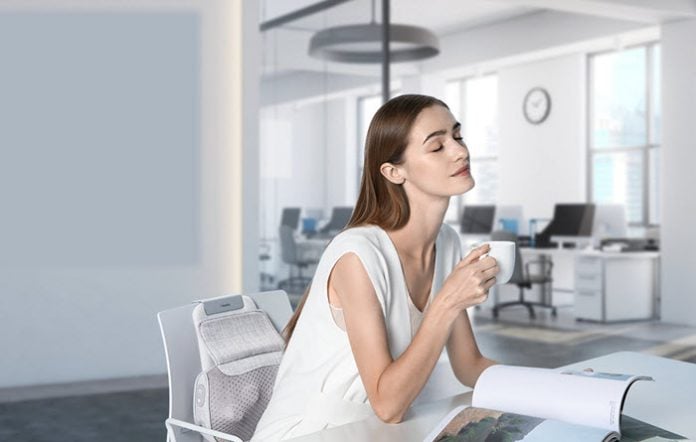 Massage Pillow Can Make Your Work Enjoyable
This has been one weird year. Although 2020 is mercifully coming to an end, many of the trends that started in recent months show no signs of abating. Major companies are already changing their plans for the future of work, and the communal office may soon be a thing of the past.

oPillow Massage Pillow Review
With that in mind, it is time to make some adjustments to how we conduct our lives, both at work and in leisure.
If you've been holding off renovating your home office in hopes that our long international nightmare would soon be over, now is the time to finally get around to adding some comfort to your daily routine.
Let's start with a brand-new massager product that's hitting the market exactly when it is needed most.
Make Your WFH More Enjoyable
The NAIPO oPillow is a portable massage pillow expertly designed to upgrade your working experience. The oPillow features a cushion pad you can hook onto your office chair. The massage pillow will stick onto the cushion with Velcro, allowing you to move it up and down and side to side in order to target exactly the right spot.
You no longer need to interrupt your job in order to feel the relief provided by a massage, and it can actually make work itself much more enjoyable.
We've found we work longer hours when we have the oPillow at our back, powering us and restoring the energy we need to get more done…
Where oPillow Excels
In addition to its hook and Velcro design, the oPillow features all the latest advancements in massager technology. Its four massage nodes move in unison, in a rotational motion meant to mimic the hands of a professional massage therapist.
Unlike the fingers of a human being, the nodes of the oPillow emanate soothing heat that can be turned on and off. We found this to be especially relaxing this time of year now that it is starting to get cold outside.
Don't want to mix up work and leisure? Well, the good news is that the oPillow can be used independently of an office chair.
The Velcro design is convenient, but it can be just as convenient to use the oPillow to massage your lower back while you sit on the sofa at the end of the day, unwinding with a glass of wine and watching TV.
The oPillow is remarkably sturdy for a device so small and soft to the touch, so you shouldn't feel any compunction using it in whatever position feels most comfortable to you.
The Other Side of oPillow
Now that we've gone through what we like about the oPillow, we'd be remiss if we left out what we don't like about this new product. The biggest negative aspect by far is the cord.
Any device that counts versatility among its selling points is necessarily hampered by a restricting cable that must be plugged in for use. You will need to make sure there is a free outlet in the vicinity of your desk, and you might even want to invest in an extension cord or power strip to maximize its range.
Another downside is the oPillow's lack of customizability.
Unlike some of NAIPO's other flagship products, the oPillow does not offer the ability to increase the massage intensity or manually alter the direction.
Why is oPillow Special?
With all that said, what truly makes the oPillow special? The answer has to be how seamlessly it fits into modern life. The oPillow's appealing grey color and sleek design are somehow able to help you relax before you even turn it on.
When you do attach it to your chair and press the power button, it makes you feel like you can tackle just about anything. Simultaneously calming and invigorating, the oPillow is the perfect tool to get you through the end of 2020 and into the years beyond.
NAIPO is one of the world's foremost health and wellness companies, and its mission is to help its devoted following find well-being. NAIPO's products emphasize both mental and physical health, as NAIPO believes both to be crucial elements in a fruitful and fulfilling life.
Like NAIPO's other products, the oPillow is the culmination of years of research and development, plus feedback from thousands of users. More than anything, NAIPO wants to empower you to take control of your own self-care.
Get Your oPillow NOW
In conclusion, we want to let you know that the NAIPO oPillow is the ideal addition to your home office. Since it could very well be for the long haul, you might as well do everything in your power to spruce up that work-from-home lifestyle.
NAIPO's oPillow can only help. Furthermore, once you've purchased your very own oPillow, you can email hello@naipocare.com with the subject DIYACTIVE to get an exclusive gift. Terms and conditions do apply.
Get yours here.
Full Seat Bliss
Not the kind of person who rushes out to buy the latest and greatest in tech? NAIPO has other tried and true WFH products it has been selling for years. In particular, we are talking about the bestselling C11C seat cushion chair massager.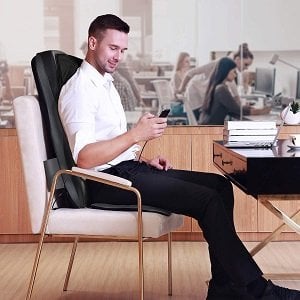 Set the Naipo Back Massager Shiatsu Massage Seat Cushion on any chair and turn that chair into an all-encompassing massager. Like with the oPillow, the deep kneading shiatsu nodes replicate the motions of a real-life masseuse.
Since it is bigger, of course, the massage seat cushion has eight nodes instead of four, creating a full-body immersive experience. One of the best parts about it being a chair instead of just a back massager is that the seat vibrates, so you can also relieve tension in your legs and hips.
Furthermore, the seat cushion has a heating function that can be turned on and off at your convenience. The biggest upside of this massager is how you can personalize its motions to fit your needs.
It has three different massage zones, and, most importantly, a remote that can be used to control it. You can use this massage chair at home, in your office, or even in your car.
You can also email hello@naipocare.com after your purchase with the subject DIYACTIVE to redeem your exclusive gift. Once again, terms and conditions do apply.
Get yours here.
Wrap-Up
With many of us working from home, it's time to make that as comfortable as possible and these products can help you do just that!
Disclosure: In the spirit of full disclosure, DIYactive.com may be compensated in exchange for featured placement of certain reviews or your clicking on links posted on this website.