Looking For the Best Massage Gun Review?
If you are beginning your fitness journey, muscle soreness will be a frequent annoyance that can derail your goals. Likewise, if you spend much of your time in the gym, you might as well experience occasional muscle tension and soreness.
Mebak 3 Massage Gun Review
It is for this reason that a muscle massage gun can come in super handy. Unfortunately, browsing the internet exposes you to a wide array of guns, leaving you more confused.
Luckily, in this massage gun review, we will look at a premium massage gun you can consider buying – Mebak 3 Massage Gun – that will help relieve muscle soreness.
Specifications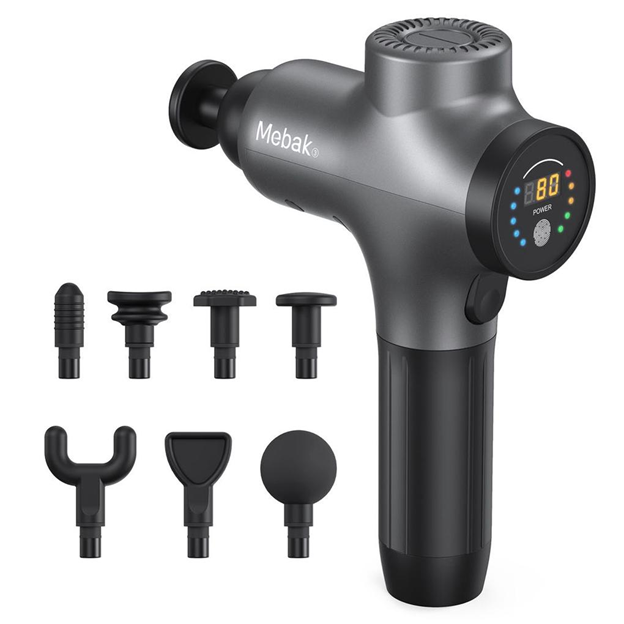 Speed: 5-speed setting
Battery: 2600mAh
Weight: 1.98 pounds
Color: dark gray
Amplitude: 12mm
Noise levels: 35dB—50dB
Carry case: yes
Design
The Mebak 3 gun comes in a lightweight and portable design. Weighing 2.1 pounds, you can carry it with ease without additional bulk. The case only weighs a mere 3.3lb. It measures 11 x 8.5 x 3.25 inches, meaning you can slip it into your workout bag.
You also get a sleek carrying case featuring an elegant dark gray color, which complements the gun itself. The gun has an ergonomic grip ensuring convenient use when massaging your soft tissues. The handle is made of a soft rubber that feels smooth on your hands, mitigating hand strain during use.
You will definitely love how comfortable it is to hold.
The LED screen is positioned just about your fingers' reach. As such, if you want to change speed or other settings, you can do it with ease. The charging port and On/Off switch are strategically positioned at the bottom so you don't accidentally switch it off when in use.
Main features
Long-lasting battery
The Mebak comes with a 2600mAh battery that is easy to detach and install. With a maximum runtime of three hours, you can use it at different intervals without the need for charging.
This, however, depends on the speed setting you are using. In fact, if you use it daily, a full charge can last you at least 2 weeks.
Different speed settings
The gun comes with an integrated brushless motor that significantly reduces noise volume. The noise levels range between 35 dB and 50 dB depending on the speed setting.
This means you can use it in the bedroom, office, or gym without causing neighbor discomfort. What's more, you get 5-speed levels to choose from, meaning you can use it to your liking.
Trust us, those 5 speeds can get the job done and massage out those sore muscles!
LED interface
Unlike most massage guns that lack an intuitive user interface, the Mebak 3 massage gun comes with an LED feedback interface.
Here, you can read the speed setting you are on and the massage force you are applying to your tissues. This allows you to assess the effectiveness of the force or speed at hand. It's super easy to understand and get used to using.
Seven head attachments
This gun comes with seven heads, each intended for a specific muscle group or tissue. They include:
Flat attachment: this is ideal for large muscle groups such as the chest, legs, back, and buttocks.
Roundball attachment: the attachment can be used in any muscle group. Note: our favorite!
Cushion: if you want a tender massage, this is attachment got you sorted. As the round ball, you can use it on any body part.
Forkhead: this is a perfect massage attachment for your spine and Achilles heel.
Bullet attachment: it relieves tension and pain in your tendons or trigger points.
Chisel head: ideal for your low back, shoulders, and back.
Flat bumps: like the cushion attachment, you can use it on any part of your body.
Performance and benefits
Thanks to the above features, the Mebak 3 massage gun performs quite exceptionally. It is an ideal tool for relieving muscle soreness after a workout or long walk. You get relief from muscle soreness without trading for silence.
It takes less than 20minutes to relieve the pain. In fact, after just a few minutes you will notice the difference as your muscles relax.
Pros
No massage gun review would be complete with a list of pros and cons.
Lightweight and portable design
Long-lasting battery
Quiet operation
Comes with a carry case
Ergonomic grip
Different speed settings
Seven massage heads
Cons
Max battery life of 3 hours (thou doubtful you will ever need it that long)
Battery removal can be difficult
Wrap-Up
It's no doubt that Mebak 3 massage gun is a workhorse that allows you to comfortably relieve muscle soreness. With seven massage heads to choose from, you can massage just about any part of your body.
It comes at an affordable price and you don't have to worry about charging cords. This is thanks to the rechargeable battery. So, if you want to relieve muscle soreness with ease, consider buying the Mebak 3 massage gun.
We thoroughly enjoyed testing this product out and will use it for years to come.
You gotta check it out! Get yours here.
Disclosure: In the spirit of full disclosure, DIYactive.com may be compensated in exchange for featured placement of certain reviews or your clicking on links posted on this website.