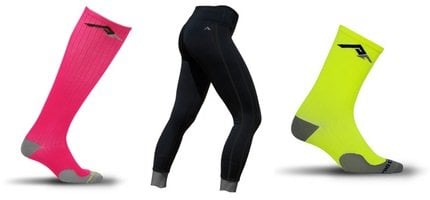 Pro Compression: 'Free Better – Perform Better"
There is nothing better than functional, effective gear that is also aesthetically pleasing – it makes for happy customers!
But does Pro Compression live up to that? They have the gear to possibly help you perform better and recover faster! Check out our Pro Compression review:
Our Pro Compression Review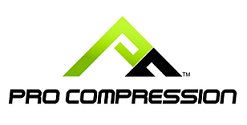 "Feel Better – Perform Better"
Overview: Sleek, durable, effective recovery and performance gear to help you reach your full potential.
Design: 5 / 5
Service: 5 / 5
Aesthetics: 5 / 5
Comfort: 5 / 5
Miscellaneous: 4.75 / 5
Overall: 4.95 / 5
Overview
Pro Compression started out with a love for compression clothing and its benefits. Why compression gear? Well, it can help increase blood flow and reduce swelling and inflammation.
And it's helpful for everyone, "Whether you've run a marathon, worked a 12-hour shift on your feet, or traveled an extended period of time, PRO Compression products will help you feel better more quickly."
So you see it definitely is not just for marathon runners and athletes. Compression clothing can be useful for basically everyone. If you are on your feet all day or simply need a way to help you feel better, compression gear could be the answer!
Design
The design is great and durable. The fabric features a 4-way stretch ability along with an anti-bacterial property to help keep you feeling great and deliver the ultimate compression.
One thing that was well-thought-out was the fact that their tights have an internal pocket where you can stash your keys or cash if you hit up the gym. It's just a small feature that really adds to the product.
Lastly, the socks and all the products really just have a sleek, appealing look to them. In fact, their logo isn't just for looks either – it actually adds support to the material in order to make it more durable and comfortable as possible.
Comfort
The products just feel super supportive when you wear them – duh, hence compression.
I noticed that if I wear them after a leg workout, my muscles recover faster – this is attributed to the reduced swelling and increased blood flow that compression clothing provides. They are seriously great for recovery!
Service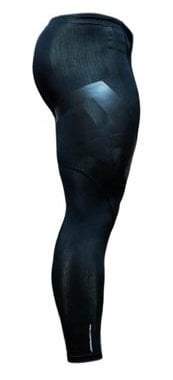 Like many of the companies I deal with, these guys were simply awesome! They have top-of-the-line customer service and if you drop them an email they will quickly get back to you. They have great service to go along with their great products
Negatives
No product is perfect so we will discuss a few nit-picky negatives. One thing that could confuse people is product sizing – especially when it comes to the tights. This is particularly true if you fall between the sizes (it goes off of waist-size) – that no man's land of sizes.
That being said, there really is nothing they can do about this and the Frequently Asked Questions walks you through it. Plus, the customer service is always there as well.
Lastly, I wish they had t-shirts…. mostly so they could send me one. 🙂 Like I said, I'm nit-picking!
Wrap-Up: Verdict
Pro Compression is great at what they specialize in – compression gear.
The benefits and use of compression clothing are starting to get more and more mainstream. Their blend of effectiveness and aesthetics make this a really good, reasonably priced product.
Go on over and check this awesome product out – I highly recommend it! We give it a 4.95/5.
Go check them out and tell them DIY Active sent you!
Feel better and perform better with Pro Compression!

Latest posts by Josh Anderson
(see all)
Disclosure: In the spirit of full disclosure, DIYactive.com may be compensated in exchange for featured placement of certain reviews or your clicking on links posted on this website.