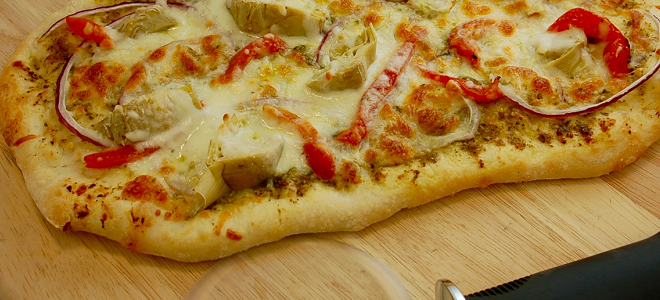 Artichoke and Red Pepper Pizza Recipe
Actually the bud of a flower, artichokes are a good source of folate, dietary fiber, and vitamins C and K. They are also packed with antioxidants. This makes this a tasty and simply healthy recipe! Makes 2 pizzas.
Artichoke and Red Pepper Pizza Ingredients
2 prepared gluten free pizza crusts
1 cup prepared pesto sauce
1 cup part-skim mozzarella cheese, shredded
1 cup water packed artichokes, quartered
1 cup roasted red peppers, sliced
1 cup red onion, thinly sliced
Directions
Preheat oven to 450℉.
Set out the 2 pizza crusts on a cutting board or pizza peel. Spread ½ cup of the pesto sauce on each crust.
Top with shredded cheese and vegetables divided evenly between the crusts.
Bake pizzas directly on oven rack or on a pan for 10 to 15 minutes, until cheese melts and vegetables begin to brown.
Looking for a certain recipe? Special meal? Anything else you can think of?
Let us know and we will make it happen! We love giving you exactly what you want so drop us a line today!
Give this recipe a try and let us know below.

Latest posts by Jennifer Cohen Katz
(see all)