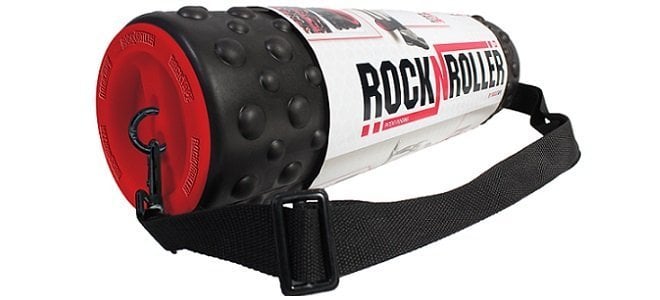 RockNRoller For Pain Relief
Whether you sit all day at the office, are a fitness pro or even a regular Joe who crushes their workout, we commonly get some severely sore muscles – what are we to do?
Myofascial release via a foam roller can not only help massage out the soreness of your muscles, but it can also help to improve your mobility! The textured foam RockNRoller from Rocktape was designed to do exactly that. Check out our review below!

RockNRoller to the Rescue
RockNRoller
"Not just a foam roller. A comprehensive mobility tool!"
Overview: This textured foam roller from Rocktape may be exactly what you need in terms of effectiveness to help improve your mobility and crush your workouts!
Features: 4.9/5
Mobility: 5/5
Supplemental Info: 5/5
Effectiveness: 4.75/5
Overall: 4.91/5
Overview
Straight-up this roller is pretty great! It was developed by leading experts and doctors in the industry to not only help you improve your mobility but the roller itself was made to be mobile – with a handy carrying strap.
It's perfect for those that need to "massage out" sore muscles via myofascial release – this includes fitness professionals and even the everyday office worker!
Quickly, myofascial release basically relaxes the muscles/fascia (tough, thing connective tissue) and improves blood circulation. Here is a quick list of some of the features of the RockNRoller:
Fascial Fingers provide flexible options for the intensity of rolling
Easy-open end caps offer access to internal storage for car keys, ID, balls, bands, and more
The adjustable strap connects to end caps for carrying your Rock N Roller to the gym, studio, or office
Expansion adapter (sold separately) connects two rollers for added length
Lay-flat poster with information about common problem areas and the most effective method of releasing muscle tightness and increasing flexibility
Movement Manifesto containing our revolutionary rolling theories
Specific techniques for pre-workout warm-up, post-workout cool-down, injury prevention, and recuperation
Yeah…this product is legit and loaded with features that could be exactly what you need! Let's now dig into the supplemental goodies you get with the product to help you get the best results possible!
Supplemental Info
As we have discussed before, what's the point of having a great product if you have no friggin of idea how to use it and make it as effective as possible? It basically diminishes the effectiveness of the products!
That's why the creators of the RockNRoller included the "Movement Manifesto" which covers so many awesome ways to help make the product incredibly effective. This pictorial guide covers:
How the Rock N Roller system works
Helpful hints about best ways to use the Rock N Roller
Detailed movements and exercises
Breathing and proper alignment
Differentiating pain from discomfort
A full reference section that will appeal to medical professionals interested in learning more about movement techniques
It comes in both a small version you can pack inside the RockNRoller and also comes with a huge picture guide that shows (and explains) exactly how to relieve whatever sore muscles you may have!
Likewise, it helps to explain some pre-workout warm-up techniques and post-workout cool-down techniques to help reduce your risk of injury!
Effectiveness
So you've been sitting on your butt all day at the office or you busted out a ridiculously killer workout 2 days ago and now your muscles are sore and tight! What to do? Of course, you can stretch but you can also use a product like the RockNRoller to massage away some of the soreness via myofascial release!
The RockNRoller was specifically designed by medical experts just for this purpose! Trust me you go through a few of the exercises in the Mobility Manifesto and (while it might hurt – in a good way) you will notice just how effective it is at improving your mobility – it's highly effective!
Plus, the creators didn't overlook anything. Along with the carrying strap (a.k.a. you can bring it to the gym or office with you), supplemental information and the ability to store your keys/goods inside make it a great, effective product! #RockNRoller
Wrap-Up: Verdict
On top of how effective this product is, it also comes with a satisfaction guarantee – what's not to love about that?
The mobility of the product, the storage capabilities, the supplemental guides, and the myofascial effectiveness of the product makes it a great asset to have around the house!
I could see this being a great tool to have at the office which you can use a few times a day to massage your sore, cramped muscles! Overall we give them a 4.91/5!

Latest posts by Josh Anderson
(see all)
Disclosure: In the spirit of full disclosure, DIYactive.com may be compensated in exchange for featured placement of certain reviews or your clicking on links posted on this website.