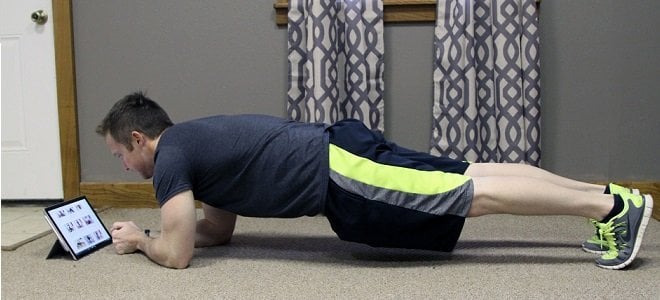 Looking for a Home Fitness Program?
Fitness programs – I've built them, I've succeeded with them (and failed), and I've been published regarding them. I know firsthand that home fitness programs aren't easy to create, but sometimes the stars align. Just like when I was pointed in the direction of Body and Mind Synergy, I was impressed. Why?
Well, it mirrored our foundational principles of Fit.Food.Life. and does it in an amazingly effective and different manner from the other cookie-cutter programs all for the cost of a soda a week… Don't believe me? Check it out below and grab your get started today!

Body and Mind Synergy
"Effective, 3 Pillar System"
Overview: Fit, food, and life that's what we preach at DIY Active and that's exactly what you get with this amazing home fitness program! For the price and a free trial you seriously can't beat this program!
Design: 4.80/5
Usability: 4.90/5
Process: 4.95/5
Information: 4.95/5
Overall: 4.9/5
Overview:
Honestly, I've been there. I created my first online fitness program a few years back and had some mild success. The problem is that it takes a unique approach to rise above the noise when it comes to the countless programs out there.
So why the heck would I want to back and refer to a program like the Body and Mind Synergy program? Or why would I even listen when the creator of the program Antony Roget reached out to me?
Well for starters, it's simply curiosity and it was also because from the get-go I noticed the program followed the DIY principles of Fit. Food. Life. At its bare-bones, it offers the standards:
An extensive exercise video library that depicts exercises you can do anywhere
An extensive recipe library to help you eat healthily and get fit
Personal trainer secrets to give you the best advice from the pros
These are all very common in any exercise program, but what sets this home fitness program apart is that it delves into the mental aspect of getting fit and healthy. There's no point in starting a program if you are a mental wreck – you will never stick to it. That's why one of the main parts of this great program is titled "Between the Ears".
This section can help you overcome your own mental aspects that are holding you back – sort of like when you are your own worst enemy. It can help you get the motivation you need to keep striving towards your goals. I think that's why this program resonates with me so much, it truly follows the fit, food, and life practices that we have been pushing for years at DIY Active!
Design
This isn't the flashiest website out there. Honestly, from building these types of websites and seeing many others online, I would rather have someone put their time and effort into providing amazing content instead of spending those resources on website design. Likewise, you can see the exercise videos have been shot in a small room – this was definitely on purpose. This shows you that you can do these exercises anywhere and get results anywhere you want!
Usability
Being the website guy I am, I strive for usability and the end experience for the viewer (if I'm doing a terrible job, let me know). What's the point of having a killer website if the user can't find anything on it? That's where usability comes into play and this site is very user-friendly. From novice to seasoned pro, you can easily find what you are looking for. If you can't find it, just ask the creator Antony and he will help you out right away!
Process
"Trust in the process!" If I've heard it once, I've heard it a thousand times and it's because it's so true. No, you won't and shouldn't lose 15 pounds in 3 days. That will get you nowhere besides a really bloated feeling and maybe a reason to see the doctor.
The process behind the Body and Mind Synergy home fitness program is strife with sound principles that can help you get the body and mind healthy. Like I've already said, being healthy is great but being healthy body and mind makes you so much more of an effective human. From fitness to nutrition to mental aspects, this program can help you get to where you want to be for almost nothing…
Wrap-Up: Verdict
So that all sounds good but if it costs $100 a month it might not be worth it, right? The beauty is that you get a FREE 7-day trial to just see if it's even worth your time and after that, it's only $7 a month! That's the cost of buying one soda per week… think about that for a second. Do you realize how ridiculously low that is for the effort that goes into creating something like this? I've been there and lived that and for this price, you can't miss checking this out!
Think about it, if you cut out one soda a week you can get a fitness program to help you get results – AT HOME!
Yeah, I'm a believer. Yes, I think you should check out the free trial. Yes, it's time to drop the excuses. It's time to get excited about your endless potential! It's time to get started! 🙂 Overall we give them a 4.9/5!
Get your free trial over at the Body and Mind Synergy website: check it out HERE!

Latest posts by Josh Anderson
(see all)
Disclosure: In the spirit of full disclosure, DIYactive.com may be compensated in exchange for featured placement of certain reviews or your clicking on links posted on this website.