10 Benefits of Deadlifting
Are you interested in knowing the benefits of deadlifting? Do you know what deadlifting is? Deadlifts are described as one of the simplest barbell exercises and as one of the best exercises to build muscles.
Top Benefits of Deadlifting
A deadlift gets its name because one is picking a weight off directly the ground, meaning its dead weight. However, without further ado, let's discuss the benefits of performing deadlifts.
Here are some amazing benefits of deadlifting you may need to know.
1. Develops Real Strength
This exercise is the best among all, as you work against your strength. You stand flat on the ground. However, unlike squats, a user lifts the weight before lowering it.
So if you want to develop real strength, then you need to exercise real things, and deadlifting is one of the best things you can perform.
2. Stronger Posterior Chain
Deadlifts help make your posterior stronger. A posterior chain is a group of muscles that stretches from the base of the skull down to the heels. The posterior chain is important for generating power.
The benefit of deadlifting is it improves the muscle group, resulting in speedy acceleration and great physical performance improvements.
3. Improves Grip Strength
We perform deadlifts without straps, and we all know it requires a strong grip. So when you regularly perform a deadlift, then it helps you build a good supporting grip also.
Grip strength is required for almost every lifting exercise, but especially for the deadlift, you need to have improved grip strength and deadlifts can help you have that grip.
4. Builds a 3D Back
Deadlifts are helpful in the stimulation of the upper body. Yes, these help in building your back more muscular, and the middle and upper back. The reason is your body is working against the floor.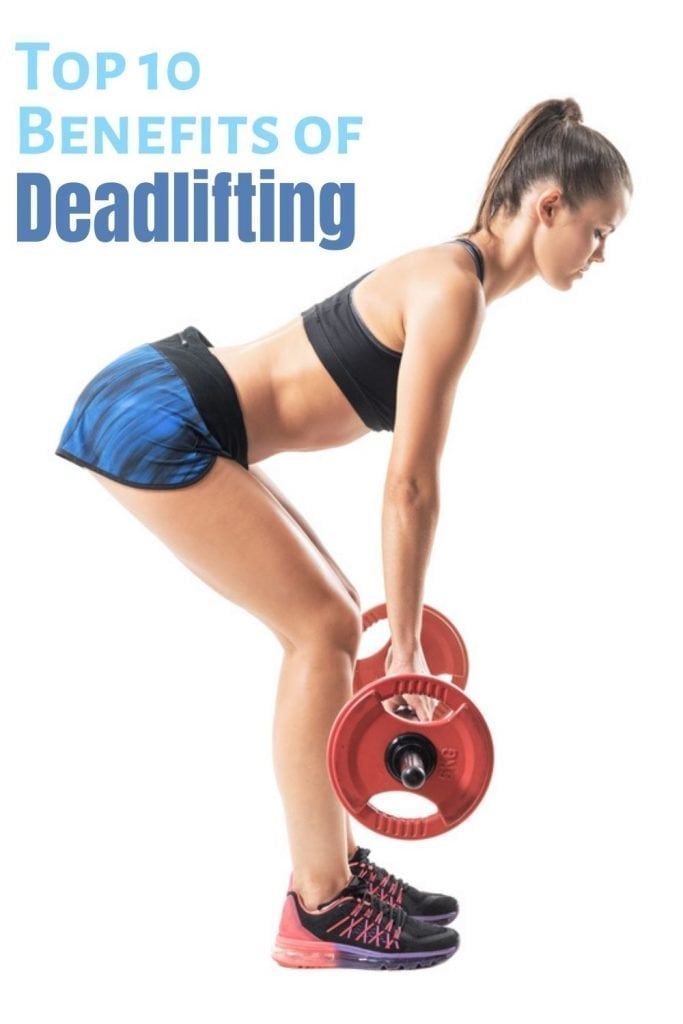 When a person lifts dead weight off the floor, the thoracic spine works hard not to flex. You can perform deadlifts to get a more attractive, balanced, and strong upper body structure.
5. Lowers Injury Risk
Attention! These could be unsafe if you don't perform deadlifts correctly. But with the right technique, can help you correct muscular imbalances and strengthen your back.
It also helps in protecting the spine and build your tendons tougher. Deadlifts result in stronger muscle build and reduce the chances of injuries.
6. Sculpts Powerful
Glutes are powerful muscles in the body. It's necessary to work on them while focusing on building a full body. Deadlifts are helpful in glute activations.
So if you are looking for the best exercise to strengthen your glutes, then a deadlift is the option.
7. Strong Hamstrings
Hamstrings are essential while building your body. Often people neglect hamstrings because, unlike quads, hamstrings are not that visible.
But there's a disadvantage of not focusing on your hamstrings as this can increase the risk of knee injuries. But the solution is here!
Deadlifts can assist you in balancing your leg muscles.
8. Time-Efficient
The best thing about performing deadlifts is that you see results quickly, but for that, you need to be consistent. If you perform 3-5 sets of 3-5 repetitions, then spending between 12 to 30 minutes to exercise your large group muscles could help you build strength.
You should never ignore the benefits of performing deadlifts if you're serious about building muscle.
9. Better Posture
Deadlifts are not only helpful in building your upper back but helps in enhancing your posture. Yes, you have heard it right! If you have a desk job and sit a lot, you should perform deadlifts once a week and frequently stretch pecs, traps, and lats.
This will help to correct your posture. So for a better posture, you should give a try to the deadlifts.
10. Bragging Rights
You may not care a lot about bragging, but have you ever thought about how strong you are? Many fitness coaches consider double bodyweight deadlift the universal standard, which is considered 'strong.'
Although strength benchmarks can help you improve when you reach a double-bodyweight deadlift, you'll get a good indicator of strength.
Wrap-Up
As we mentioned above, it's necessary to perform deadlifts correctly to enjoy the benefits. If you're thinking of building muscles, then deadlifting is a must-perform exercise.
These deadlifts benefits are not limited to the ones mentioned above, but a lot more which you could experience only while performing them.
So give it a try and see how it makes a difference to your overall physical fitness!
Images via Dreamstime.com.
Disclosure: In the spirit of full disclosure, DIYactive.com may be compensated in exchange for featured placement of certain reviews or your clicking on links posted on this website.