Top Healthy Salad Ideas
These days, vegetables, fruits, and spices, which are the key ingredients of salads, are available all year long. If you are tired of consuming the same types of salad, make your salad meal plans different this time around by trying out the five unique salad ideas below.
Healthy salad ideas to try
Note, these salads are nutrient-dense and low in calories and cholesterol. They are rich in different types of essential minerals that will contribute significantly to your health. That said, let's get started with some healthy salad ideas.
1. Easy Arugula Green Salad
Tasty and fairly versatile, the Arugula green salad can be a perfect spring salad option that pairs with just about any main dish. For instance, you can pair your salad with pasta, seafood, or any other main dish of your choice.
Composed of rinsed and dried young arugula leaves, cherry tomatoes, pine nuts, olive oil, rice vinegar, freshly ground black pepper, grated Parmesan cheese, and sliced avocado, this salad takes just 30 minutes to make.
Known to be a healthy salad, the easy Arugula green salad is low in calories, low in cholesterol, and rich in sodium, a mineral that plays many important roles in the body.
For instance, sodium participates in the process of sending nerve impulses, balances fluids in the body, influences blood pressure, not to mention helps with muscle contractions.
2. Strawberry Spinach Salad
Incredibly delicious and exploding with flavor, the strawberry spinach salad is another perfect healthy salad idea. Just like many other spring salad options, this salad goes well with many types of foods including rice, pasta, pizza, bread, and even seafood.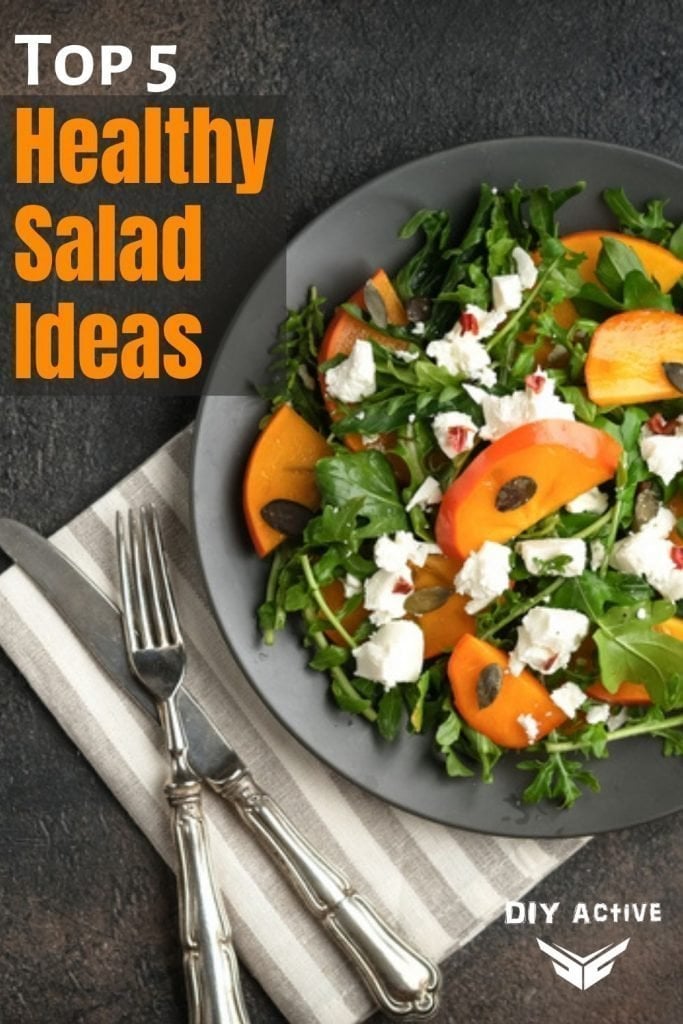 Consisting of strawberries, sesame seeds, olive oil, poppy seeds, distilled white vinegar, almonds, and minced onions, this mouthwatering salad for lunches or dinners is quite healthy.
For instance, it contains the right amount of calories, not to mention the fact that it is a rich source of dietary fiber and potassium. However, apart from those important nutrients, the strawberry spinach salad is also high in healthy fat.
For your information, dietary fiber is good for the digestive system whereas potassium prevents high blood pressure, stroke, heart and kidney problems, not to mention stress as well as anxiety. This salad takes about one hour to make.
3. Spinach Salad
Another incredible salad offering is the spinach salad, which comprises fresh spinach, apple slices, crumbled feta (a white salty Greek cheese made from goat or ewe milk), red onion slices, as well as sliced and toasted almonds.
Perfect for lunch and/or dinner, this salad is quite delicious with a range of flavors and textures. As filling as it can be, the spinach salad is a very healthy type of salad that is low in calories and cholesterol and rich in sodium whose health benefits some of which have been described above.
Other health benefits of this essential nutrient include; it serves as a natural source of electrolytes (electrically charged compounds and minerals that assist the body to do much of its work, such as breaking down calories to produce energy), and contributes to improved athletic performance.
By the way, the spinach salad is one of the best and the easiest-to-make of the healthy salad ideas. For instance, a salad that's enough for up to four individuals can be made in just five minutes.
4. Sugar Toasted Almond Spinach
The sugar toasted almond spinach tastes impressive and pairs well with pasta and/or brown rice. Comprising of slivered almonds, red wine vinegar, white sugar, poppy seeds, salad oil, romaine lettuce, sliced mushrooms, and bag baby spinach leaves, this incredible salad choice for spring takes only about 33 minutes to make.
Other components of it include shredded Swiss cheese, onion slices, orange slices, as well as yellow mustard. It goes without saying that the sugar toasted almond spinach salad is a relatively healthy salad that is low in calories and cholesterol but high in some essential nutrients.
These nutrients include potassium, sodium, and calcium. Since I have already mentioned the main health benefits of potassium and sodium, you'll allow me to talk only about the health benefits of calcium and here.
That said, calcium helps build as well as maintain strong bones, promotes the functions of the heart, muscles, and nerves, not to mention that the mineral is also thought to help provide protection against diabetes, high blood pressure, and most importantly cancer. Research on the three potential disease prevention benefits is still underway though.
5. Greek Salad
Yummy, flavor-rich, and easy to make, the Greek salad is another perfect salad choice for a delicious, filling, and healthy lunch or dinner.
Just like other top salads, this Mediterranean-diet-oriented salad goes well with brown rice, pasta, pizza, seafood, and many other main causes.
Made up of capers, mixed grape, cherry & Campari tomatoes, pieces of Persian cucumbers, and pitted Kalamata olives, this delicacy is low in calories and high in vitamins A & C, iron as well as potassium
Wrap-Up
Easy Arugula green salad, strawberry spinach salad, spinach salad, sugar toasted almond spinach, and Greek salad are five incredible healthy salad ideas you really should try.
Delicious, low in calories and cholesterol but rich in different essential nutrients, these salads not only will make your taste buds dance, but they will also provide your body with many unbelievable health benefits.
To get the necessary ingredients for making the salads, use a meal delivery service, e.g. Home Chef since it has many positive reviews. Such services help not only with the ingredients but also with simple step-by-step instructions on how to cook everything. You can get not only a healthy meal but a fun time and learn something new.
With nothing more to add, I wish you good luck with your salad meal plans. For all of your ingredients and grocery buying needs, be sure to get help from the reliable sources mentioned above.
Associated with some top and trustworthy meal delivery services, that is your number one-stop-shop for the right meal delivery service from which to purchase your ingredients and grocery.
Images via Dreamstime.com
Disclosure: In the spirit of full disclosure, DIYactive.com may be compensated in exchange for featured placement of certain reviews or your clicking on links posted on this website.