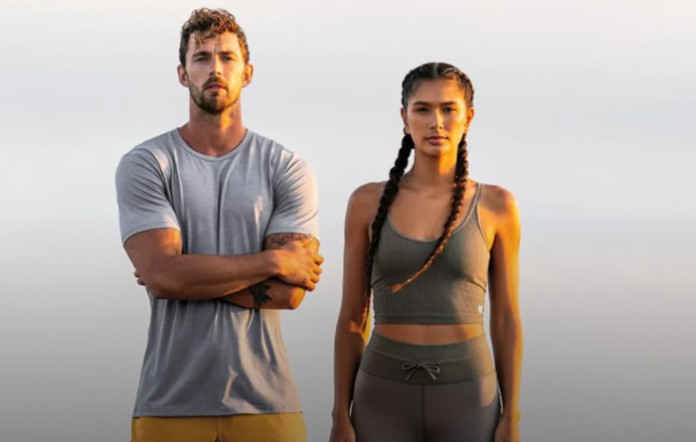 Vuori vs Lululemon vs Alo Yoga
Now that everyone in the world orders their performance wear online, there's just so much to consider – so many brands, so many new fabrics and designs, so many shoddy knockoffs, and so many ways to get totally ripped off.
How do they stack up?
If we're going to invest in our athletic wear, we want the best-of-the-best gear that's out there. That means premium quality, cutting edge fabrics, wears well, and looks so good on us. Who doesn't want compliments?
Tired of constant returns? Boxes and mail pouches piled up in the hallway… Just think of the waste in terms of time, packaging, shipping costs, not to mention extreme disappointment.
We decided to do a deeper dive into luxury performance apparel and it came down to three strong contenders: Lululemon, Alo Yoga, and Vuori.
You'll be surprised by what we found out.
Vuori Overview
Vuori not only offers outstanding performance apparel but also a generous worldview – healthy body, healthy planet. Each piece of athleisure wear is functionally built to withstand the toughest workouts. Designed for next-level performance they use durable materials, featuring moisture-wicking, odor-free, and UPF 30+ technology.
Many of us are happy in a faded varsity hoodie. If it fits and hasn't fallen apart, we wear it. But others require a different touch. Vuori offers some seriously soft and luxurious fabric.
Available in all sizes for all bodies, their pieces are top quality, come in a variety of rich colors, have style for days, and will truly compliment your life.
The best part? Some of the women's line have pockets? Hallelujah – finally. Thank you Vuori!
Lululemon Overview
Who hasn't worn Lululemon to work out? They've earned quite the reputation in luxury activewear. The name usually conjures images of women's yoga wear, but they offer a variety of clothing for other sports/activities such as running and gym work.
In terms of the men's line – the joggers, the shorts – they're really for leisure, not performance at all. Although they occasionally use high-tech and UPF protective fabric, the details are buried in the product description.
They have water bottles and yoga mats and all kinds of items, but we were looking for high-performance activewear that provides maximum movement and comfort.
Returns are fine, but there are exceptions and we were told to read their policy closely. Which can be a time suck. The clothing is well made, though we found the design and color choices on the dull side, reminiscent of LL Bean.
Vuori
luxury performance apparel
Alo Yoga Overview
Alo's deep into yoga, mindfulness, and solar power – the company's main office works off sunlight. While we like the ideas behind Alo and their position as "sweatshop-free and eco-aware," we weren't sold on their styles – edgier than most yoga gear. It felt a bit too niche and not versatile enough for the range of activities we love.
Their return policy is pretty much standard – most items will be accepted but, like Lululemon, there are exceptions. Their tech fabric is non-existent and there's no sign of UV protective gear. So, they might not meet your high-performance apparel needs.
Wrap-Up
Time for the roundup when we weigh out all the pros and cons between Lululemon, Alo Yoga, and Vuori. In terms of color, design, leading-edge fabrics, and durability it's clear that Vuori's our pick.
Why? Wearing Vuori puts you in the mindset to knock out a great workout, you will look forward to hitting the weekend trails. From the Indigo Kore Shorts to the hoodies to the yoga collection to the seriously awesome Daily Legging, you will find something for everyone. Whether for a workout or lounging at home, you will find a new favorite!
Plus, Vuori is genuinely committed to sustainability so 50% of their products are constructed from high-quality sustainable materials. They intend to make it 80% by 2022. Not only is it the best choice for our lifestyle but the planet too!
Finally, their Investment In Happiness product guarantee is convincing enough for anyone to get it a try – Love the product or send it back. When it comes to activewear, Vuori means you never have to sacrifice aesthetics, comfort, or standards ever again.
If you require exceptional style and function for both men and women all in one place, check out Vuori for the finest in performance apparel.
Shop New Fall Styles And Colors for Men And Women Now Before They Sell Out!
Disclosure: In the spirit of full disclosure, DIYactive.com may be compensated in exchange for featured placement of certain reviews or your clicking on links posted on this website.