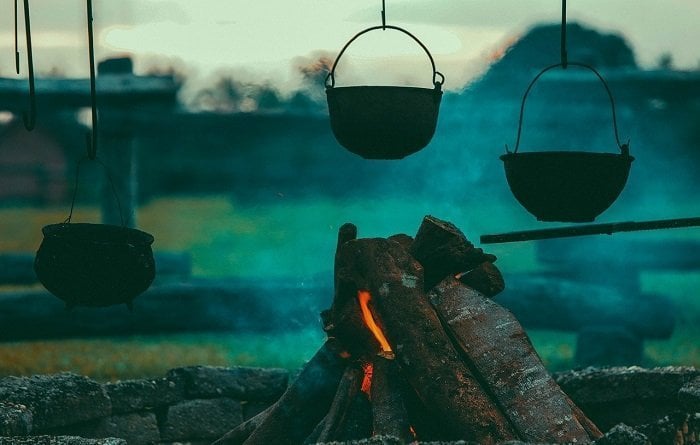 Types of Camping All Campers Should Know
Camping is the perfect way to leave behind your stressful hustle for a bit and enjoy a simpler, more relaxed way of living for a short while. Camping has been around for centuries and over time, people have developed many different variants of it.

Types of camping you can try
In this article, we take a look at the ten most popular types of camping that all campers should know about.
Tent Camping
Tent camping is certainly the most popular type of camping, where you drive out to a campsite or park, pitch a tent and spend a couple of nights there.
Typically, you'd only use the tent for storing your belongings and for sleeping while you spend most of the day hiking and exploring your surroundings.
More experienced campers may choose to set up their tents in the remote wilderness, away from populated campgrounds.
Tent camping is perfect if you're a first-timer or you don't want to spend a lot of money. It's also one of the most intimate types of camping so it's great for couples and families.
The tent is obviously the most important piece of gear when it comes to this type of camping. You should mainly take into consideration the size of your party and the weather when deciding which tent to buy.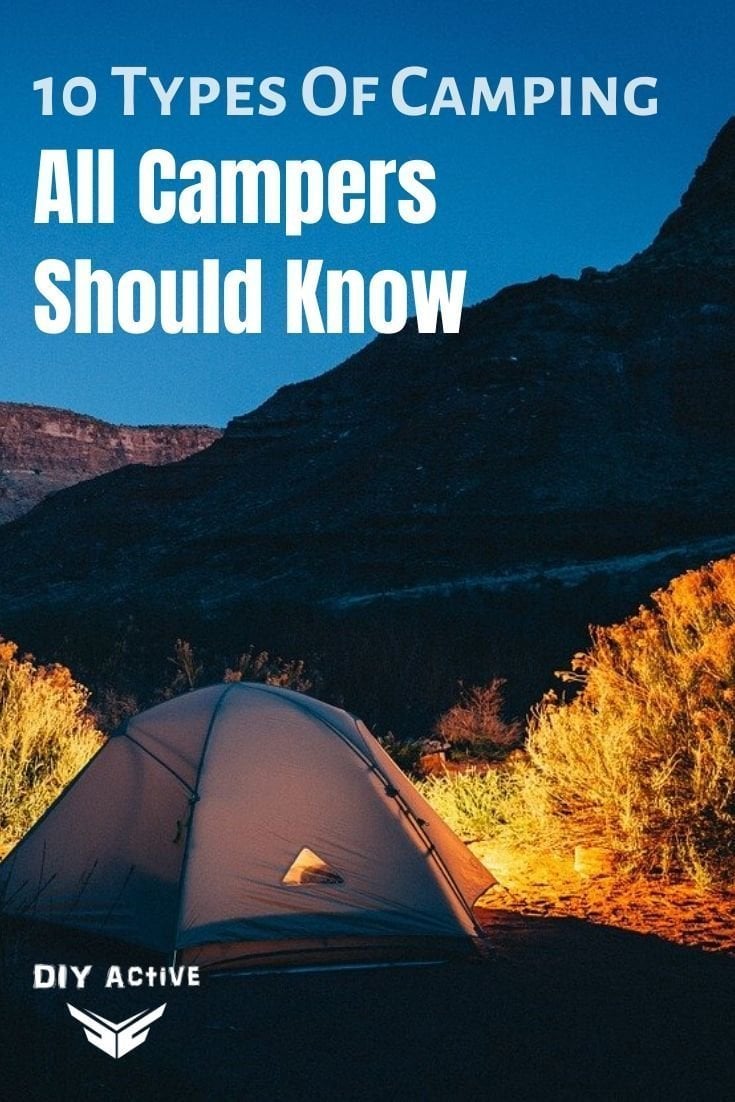 If you're camping out in the summer for instance, then we'd recommend a camping tent that has a screen room. These will allow sunlight to stream into your tent while keeping insects out.
Backpacking
The key difference between backpacking and tent camping is that the former involves carrying all your gear with you as you trek through the outdoors.
Then, when it's time to sleep, you either set up a hammock or pitch a tent.
With backpacking, you don't necessarily return to the same campsite. Instead, you set out on a continuous journey and set up camp at appropriate times along the way.
Backpacking is more suited to adventurous types, who have a knack for being self-sufficient. You'll also need to be in really good shape as you have to lug around a backpack for hours on end.
RV Camping
If you like hiking outdoors but aren't comfortable with sleeping outdoors or inside a tent, then RV camping might be for you. Sleeping inside an RV can arguably be more comfortable since it protects you from rain, cold, heat, and insects.
Most RVs come with stoves, a fridge, and a bathroom of your own, which is perfect if you don't want to completely sever yourself from the luxuries you're used to.
The biggest drawback of RV camping is that it can't go anywhere. For instance, if you want to go exploring in the woods, you'll have to park the vehicle and proceed on foot or on a bicycle.
Glamorous Camping
Glamorous Camping or 'Glamping' gives you the luxuries of a hotel room in an open, outdoor setting.
You'll find a variety of glamping accommodations all over the country, whether it's a treehouse in the middle of a lush forest, an eco-lodge by a lake, or a teepee atop a mountain.
Survival Camping
The entire objective of survival camping is to thrust yourself into the wilderness for a period of time with as no food and little gear as possible and return alive. Essentially, it's a 'Man vs. Wild' routine.
This type of camping is only for the most experienced campers since it requires you to have a wide variety of survival skills and be in tip-top physical shape.
Your knowledge will have to extend way beyond pitching a tent and performing basic first aid.
Primitive Camping
Primitive camping has you disregarding all the amenities that are typically offered in campsites. You'll still take a tent and a few supplies with you but certainly not as many luxury items you'd bring along on a regular camping trip.
Self-sufficiency is a very important part here but not to the extent of survival camping.
You'll have to figure out how to cook your own meals, source water, go to the bathroom and perhaps even forage for a few ingredients on your own.
Car Camping
If you don't even have the most basic camping gear or the money to buy them, then car camping is the perfect solution. Hatchbacks are probably the most ideal type of vehicle for this type of camping.
Simply drive up to a scenic location, fold the seats down and set up a sleeping area with a sleeping pad, and a few blankets. The truck seat cushion would offer a great driving experience and you can enjoy car camping without any tiredness.
It's not the most luxurious way to camp out but it's certainly cheap and easy.
Canoe Camping
Canoe camping follows the basic concept of backpacking, in that you carry all your gear with you and only set up a tent once a day when you need to rest and sleep.
However, in this case, all the traveling is done via kayaking or canoeing, which has its pros and cons.
One of the biggest benefits of traveling via a canoe is that you can carry more items with you. In addition, you might be able to go deeper into the wilderness, than traveling on foot allows.
On the other hand, canoe camping can be quite dangerous, especially if the weather is bad. During heavy rain, the water flow can change significantly making it quite dangerous to travel along an otherwise gentle stream.
Overlanding
If you've got a 4×4 vehicle like a jeep or a pickup truck, then it might be fun to try out Overlanding, a form of camping that combines regular camping with off-roading.
The idea is that you travel across remote areas (which would be inaccessible to any other type of vehicle) and then set up camp once you've reached an appropriate spot along the way.
Overlanding usually takes at least several days and you'd typically travel a long distance, camping out several times along the way.
Winter Camping
Camping out in the winter isn't for everybody as it takes a lot of self-sufficiency and skill. However, if you're up for it, then winter camping can give you an experience like no other, especially with the lack of insects and crowds.
Winter camping requires a lot of preparation. First of all, you'd need the right gear like a 3-season tent, winter sleeping bags, liquid-fueled stoves, thermal clothing, and more.
In addition, you'll need to work on your survival skills and be able to keep yourself warm at all times. You'll also have to learn how to find water, cook food and start a campfire.
Wrap-Up
And there you have it, the ten types of camping that everyone should be aware of. Each has its own pros and cons. And if you have further queries, be sure to check out camperfaqs.com for further advice and guidance.
Some people like winter camping and survival camping require more preparation and skill than others so consider carefully before you commit to something that is beyond your capabilities.
Besides the knowledge and skills to survive in the wilderness, having the right tools is critical for your safety and enjoyment. Some of the essentials you should invest in are camping cooking tools, rechargeable LED lighting torches, navigation devices, and communication tools, such as a mobile phone and an emergency GMRS radio device. You never know what can happen out there; the best you can do is prepare for different situations.
Disclosure: In the spirit of full disclosure, DIYactive.com may be compensated in exchange for featured placement of certain reviews or your clicking on links posted on this website.