What Are Some Low-Calorie Alcoholic Beverages?
As we all know moderation is key when it comes to alcohol, but that doesn't mean you can't imbibe from time to time even if you are on a diet! Check out these 3 relatively low-calorie alcoholic beverages and how they can fit into your diet!

Moderation is always key
Many studies have confirmed that alcohol can ruin your weight loss efforts.
For one, it hinders the body from burning fat. Research published in the American Journal of Clinical Nutrition revealed that people who consume an ounce of alcohol or less in a 30-minute period diminished their body's ability to burn fat by up to 73 percent.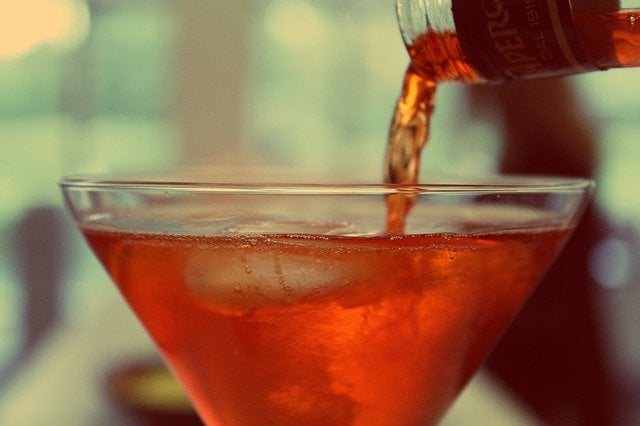 Alcohol also does the exact opposite of suppressing the appetite. A Dutch study found that people who drank an alcoholic beverage prior to a meal took longer to feel full, and as a result, ended up eating more food than usual.
But that's not all. Alcohol is also packed with calories with up to seven calories per gram. It falls next to fat, which has nine per gram.
This means that if you're drinking an alcoholic beverage of 10 grams, you're taking in up to 70 calories.
And that's from the alcohol alone. You also have to add up the calories from carbs and other ingredients of the drink. It's no wonder, the American Journal of Clinical Nutrition lists alcohol as the "second most fattening beverage" next to soft drinks.
So does this mean that you can never let your lips touch alcohol ever again?
Well, that would certainly be favorable to your health. We all know that alcohol harms the health in more ways than one. But if you can't help it, at least make smart choices. Go for low-calorie alcoholic beverages that wouldn't load you up on empty calories.
Wine
Wine is said to be the "most diet-friendly choice" when it comes to low-calorie alcoholic beverages. Typically, it only has 20 calories per ounce.
So if you're drinking a glass of wine that's about five ounces, that would only be 100 calories with no fat, sodium, or cholesterol. Here's a more specific rundown of the caloric information of popular wines.
Chardonnay, Pinot Grigio, and Zinfandel White Wine – These wines contain 20 calories per ounce and 0.4grams of carbs. A five-ounce serving has 100 calories and two grams of carbohydrates.
Cabernet Sauvignon and Merlot Red Wine – Both have 20 calories per ounce and 0.8 grams of carbs. A five-ounce serving packs of 100 calories and four grams of carbohydrates.
Hard Liquor
Hard liquor isn't as hard on your diet as other alcoholic beverages. But it's higher in calories per ounce compared to wine.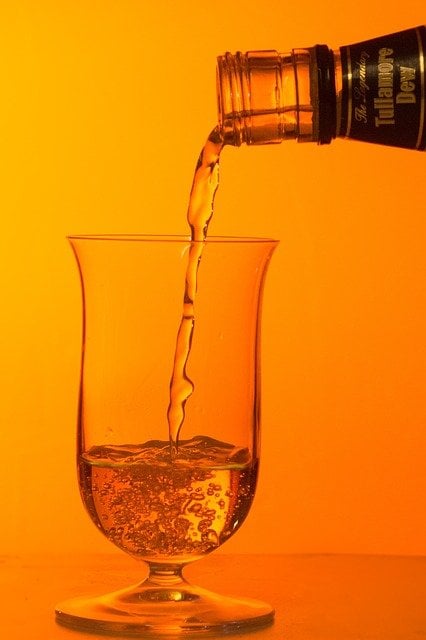 Just be careful mixing them with soda or other add-ons that only shoot up the calorie content. It would be best to make use of calorie-free options such as zero-calorie tonic water or diet soda. The calorie information of hard liquor choices are as follows:
Vermouth – Vermouth contains 32 calories per ounce and 0.2 grams of carbs. A shot glass of 1.5 ounces has 64 calories and 0.4 carbs.
Coconut Rum – This one pack in 51 calories per ounce and 5.3 grams of carbs, which means that drinking a shot glass gives you 77 calories and eight grams of carbs.
Gin – Gin has 60 to 80 calories per ounce, depending on the brand. Most have no carbs. A 1.5 serving can provide 95 to 120 calories.
Whiskey and Vodka – Both have 69 calories per ounce and no carbs. A shot glass has 104 calories.
Cognac – Like whiskey and vodka, cognac has 69 calories per ounce but this one has two grams of fat. Per shot of 1.5 ounces gives you 104 calories plus three grams of carbs.
Tequila – Tequila has the same amount of calories as cognac, whiskey, and vodka at 69 calories per ounce and 104 calories per shot glass. But it has much higher carbs at eight grams per 1.5 ounces serving.
Beer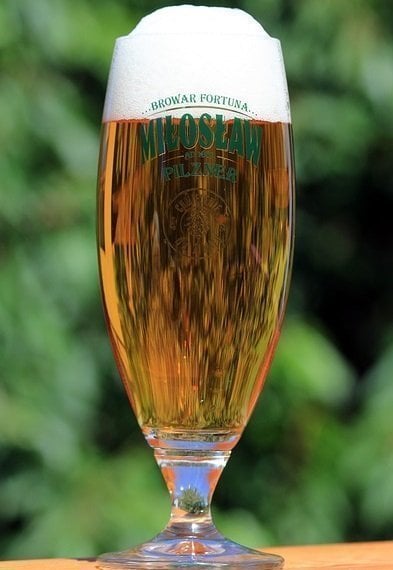 Beer only has around nine to 18 calories per ounce, which makes it seem like it's one of the best low-calorie alcoholic beverages. But keep in mind that you don't drink only one ounce of beer. People usually drink 12 ounces or more!
And when you're having beer from a pitcher or a giant mug, it can be difficult to keep track of your caloric intake. To make sure you're not ruining your weight loss efforts, go for a light beer and keep it to a minimum.
It would also be a good idea to take note of these figures:
Light beer – This one only has nine calories per ounce and 0.5 grams of carbs, which means a 12-ounce serving gives you 108 calories and six grams of carbs.
Draft beer – Draft beer contains 12 calories per ounce and 1.1 grams of carbs. Drinking a typical serving of 12 ounces gives you 144 calories and 13.2 grams of carbs.
Lager – Lager also has 1.1 grams cars but a little higher on caloric content at 14 per ounce. Downing a 12-ounce serving packs in 168 calories and 13.2 grams.
Ale – Ale is the type of beer with the highest calories at 18 calories per ounce and 216 per 12-ounce serving. Like lager and draft beer, it also has 13.2 carbs per serving.
Wrap-Up
Low-calorie alcoholic beverages can certainly give life to a party, loosening inhibitions and making people feel more confident.
But as always, it's important to ask if these perks are worth paying for with your weight and health.
Drinking light and low calorie alcoholic beverages may help keep your weight off, but remember to enjoy in moderation.

Latest posts by Josh Anderson
(see all)
Disclosure: In the spirit of full disclosure, DIYactive.com may be compensated in exchange for featured placement of certain reviews or your clicking on links posted on this website.