4 Easy 10-Min Prep Meals
Healthy family life means a healthy amount of time spent together. These 10-minute prep meals are so simple and easy that you get to spend more time with your family and spend less in the kitchen.
10-Min Prep Meals: One-pot to rule them all
Easy meals shouldn't just be easy to make; the clean-up should be minimal too! One-pot cooking is more common than you would think, from college dorm rooms to families of 8 and more. Let's face it; no one enjoys scrubbing pots and pans after a great meal.
Dutch ovens are not a foreign concept to avid foodies, with many people adopting cast-iron beauties. Most modern dutch ovens come preseasoned (like the ones at Uno Casa) or enamel coated.
They are easy to find these days, so there is no need to go digging in your grandmother's kitchen cupboards or trying to sneak them out in your handbag. Check out our 10-min prep meals anyone can cook!
1. Mac and Cheese
There are three ingredients, ten minutes to prep (if you grate your cheese), and fifteen minutes to cook. Mac and cheese that is easy as 1,2,3.
Ingredients:
1 lb macaroni elbows
1 1/4 liters of milk
2 1/2 cups cheddar cheese, shredded
Method:
In a dutch oven, bring the milk to boiling point. Add the dry pasta elbows, continually stirring, until pasta is cooked thoroughly.
Preheat your grill to medium heat. Add in 2 cups of cheddar to the pasta, switch off the heat. Fold the cheese in until melted, make sure all the sauce coats the pasta.
Sprinkle 1/2 cup of cheddar over the macaroni, place under the grill until golden and bubbling.
Serve while hot.
2. Seafood in Pesto Pasta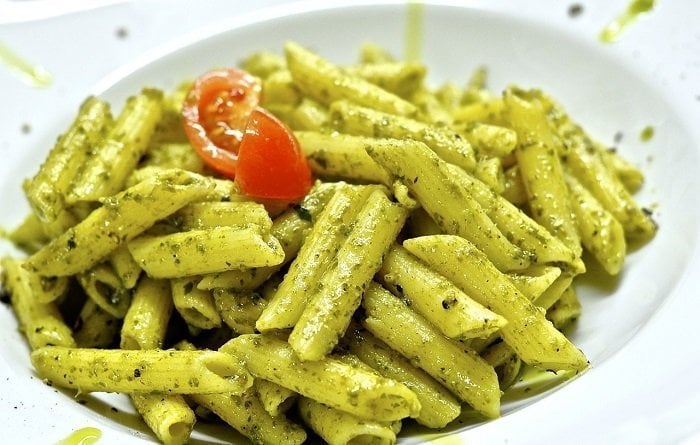 Everyone loves pesto, add that to delicious seafood, and you have a winning combination. Try this seafood and pesto pasta for a midweek treat.
Ingredients:
2 cloves of garlic, minced
1 lb shrimp, deveined
1/2 tbsp kosher salt
1/2 tbsp ground black pepper
4 tbsp extra virgin olive oil
3/4 cup basil pesto (sundried tomato/basil also works well)
1 can of artichoke hearts, drained
8 large kalamata olives
Chopped parsley
4 cups of vegetable stock
2 cups of whole milk or 2 cups of coconut cream
1 lb linguine
Optional:1 lb cherry tomatoes, half a cup of grated parmesan
Method:
Dry the shrimp with a paper towel. Sear the shrimp for 2 minutes in 2tbsp olive oil. Remove the shrimp from the dutch oven—Fry the artichokes, tomatoes, olives, and garlic in the remaining oil with a salt pinch. Add the stock, a bit of salt and pepper, and cream.
Stir to combine the ingredients. Add the uncooked pasta and the pesto. Simmer in the dutch oven for 10 minutes until the pasta is al dente. Allow the sauce to thicken. Stir the parmesan and shrimp into the pasta.
Serve with a drizzle of extra virgin olive oil and chopped basil leaves. Place the dutch oven on a pot stand and dish from the dutch oven to retain heat.
3. One-Pot 10-Minute Indonesian Satay
Is it a dip? Is it sauce? It's satay! Tasty creamy and smooth with a delicate kick, the sauce is fantastic over chicken, pork, even shrimp! You can serve this dish with sticky or egg-fried rice instead of noodles.
Ingredients:
3 tbsp smooth peanut butter
1 tbsp dark soy sauce
1/2 tsp dried chili flakes
1 tbsp fish sauce (use vegetarian if desired)
7 oz coconut cream
1 tbsp sugar, brown
1/2 tsp ground coriander powder
2-3 tbsp lime juice, fresh
1lb cooked rice noodles
1lb chicken breast, cut into thin strips (sub for tofu strips)
1 tbsp sesame oil
Optional: chopped cilantro leaves.
Method:
In the dutch oven, sear your chicken strips in some sesame oil for 5 minutes. In a mixing bowl, mix all the rest of the ingredients (excluding the rice noodles).
Once well combined, add the sauce to the chicken in the dutch oven. Cook in the dutch oven for 10 – 15 minutes over medium heat; the sauce will thin and thicken as it cooks.
Continue stirring on medium-low heat until reduced to your preference; ensure the chicken cooks thoroughly. Fold the rice noodles into the sauce. Serve sprinkled with toasted sesame seeds and chopped cilantro.
Tip: Swap the chicken out for beef strips.
4. Hearty Spinach and Tomato Pasta
Lean, green, and full of earthy flavors, this pasta is great for any occasion.
Ingredients:
1 tbsp olive oil
1 cup finely chopped onion
6 minced cloves of garlic
1 can unsalted diced tomatoes
1 1/2 cups chicken stock
1 tsp dried oregano
8 oz Linguini pasta
1/2 tsp kosher salt
10 oz fresh chopped spinach
10 cherry tomatoes, cut in half
1 oz parmesan cheese, grated
A drizzle of balsamic vinegar reduction
Method:
Heat a dutch oven over medium-high heat, coat the bottom of the pot in oil. Saute the onion, until the onion starts browning, add in the garlic. Add the tomatoes, stock, oregano, and pasta. Bring to a rapid boil. Submerge the pasta in the liquid.
Cover with the dutch oven lid and reduce the heat to medium-low. Allow pasta to cook until the pasta is almost cooked, about 7 minutes. Uncover, stir in salt. Add spinach to the pot in batches—allow the spinach to wilt completely.
Remove from heat and let the pasta stand for 5 minutes. Serve with parmesan and a drizzle of balsamic reduction.
Wrap-Up
With many foodies learning to love their dutch ovens, these old-school casserole pots have been given a new lease of life—ten-minute meals with the hearty flavor of old-school love.
There are no limitations when it comes to dutch oven cooking.
Disclosure: In the spirit of full disclosure, DIYactive.com may be compensated in exchange for featured placement of certain reviews or your clicking on links posted on this website.