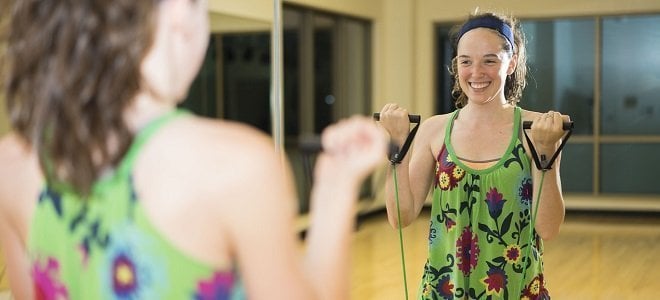 Become A Personal Trainer: Are you Ready?
Want to become a personal trainer? If you love exercising and want to share your knowledge and make a career out of it (or even just on the side) you may want to consider getting certified as a personal fitness trainer. Being certified by an accredited organization allows you to pass on your knowledge and make a nice salary in the process.
Check out our sister site that is solely based around helping you get your personal trainer certification: www.BecomeaPersonalTrainerHQ.com

We can help you become a personal trainer
CNN Money in a 2012 ranking, ranked being as personal trainer as the 18 the best job in America with the median pay around $56,000.
Of course, this salary is location-dependent. Nevertheless, there is a very high demand with a 24% estimated growth in the industry over the next 10 years and it could be a perfect fit for you.
To become a personal trainer the most common form is in group classes or in a self-paced at-home course:
Group workshops:
Group workshops normally occur over multiple days in which the entire program is taught to the class.
The benefits of group training are that you can get the entire course in only a few days and not have to worry about making yourself study as you have with self-paced courses (more on that later).
Also, you can interact one-on-one with a certified trainer that can answer any questions you may have and watch examples first-hand. On the flip side, you have to worry about the massive amount of material dropped on you in a short period of time. Some other workshop options are webinars which are basically the live group workshop broadcasted to multiple locations.
Self-paced courses:
There are two options when it comes to self-paced courses, some organizations offer online content and others only give you hard, physical materials.
Until recently there were not many accredited online courses although there were self-taught courses. The beauty of these courses is that you don't have to travel to take a group course and can take it at your own pace from the luxury of your own home.
The downside is that you don't get the one-on-one in-person interaction with a trainer (although you do have review sessions with a trainer via webcam in some cases).
For both of these options, it is a very wise decision to buy all the class materials which are only optional in many instances.
Buy the materials and spend the extra money to get the actual book, study guides, and practice tests. Study guides and practice tests are very helpful and should be filled out before the group classes to make it easier on you. The practice tests are very crucial as well when it comes to the online course.
Recommended Personal Trainer Certifications:
Accreditation basically means that the programs have passed the rigorous guidelines of an accreditation board like the National Board of Fitness Examiners (NBFE) or the National Commission of Certifying Agencies (NCCA).
These guidelines make sure that the program teaches many aspects of being a personal trainer: not only exercise and physiology but also business practices and legal issues. Here is a shortlist of a few (there are at least 10 organizations), make sure the one you choose is from an accredited organization.
If the course seems too easy to be true, it probably is!
The AFAA is the certification that I have and highly recommend. It is the largest fitness educator having issued over 300,000 certifications! All of the personal trainers I know that have taken the group courses really enjoyed them and said they were very beneficial.
The self-paced online course was phenomenal as well. AFAA does not offer self-study courses or webinars but the online courses were great.
One helpful tip is to make sure to fill out the entire study guide and take the practice tests. The biggest piece of advice I can give for the online course is to take the instructor review session seriously. This is your chance to get an interactive review session with a certified instructor and can have a question-answer session. This is invaluable when it comes to taking the practical section of the exam which is done via webcam.
Lastly, make sure to get the same instructor for the review session and the practical exam. That way you know exactly what they are looking for from the tips they gave you in the review session. Some pre-class requirements are that you have to be 18 years old and CPR/AED certified. After the first of this year, both of the tests cost $499.
The ACSM is like the gold standard of personal training certification with over 25,000 certifications rewarded.
Once again I haven't heard anyone say anything bad about this certification. The ACSM offers personal training self-study courses, webinars, online study, and group study courses to allow you to go at your own pace and get prepared for the exam. There are plenty of options for you!
You must be 18 years old and CPR/AED certified. ASCM non-member examination costs $279 plus you got to buy a slot in one of the workshops; totaling around $500.
International Sports Science Association (ISSA):
ISSA provides top-of-the-line personal training certifications, with over 180,000 certified professionals. The eight-month exam voucher gives you plenty of time to take the course at your own pace. Self-study is the only course option offered, no web-based or group classes are offered. You must be 18 years old and CPR/AED certified. The exam and study materials cost $599. Visit our ISSA CPT Review for more.
ACE also provides convenient ways to become a certified personal fitness trainer. There are over 50,000 ACE-certified fitness professionals. The program offered allows you to digest the self-study materials at your own pace (6 months) and then take the exam at a certified exam center (thousands around the country). ACE does not offer webinars or group classes.
You must be 18 years old and CPR/AED certified. The exam plus study materials start at $599.
Wrap-Up
There are many other similar accredited organizations that also offer personal trainer certification! Whichever certification you choose, find one that you are comfortable with and is the right fit for you.
Make sure to utilize the study materials and fill out the study guide completely and take the practice test! The benefits of being a personal trainer are enormous!
It is a relatively stress-free job that is satisfying and very rewarding!
So are you ready to become a personal trainer?
Check out our sister site for all the information you will ever want about personal training certification at: www.BecomeAPersonalTrainerHQ.com.

Latest posts by Josh Anderson
(see all)
Disclosure: In the spirit of full disclosure, DIYactive.com may be compensated in exchange for featured placement of certain reviews or your clicking on links posted on this website.