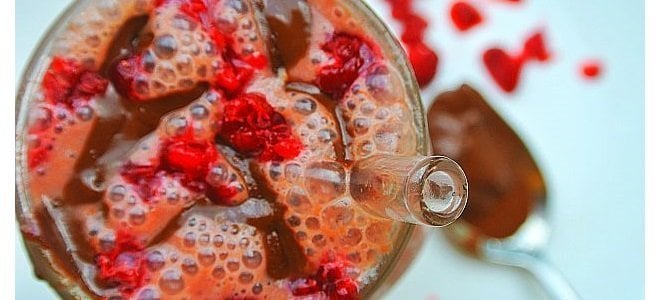 Raspberry Pomegranate Smoothie Recipe
This delicious raspberry pomegranate smoothie has a hint of chocolate mixed in with the powerful raspberry flavor. It is packed with super-foods and antioxidants but still tastes like your indulging. Pure bliss – give this raspberry pomegranate smoothie a try today!
Smoothie Ingredients
1/2 Cup of Frozen Raspberries
1/4 Cup of Pomegranates
1 Frozen Banana
2 Tbsp. of Cacao Powder
1 Tbsp. of Nut Butter of Choice
1 Tbsp. of Flax-seed
3 Medjool Dates
1 Cup of Unsweetened Almond Milk
Smoothie Directions
Place all the ingredients in a high-speed blender and blend until smooth.
Top your Raspberry Pomegranate Smoothie with additional pomegranates and nut butter (optional).
Pretty excited to try this recipe myself!
---
Alicia's Bio: Hey there! I'm Alicia and I have a strong passion for natural living. Healthy you is all about connecting to your mind, body, and nature to fully thrive. I hope the recipes here inspire you to feel amazing while staying satisfied.

Latest posts by Josh Anderson
(see all)