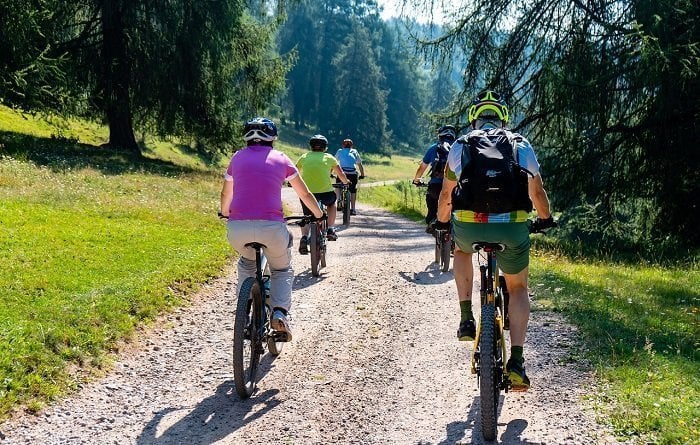 Cycling for Fitness
If you find yourself thinking about cycling for fitness to improve your health, we got you covered! Cycling can be a great choice, especially in case you're looking to get more lean, healthy, and fit. But before you embark on a (hopefully lifelong) journey of riding a bike through various settings and surroundings, there are a few things you should be aware of.
What to know when cycling for fitness
Most people think that cycling is the easiest thing in the world – you just need to hop on your two-wheeler and peddle away into whatever ambition in regards to biking you have.
Although this isn't that far-fetched, there is still some stuff you need to pay attention to in order to make the transition from fairly infrequent riding to actually getting some serious improvements and results.
These effects can come in different shapes and forms, of course, depending on the personal goals you've set in front of you. We're here to help you with the entire process and make it go as smoothly as possible.
Choose Your Bike Carefully
It's only natural that the first thing you'd want to do before you start cycling is to find a bike that's going to match your needs.
If you're a beginner, our first piece of advice would be to opt for the most widespread form of cycling, which includes riding on roads, city streets, and paved bike paths.
There's no point in investing in a bike that's customized for off-road riding since it's highly unlikely that you'll be heading there first thing after you saddle up. Instead, you should probably choose a lightweight bike – the one with 'skinny' tires. These are designed for everyday cycling experiences in the more common conditions and surroundings.
The second piece of advice when it comes to choosing the bike that fits you the best would have to concern the actual size of the bicycle.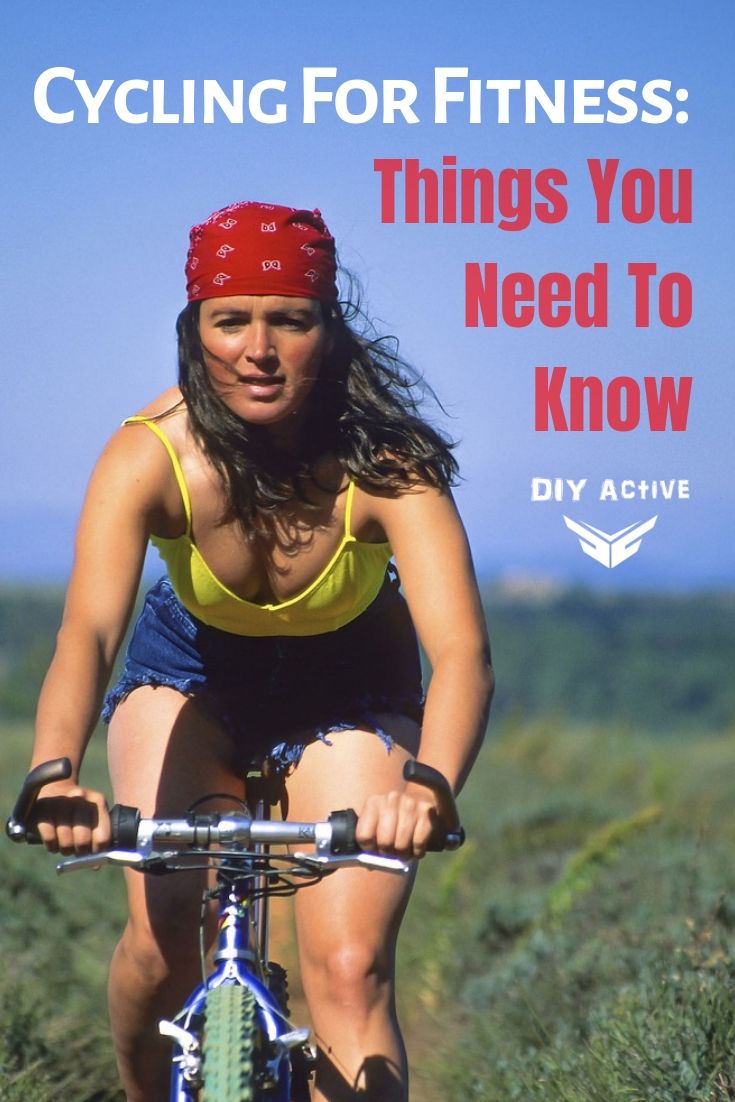 This isn't much different from other sports out there – you need to have the gear that matches your body frame the best. For instance, if you were to begin swimming in a pool, you wouldn't want the swimming cap or goggles to be too small or large.
The same goes for cycling: in order to achieve optimal fitness results, your bike has to be the right size.
There's a general rule of thumb to follow here: you stand over the top tube and there should be at least an inch of clear space between your body and the bike.
In case you find this method too confusing, or you're uncertain about it, make sure to consult the professionals.
Discover What Riding Style Suits You the Best
This is also crucial for achieving the best fitness results. After you've bought the perfect bike, now it's time to experiment a bit and find out which style of riding actually suits you the best.
Many people don't even realize that there are different ways you can ride a bike. This is mostly due to the fact that this pretty much comes naturally to everyone.
For example, if you find yourself enjoying slowly cruising around the city more than racing or sprinting, it's more likely that you'll also be more interested in climbing.
But in case you feel the itch to ride fast, quickly passing through the traffic, then sprinting is probably the style you should go for. As we've said, you don't have to worry too much about this since it's most likely that it will just come naturally to you.
If we had to compare this with other sports, the situation is pretty similar to running. Some people like to jog slowly or run marathon races, while others feel the need to sprint in shorter bursts. Both of these styles are equally great, and you'll get the much-desired fitness results in either case.
When it comes to cycling, you'll quickly realize if time trialing, climbing, or sprinting is your forte, so there's no need to worry about this too much.
Always Carry the Essential Gear Everywhere You Go
A more serious commitment to cycling also requires an earnest approach when it comes to personal safety and pedaling efficiency.
Even though it doesn't seem like it's paramount to look like a pro rider if you're just a beginner, you'll realize pretty soon that things like a cycling kit (a jersey, padded shorts, and socks), helmet, quality cycling shoes, and glasses are all very helpful and important. Not only will these make you more aerodynamic, but they'll also feel much more comfortable than regular clothing and shoes.
A cycling kit helps you stay dry during long rides while regulating your body temperature; padded shorts protect the sensitive areas, absorbing the road vibration.
The helmet protects your head in case of a fall, and you should also make sure that it's not used too much since they have a certain shelf life.
Choose the helmet that fits your style and head – people are inexplicably reluctant to wear them, even though they can be true lifesavers. Lots of cyclists carry specialist ID lanyards when competing or riding to hold their id and special medical cards.
Our advice would be to pick the one you'll look forward to wearing. Cycling shoes that are good-quality are also extremely important because they have specially designed stiff soles.
These won't make your feet sore from all the foot flexing which happens in regular shoes. They come in different variations as well, mostly depending on the pedals you use.
Other things that you should have with you all the time are a multi-tool, tire levers, spare tubes, water bottles, front and rear lights. Get a power meter if you want to measure your performance in terms of power output.
If you can carry a full-size pump, we'd also recommend it over mini-pumps. A computer (satnav map) would also be a nice thing to have.
Stick To the Workout Plan and Routine
Once you've incorporated cycling into your workout plan and routine, it's crucial to stick with it no matter what. Achieving a certain fitness level is not easy (as you'd surely know by now), so don't let a couple of lazy days derail you.
It's not a big deal if you skip a ride or two – don't beat yourself up over it, but make sure not to make it a habit. After a while, you'll probably get so accustomed to cycling that you'll often feel the need to go out and put other things behind for a moment.
This means that you won't only get fit (which is the ultimate plan), but you'll also get more healthy. You'll look and feel better both mentally and physically.
But until this happens and cycling becomes an integral part of your everyday life, make sure to stick to whatever workout plan you're starting to follow at the very beginning.
This will be highly rewarding afterward.
Consider Biking In a Group
If for some reason you find it hard to maintain a workout plan and training regime on your own, you should consider cycling in a group.
Many people feel much more comfortable when they're doing something together with someone who shares the same passion.
This option can be also great for people who are cycling their whole lives and are looking to change their routine a bit. Working out and doing sports in groups has always been interesting to people: they can compete with one another, share experiences, motivate each other, help achieve certain results…etc.
So, it doesn't matter if you're just a beginner who has difficulties sticking to the workout plan on your own, or you're a savvy cycling veteran who's looking to change things up in order to stay motivated, biking in a group is a great option to consider.
This is another thing that's so great about cycling: it can be an individual and group sport at the same time. You just have to find out which alternative is better for you at a particular point in life.
Wrap-Up
In case you're looking into different ways to get fit, we'd recommend you not to look further than cycling for fitness. It can be an awesome activity for all age groups since you can adjust the levels of training by yourself.
Your fitness levels will increase even if you opt for biking as a primary means of transportation (like commuting to work or grocery shopping, for instance).
Whether you become more serious about cycling or not, we'd generally recommend you to get a bike that fits you the best and to always carry the most essential gear with you because you never know when something unexpected might happen.
This way you can ride freely without any worries.
Latest posts by Mianna Korben
(see all)
Disclosure: In the spirit of full disclosure, DIYactive.com may be compensated in exchange for featured placement of certain reviews or your clicking on links posted on this website.