Guide to Tarp Camping
If you have a passion for camping but at the same time, you would like to stay safe and dry, you must choose a perfect tarp to cater to your requirements.

Tarp camping how to
Before heading for your hiking and camping adventure, be sure to learn how to effectively set up a tarp tent. Always invest in the best camping tarpaulins.
Why Should a Tarp Shelter Be Used?
Some reasons to use an effective tarp shelter are:
They are inexpensive hence, affordable
They are lightweight
They could be used as a DIY project
They could be easily modified
They are flexible, adaptable, and versatile and could be set up in different configurations and locations
They become really small when neatly packed, hence, easy to carry, store, and maintain.
They promise ease of use and ultimate convenience.
As per Forbes.com, while organizing a camping trip, you need to keep in mind certain basics such as good and large tarpaulins, air mats, and sleeping bags. Moreover, do not forget a robust cooler filled with food.
Most hikers are keen on saving space in their backpacks and carry minimum weight around. You could consider using a white tarp that is perfectly lightweight for outdoor camping.
This could be a robust plastic sheeting that is UV-resistant, waterproof, and even tear-resistant just right for setting up a safe tarp canopy tent.
Who Are Benefitted by Tarp Camping?
Over the years, lightweight hikers have been among the most enthusiastic adopters of tarp camping, that is, sleeping under a tarp. When you are traveling light, not having to carry tent poles, bug nets, and all kinds of bulky wall arrangements is a tremendous advantage and one that has been recognized by hikers all over the world.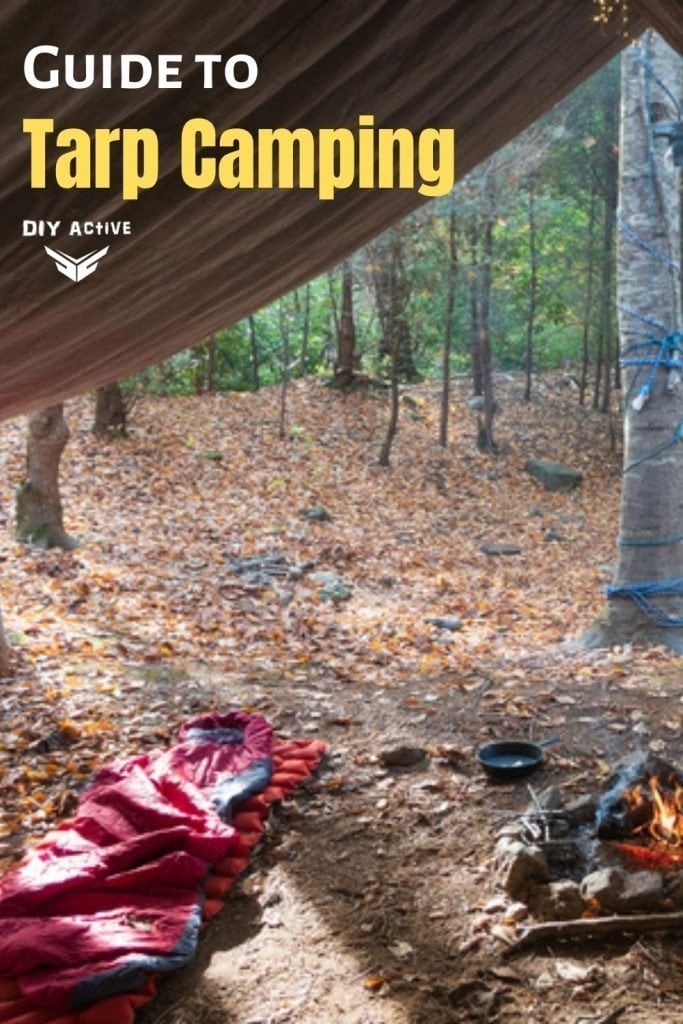 Minimalism buffs have also taken to the activity as it provides an incredible creative launchpad to folks who would like to carry less gear and even improvise their own gear from raw materials.
Even beyond the obvious weight benefits, there is plenty to love about tarp camping. Faithful hikers will be ever-ready to point out that there is a purity in the habit and even simplicity that changes the entire camping experience and really makes you feel connected to nature all around you- something tents often take away.
It is an impressively immersive experience, but not one without its pitfalls. There's always the risk of splatter in case of heavy rain, and you might be more exposed to the elements from all directions, and some bugs.
But if you do things right, you can set yourself up for a dry, warm, smooth and pleasurable camping experience like anyone who uses a tent.
Find the Best Place to Set Up your White Camping Tarps
An early barrier to entry to tarp camping is that finding the ideal spot to set up camp isn't easy for amateurs.
You should be prepared to make mistakes, but know that in time you will be able to pick out great spots. Here are some tips to help you get started.
Oppose Your First Instinct
You might know what the best spots for traditional tent camping look like – flat, clean, and open areas. These are pretty awesome, but you need to avoid them when you're setting up a tarp.
There's a good reason for this as well – when you're up against heavy rain, water puddles tend to be much worse in flat, open areas. The openness and apparent cleanliness is, in fact, an excellent indication of this, since it means the leaf debris and dirt was just carried away by rainwater when it last rained.
Ideally, you want a slight incline – obviously not something so steep that you and your camp slide off, but a gentle slope that gets the water away rather than keeping it under you if you find yourself up against rains.
Keep Your Head Strategically Placed Up the Hill While Sleeping
Make sure that your head is positioned up the hill while sleeping so that you could prevent the blood from gushing into your head and causing major headaches.
Set Up Your Tarp with the Help of Hiking Poles
You could seamlessly set up your tarp using hiking poles for holding up the ends. If some trees are around, you could use the branches of the trees, trekking poles, and even the trees in general for setting up and holding fantastic tarps.
Consider Pitching Against the Wind
Configure your tarp shelter in such a way that the driving rain and the gushing wind would come from the sides.
Identify a place where you find that the windward side looks like being blocked by brush, debris, rocks, and trees if conditions get especially, tricky.
Wrap-Up
There are countless ways of enjoying backpacking tarps. These tarps could prove to be an interesting new adventure.
You must learn to effectively master ways to combat & conquer challenges associated with setting up camping tarps.
Get yours here!
Disclosure: In the spirit of full disclosure, DIYactive.com may be compensated in exchange for featured placement of certain reviews or your clicking on links posted on this website.