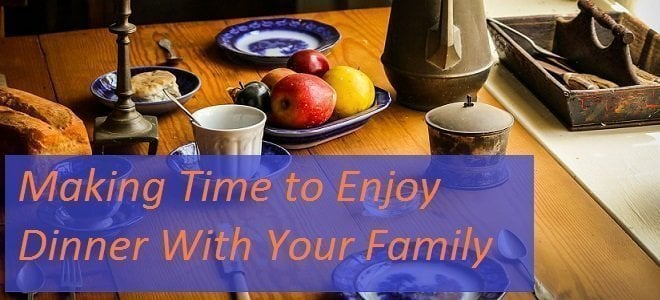 Making Dinner Time Count
As busy as your family is with work, school, sports…etc. dinner might be the only time you have to get together to talk about your day. For this Featured Post, our expert tells us some great ways that can help you save time and money on your way to actually making a great family dinner.

Share Dinner with Your Family
As a professional organizer and time management consultant my goal is to offer organizing services focused on creating order in the home, business, and life.
Helping to simplify lives and surroundings is my expertise and passion. By far, the biggest payback is reclaiming TIME!
Not to be wasted watching more TV or cooking elaborate meals, but for quality family time. Many of my tips and suggestions revolve around planning. From a weekly menu plan to easy meals with easy clean-up that families will enjoy making and choosing together (with little money-saving tips thrown in for good measure).
Being organized reduces stress, promotes productivity and provides a better quality of life.
With the individual daily commitments family members may have, such as homework, bill paying, and household chores, the one time the family has to come together with a common interest, is mealtimes.
When the meal planning, cooking, and serving is the responsibility of a single person it becomes a chore, and pretty soon that vibe is picked up in the household, and mealtimes also become a chore, something to get over with as quickly as possible.
Coming together and pitching in gives everyone the opportunity to share their skills and mealtimes can once again become a pleasant activity and a respite from our busy schedules.
Why plan ahead?
It Saves Time – In the grocery store because you have a shopping list and at home, because you know exactly what you are cooking every night.
It Saves Money – You buy what you need and what's on sale.
It Saves Waste – You use everything up that you have in the fridge and freezer.
It Reduces Stress – Saving time, money, and waste in itself reduces stress.
What you'll need:
Your calendar or schedule.
Access to your fridge, freezer, and pantry.
The local Grocery store weekly flyer, online or paper copy.
Recipe cards or cookbooks.
Note pad & pen.
Attitude – Put on your Domestic Diva crown!
Here's How:
Make a list of what's going on Monday thru Sunday? What's the preferred kind of meal to cook?

Dining out – not cooking
Late class make – something in the crockpot
Movie night something – quick, like Pizza

What main item do you have in the freezer? (chops, steak, etc)
What's in the refrigerator that needs to be used? (vegetables, leftovers)
What are your local supermarket's specials for meats, fish, produce, pizza?
Someone's favorite meal? (a special request)
Guests for dinner? likes/dislikes (vegetarian)
Try to vary the type of protein each day by selecting meat or fish not already featured on your week's menu.
Still, Need Meal Ideas?
Go through your recipe cards or cookbooks for inspiration or to be reminded of a dish you haven't made in a while.
What's Next?
When your list is complete, create a grocery shopping list, checking your pantry for all the necessary ingredients to make each meal.
Add other non-grocery items that you need, to your list and place the list, your reusable bags, and your loyalty card in your car and you are ready to go shopping.
Post the Weekly Menu
With a simple laminate board and a dry erase marker, advertise the week's menu.
Kids love to know what's for dinner when they get home from school and will be delighted to see if their selection made it onto the menu. It also serves as a daily reminder to remove items from the freezer, if necessary.
Allocate Tasks
Everyone can help, according to each family members ability
Writing the Weekly Menu
Set the Table
Empty the dishwasher
Fill the dishwasher
Prepare the vegetables/salads
Cooking
Serving
Taste Tester!
Some of these tasks can be done ahead of time if it fits in better with someone's schedule. For example, children can set the table when they get in from school or empty a clean dishwasher.
Cook Simple Meals
Build up a repertoire of family favorites, one-dish meals, and crockpot recipes that are both healthy and easy to clean up. Ideal recipes take under 40 minutes to make and have no more than 5 or 6 main ingredients (excluding seasonings and oil).
Wrap-Up: Final Tip
Take the opportunity to cook double the amount and freeze half.
If your plans change and you end up doing something different on any given night, freeze the meat or fish that you were going to have, you can get to it next week!
You will be amazed by how much time this saves each week. Shopping usually takes less time too and you will see the savings at the checkout.
Latest posts by Ginny Underwood
(see all)
Disclosure: In the spirit of full disclosure, DIYactive.com may be compensated in exchange for featured placement of certain reviews or your clicking on links posted on this website.