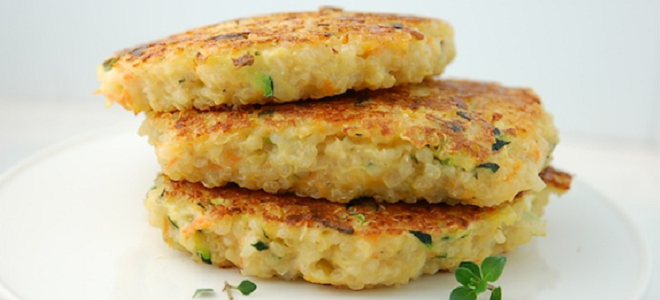 Parmesan Quinoa Patties Recipe
Give these delicious patties a try the next time you have leftover quinoa. Other vegetables can stand in for the carrots and zucchini – consider asparagus or broccoli. This great, simple recipe makes 12 Parmesan quinoa patties.
Quinoa Patties Ingredients
3 cups quinoa, cooked
½ cup parmesan cheese, grated
½ cup non- or low fat plain Greek yogurt
1 medium carrot, grated
1 small zucchini, grated and squeezed dry
2 eggs, lightly beaten
3 tablespoons gluten-free flour, such as rice
2 green onions, chopped
2 teaspoons fresh thyme
¼ teaspoon salt
⅛ teaspoon pepper
3 tablespoons olive oil
Quinoa Patties Directions
Prepare quinoa according to package directions.
Combine all ingredients except oil. Heat 1 tablespoon of the oil in a large pan. Reserve the remaining oil to divide between 2 additional batches of patties.
Pack a ¼ cup measure with the quinoa mixture. Carefully scoop it onto the pan and flatten slightly. Repeat to form 4 patties. Cook about 4 minutes per side, until lightly browned. Add oil and patties to cook in 2 additional batches.
Looking for a certain recipe? Special meal? Anything else you can think of?
Let us know and we will make it happen! We love giving you exactly what you want so drop us a line today!
Give this recipe a try and let us know below.

Latest posts by Jennifer Cohen Katz
(see all)